La bohème
Music Giacomo Puccini, libretto Guiseppe Giacosa and Luigi Illica
The Royal Opera
Royal Opera House
–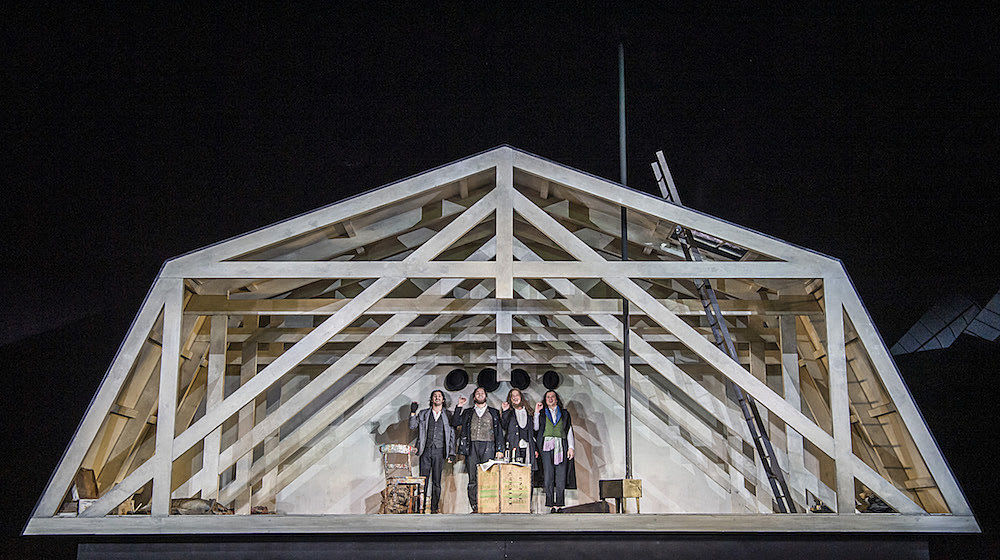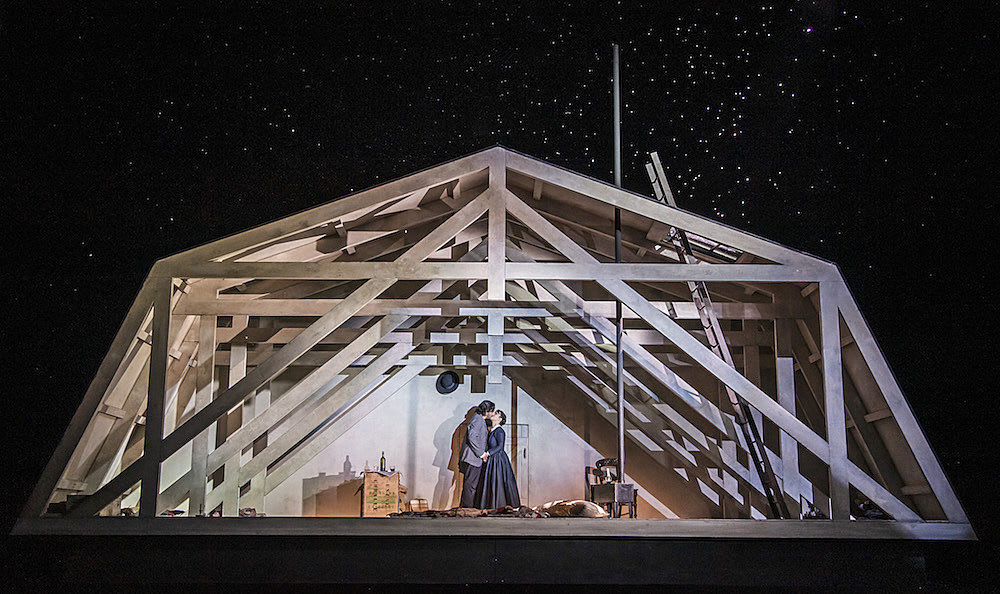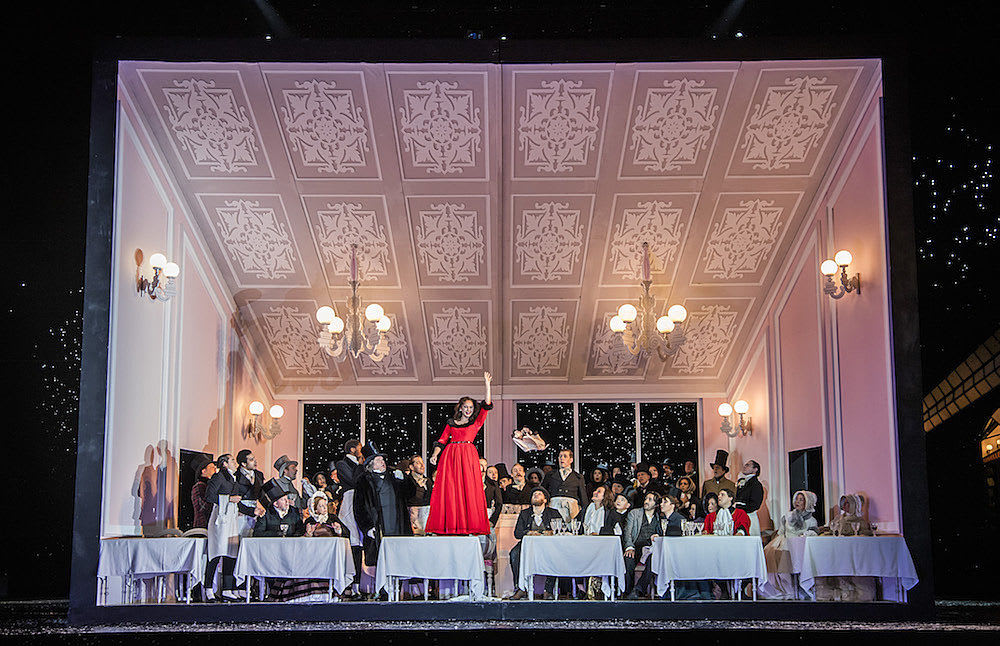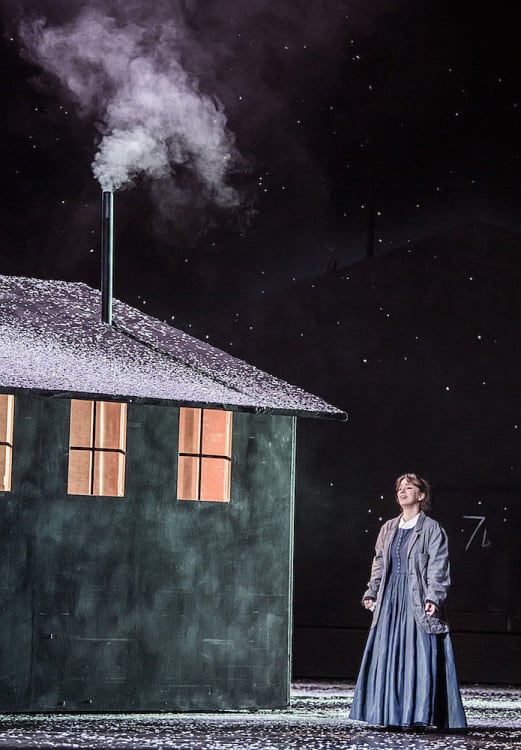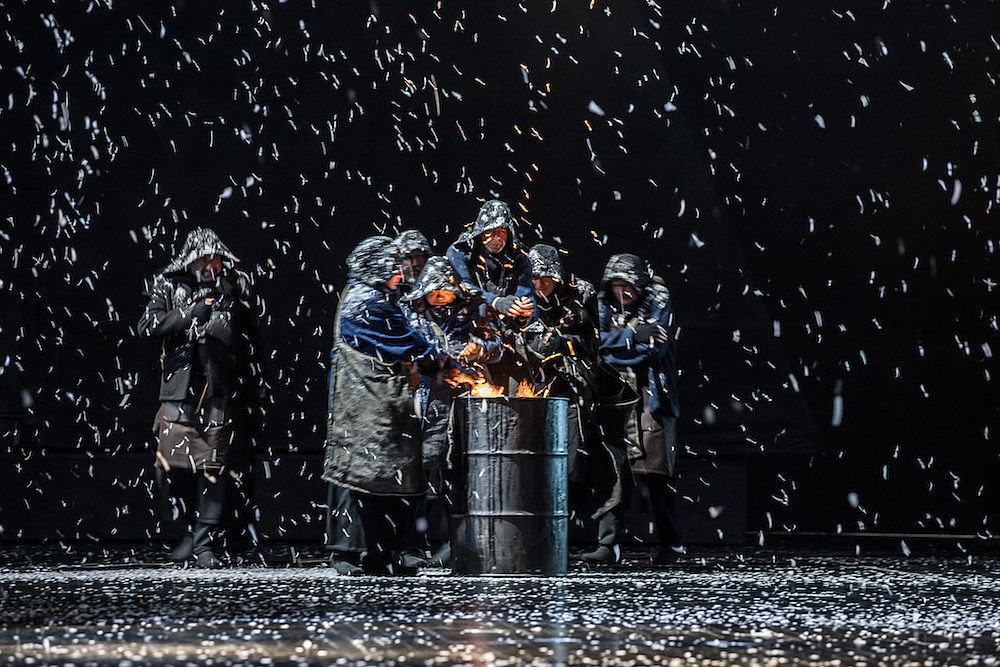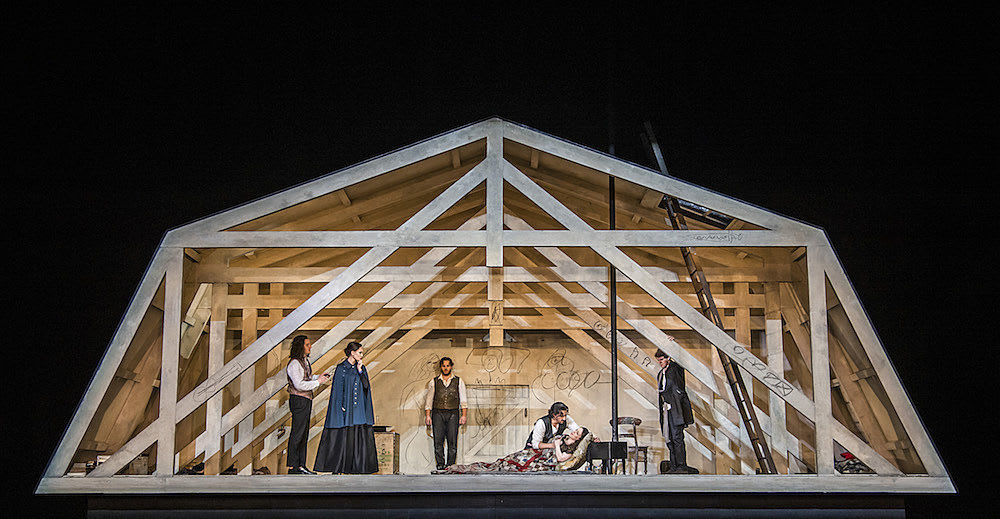 Puccini's 1896 La bohème, "the most performed opera" at the Royal Opera House, is usually a crowd pleaser, so I am surprised there are still plenty of seats. It's a second revival of Richard Jones's 2017 fresh production, there's love aplenty and enough sweet arias to melt your heart. If you've never been to the opera this is the one to try. It's not a long opera, four acts in two halves of fifty-five minutes each.
Snow is falling outside on the dark stage, it's Christmas Eve, four young long-haired artists (painter, poet, philosopher and musician) are starving in a bare garret (no beds), burning manuscripts to keep warm, full of life, when love—looking for a light for her candle (ruse or metaphor?)—walks in for one of them.
Full of wit ("Louis Philippe is at our feet"—coins, that is), lover's quarrels, carefree charm throwing caution to the winds, heartrending love and tragedy (consumption the scourge of the age), Puccini's enduring opera, taken from Henri Murger's 1851 Scènes de la vie de bohème, is a cross between Victor Hugo's 1862 Les Misérables and Alexandre Dumas fils 1848 La Dame aux Camélias. You'll need your hankies in the final act. Puccini himself wept over the death scene, so they say.
Empty seats perhaps indicate that regulars miss the fix of the John Copley / Julia Trevelyan Oman production that lasted four decades in the House, but the two young first-timers sitting next to me are thrilled and excited. They love it, as do I, seduced again by young love—and the reassuring warmth of friendship. A barber's quartet of friends, voices complementing each other, looking out for each other, one for all and all for one, open the evening, joshing, joking.
Charles Castronovo's Rodolfo, an impoverished poet, overthinking his love, letting Mimi go in act three because he hasn't the money to help her in her sickness—such foolishness—is a sweet tenor. What money can she earn embroidering flowers? It's a rich man she needs, following Musetta's example. It's Musetta's earrings that buy the muff to warm Mimi's hand, her gelida manina, in the final deathbed scene—on the floor—with its reprise of the famous aria from act one that sealed Rodolfo and Mimi's love.
A last-minute replacement for the advertised Sonya Yoncheva, Simona Mihai, who has sung both Mimi and Musetta in this production's previous outing, takes on Mimi with tender force, and Aida Garifullina as Musetta almost stops the show with her act two display of outrageous sauciness (some Royal Opera House debut from her!), walking over diners and tables (a Manet tableau), knicker waving in the restaurant, taunting poor Marcello, who is pretending to be indifferent. "When I walk down the street people stare"—of course they do. That's la vie parisienne for you. And the Latin Quarter.
Andrzej Filonczyk's Marcello the painter is a boisterous baritone, Gyula Nagy's comical musician Schaunard a soft baritone and Peter Kellner's philosopher Colline a bass that steals my heart (his farewell to his coat is wonderful). But I'll draw a veil over their naughty boys' graffiti work on the walls of their (unpaid) rented abode.
Jones's focussed telescopic vision, with its boxed set designs by Stewart Laing, suggests compartmentalised, boxed-in lives to me. Restricted lives in Parisian garret, captivated shoppers in enticing arcades, diners in bustling brasserie... Boxes that shrink the stage, and distract when pulled away during act three's poignant farewell duets at the Barrière d'Enfer tollgate. When the brazier moves, I think I'm having a giddy spell, then the tavern moves—life slipping away from them?
All that scene shifting—and pauses between acts—reduces the tension slightly, but these hiccups are fairly tame, I'd say, for the opera and theatre awards laden Jones, who blew me away for the first time in 1988 with his Too Clever by Half at the Old Vic and his Government Inspector at the Young Vic in 2011. Too clever by half for some…
I've heard complaints about sightlines, but it's muted sound that troubles me in the first act, as if the voices are trapped in that wooden beamed garret, though that seems resolved by the final tragic act. Is it a deliberate dramatic effect? I've heard complaints about too bright lighting (Mimi Jordan Sherin) in a supposedly dark attic—why does Mimi need to have her candle lit and how does she lose her key in the dark when it is so bright…
None of these matters to me—the singing is sincere, the acting excellent, and there's lots of drama and expressive action from conductor Emmanuel Villaume in the orchestra pit. The final dying chords never fail to touch the heart. La bohème is a hardy perennial (take no notice of Benjamin Britten's snooty remark in 1951 about cheap music) that gives young singers a chance to shine.
I'd forgotten how sparkling the libretto is—Kenneth Chalmers's surtitle translation works well. Anna Netrebko and Rolando Villazón have stayed in my memory, yet these youngsters (to me) if not as memorable (apart from Garifullina) bring an ease and naturalness to their roles. I think I might just go and see them again in the cinema on 29 January.
Reviewer: Vera Liber