La Bohème
Composed by Giacomo Puccini, libretto by Luigi Illica and Giuseppe Giacosa, based on the novel, Scènes de la Vie de Bohème by Henri Murger
The Metropolitan Opera House, New York
–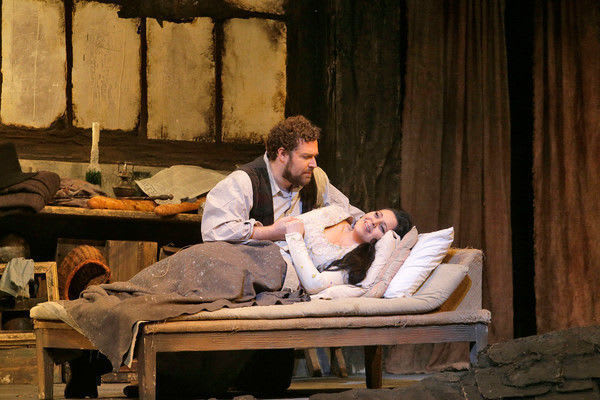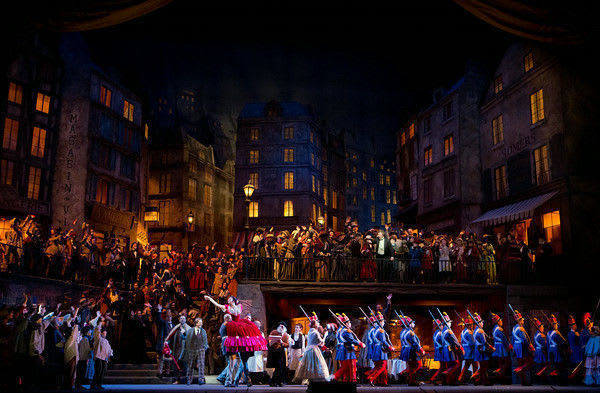 A trip to the Met is always a treat. It can feel like a trip back to a more luxurious age when money was no object and audiences expected only the very best.
This revival of La Bohème, the theatre's most performed opera, directed and designed by the now 92-year-old Franco Zeffirelli is a reminder of those times. This interpretation was first produced as long ago as 1981 but still regularly reappears in the repertoire. There are good reasons for this, perhaps the most obvious that it is still popular with visitors, thanks to the scale and artistic quality of the staging.
Everything about the visuals on show is grand. The opening scene introducing a group of hungry Bohemians and their neighbour, Mimi may take place on a Parisian garret but also shows the rooftops of the city, all more solid than that barely covering the studio-home of Rodolfo, Marcello and friends.
By the end of act I, Tenor Bryan Hymel as the former, a penniless poet, has fallen for soprano Maria Agresta's sweet Mimi and the feelings are mutual. How he can make her happy is another matter.
The second act is spectacular, with a chorus that must number into three figures plus a live (non-singing) horse enjoying festive entertainments. The main players then enjoy a Toulouse Lautrec-style tavern in which another affair immediately seems destined for failure.
Quinn Kelsey, who sings a powerful baritone as Marcello, is taken by the scarlet-clad charms of Susanna Phillips's Musetta, a woman who oozes sex and sings like an angel to boot but seems likely to want more from life than a poor artist can provide.
The short act III takes us to the snowy wastes of winter as love turns sour and jealousy rears its ugly head but is sandwiched between two very long intermissions, which do not help the rhythm of an evening that consequently runs to three hours, only two of them operatic.
The final act returns to the garret and the inevitably tragic ending that will be well-known to all habitués of opera houses but still has the ability to move.
As always at the Met, the orchestra conducted by Israeli Dan Ettinger is a delight, complementing a fine cast, though not filled with the big names that launched the current season.
In any event, Hymel and Miss Agresta making her Met debut seemed well-matched as the central couple peaking as the evening moved towards its climax. Alongside them, Quinn Kelsey and Susanna Phillips add fire and spectacle with strong support most notably coming from Kihwan Sim as a witty base Colline and John Del Carlo in dual roles.
While top price tickets are a stratospheric $500 or so, it is possible to see this opera for as little as $25 (probably about the same as the latest Star Wars movie), belying the general perception that the Met is out of the price range of most theatregoers.
Zeffirelli's La Bohème may now be a part of Met history having played there over 400 times but feels like a spectacular classic rather than a throwback to the past and is still a highly enjoyable production that is set to thrive yet again.
Reviewer: Philip Fisher