La Confluencia
Artistic direction and choreography Rafael Estévez, Valeriano Paños / music, script and repertoire Rafael Estévez
Estévez / Paños and Company
Sadler's Wells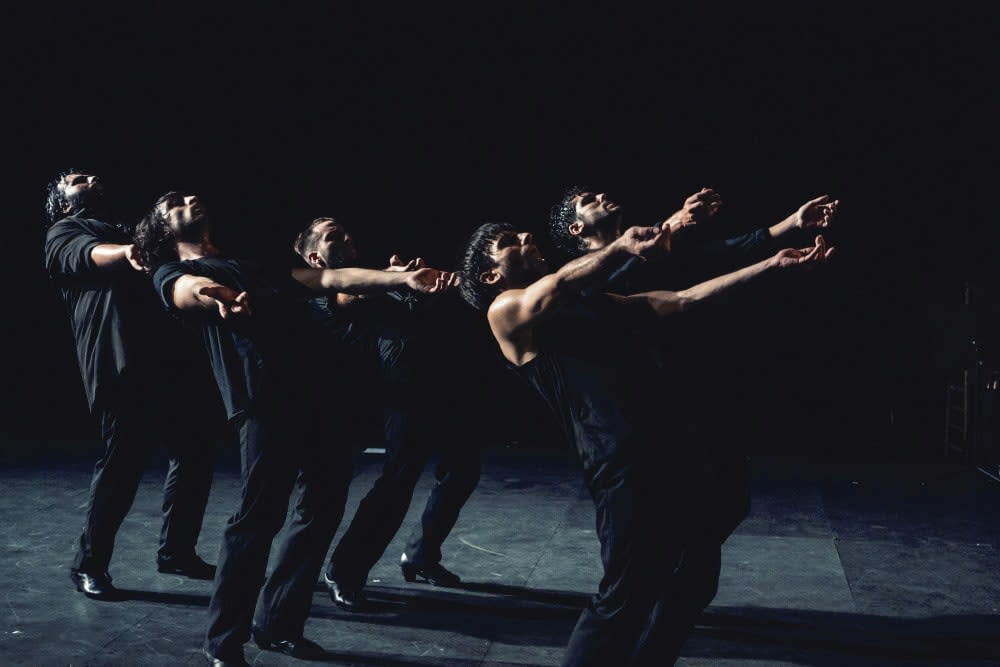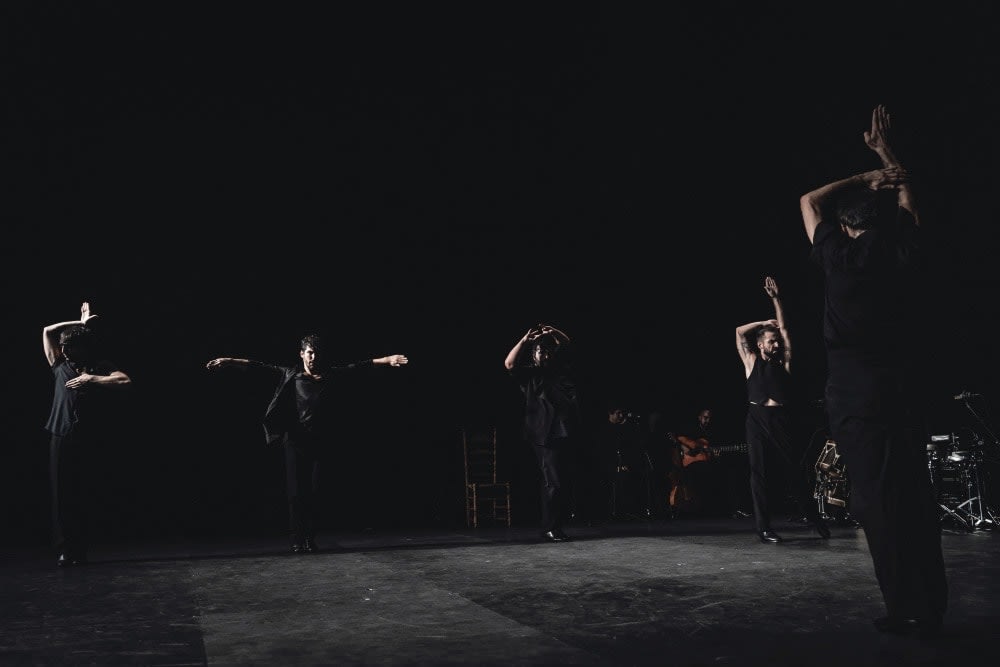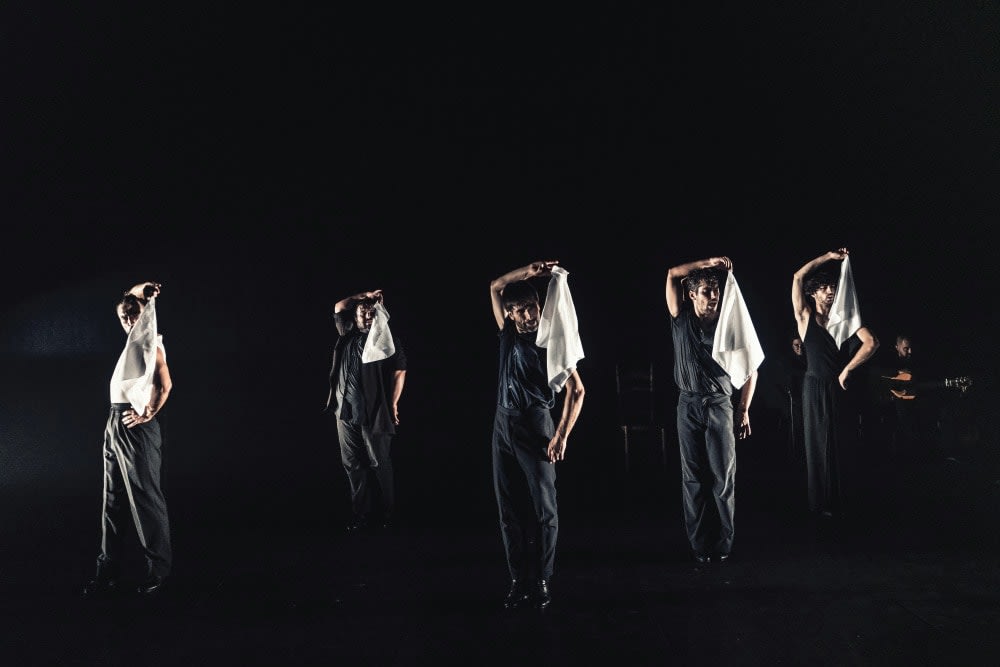 The Estévez / Paños Company was formed in 2003, with both of the founders side-tracking briefly (in 2017–18) to the Ballet Flamenco Andalucía as respectively artistic director and principal dancer. Winners of several prizes, in 2019 they won the National Dance Award. La Confluencia was created in 2021.
Choreographer and dancer Valeriano Paños is the slightest and the most balletic of the company of five men—with his arabesques, développés, pirouettes, pointed feet, lifted in pas de deux by Jesús Perona, but then I read he has danced with the Ballet Nacional de España.
His co-choreographer and performer, Rafael Estévez, a different build altogether, has the most beautiful soft arms and frantic fluttering hands sculpting space. Alberto Sellés, Jorge Morera and Perona complete the company.
A 'confluence' of styles from "Iberian, Roma, Jewish and African cultures", that have made Andalusian flamenco what it is over the centuries. That's the intent, but I see something more modern amongst the traditional zapateados and palmas: contemporary dance, the street battles of break dancing and even classical ballet. And there seems to be a narrative in six chapters, if only I could access it. A history of flamenco, Spain, and a personal history, too, I suspect.
Five hombres in black enter in phalanx, intent on presenting the drama of flamenco—their brilliant rumbling collage of the dance. They are enigmatic, erotic and maybe even exotic in the genre. My heart is in my mouth; my shoulders twitch to the electrifying beat. A captivating eighty minutes of high intensity. The beat, again, is the master. A percussionist (Iván Mellén), a guitarist (Claudio Villanueva) and a singer (Francisco Blanco) are all the backing they need.
Imagery speaks of concealment—why else do they pull their T-shirts over their faces, and why is a young man standing on a chair, white T-shirt over face ('Magritte surreal')—is he Christ crucified or an Abu Ghraib prisoner? Why is there an execution by four of one young man—is it a reference to Manet's Execution of Emperor Maximilian?
What do the white kerchiefs signify, if anything? Why is Paños the only one in a green vest—a reference to Lorca's Romance Somnámbulo "Verde, que te quiero verde (Green, how I want you green)"? Are he and his partner a couple in love? Or I am overthinking it? And what does it matter what one thinks… just go with the passion, emotion and commitment, with the duels and duets on the stage.
Go with the proud showing off, with the mercurial feet, the sweating, twisting, twirling, supple bodies, with their fast-changing solos, duets, trios and ensemble. With Estévez's cheeky twerking, and his Indian rhythms. He sings, too. Are his beautiful dancing hands a confession?
Is that man on the floor in a trance—dance can do that—or is his energy simply spent? Why does Paños climb on Perona's shoulders to hold a lantern in the darkness? Simply to highlight Estévez's solo at the end of the day? What's with the tinkling bells? Feet shuffle and slide, whispers, faces hidden. Estévez reads pages of text and then throws them away.
Tonight I have brought a fluent Spanish speaker with me to translate the songs, the text, but he can't hear them, drowned as they are in the sound and the fury of the music and those amplified, thunderous feet. Olga García's lighting turns red, we are near the end. The band of brothers stands together under the spot on a black stage, then lights out.
Pity La Confluencia is here for one day only, but there's a lot to fit in, twelve productions in a ten-day festival programme, 5–15 July.
Reviewer: Vera Liber