LA Dance Project Mixed Bill: Murder Ballads / Reflections / Quintett
Choreography by Justin Peck, Benjamin Millepied, William Forsythe
LA Dance Project
Sadler's Wells
–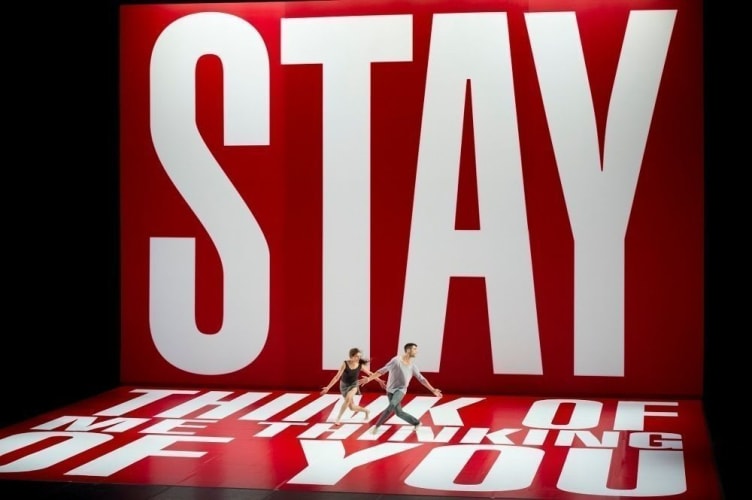 You may not have heard of LA Dance Project, set up in 2012 by Benjamin Millepied with composer Nico Muhly, art consultant Matthieu Humery and producer Charles Fabius, which sees its goal as creating new work in 'multidisciplinary collaborations, working with visual artists, musicians, designers, directors and composers' as well as reviving 'seminal collaborations from influential dance makers'.
That could be why the auditorium was far from full, but not why it was emptier still after the second interval.
You might know of Benjamin Millepied as choreographer of (and dancer in) the ballet horror film Black Swan, to which the dance world responded negatively, though it did put more bums on seats for Swan Lake.
You might know of him as Natalie Portman's husband from the gossip columns, and as of September 2014 you'll know him as Director of Dance at the Paris Opera Ballet.
Millepied has a fine pedigree: dancer at New York City ballet from 1995 to 2011, principal since 2001, choreographer for many prestigious dance companies.
But his Reflections (2013), sandwiched between Justin Peck's twenty-minute Murder Ballads (2013) and William Forsythe's twenty-six-minute Quintett (1993), is far too long and diffuse at nearly forty-minutes. I thought I overheard him say it was 'organic'—hmm.
To a minimalist score (This was written by hand / selections from memory pieces) by David Lang, played live on piano by Andrew Zolinsky, professor of piano at RCM and Goldsmith's, against visuals by LA artist Barbara Kruger (white-on-red words writ large), five dancers ostensibly act out interminable memories of desire and conflict.
STAY the backcloth says—THINK OF ME THINKING OF YOU the floor demands. The style is all over the place, sometimes borrowed, sometimes blue. Broken chords, right hand fighting the left, mirrored in conflicting styles—there's even a bit of b-boying from the wonderful Charlie Hodges, the reason for staying.
STAY becomes GO after a blinding flash of light. And go many do. Unfocussed, muddled, soporific, vague, a bit Cunningham, a bit Mark Morris, a bit...—I gave up caring half way through.
Thank goodness for William Forsythe's intelligent, touching Quintett, an eternal tribute to his dying wife, dancer Tracy-Kai Maier, to Gavin Bryars's hauntingly repetitive Jesus' Blood Never Failed Me Yet, which follows, and which should have kept everyone in their seats.
Soft arms, lyrical, classical, impulsive, a joyous fury of dance and movement full of surprises till the lights go out and the curtain comes down. The dancers are superb, with Charlie Hodges standing out again, a pocket-sized dynamo, a satyr of dance with perfect poise and placement.
Murder Ballads from 'star of the New York City Ballet' Justin Peck accompanied by music from Bryce Dessner, composer and guitarist known for his work in rock band The National, is easy on the eye and ear, a mix of old and new. American folk tradition replicated in modern style—Agnes de Mille, Aaron Copland, wide-open Oklahoma prairie lands occupy my imagination.
Six pairs of empty shoes on an empty stage are filled by young vital people—in boy meets girl ecstasy. In ensemble, duet and solo a narrative takes shape: crimes of passion amongst good folk?
Brandon Stirling Baker's lighting shifts mood from sunny to dark, from evening light to green-tinged skies, as the dancers run and jump under a big sky, classical and contemporary styles blending.
Youthful, energetic and fleet, this small company, seven dancers (Aaron Carr, Julia Eichten, Morgan Lugo, Nathan Makolandra, Rachelle Rafailedes, Amanda Wells, and Charlie Hodges) to treasure, light to travel, is a collaborative venture, which is to the good, though too many cooks and all that..
But its programming needs some reflection. An evening of self-absorbed works can make for a zero dynamic.
Reviewer: Vera Liber