La Fiesta
Conception, artistic direction and choreography Israel Galván
Sadler's Wells
–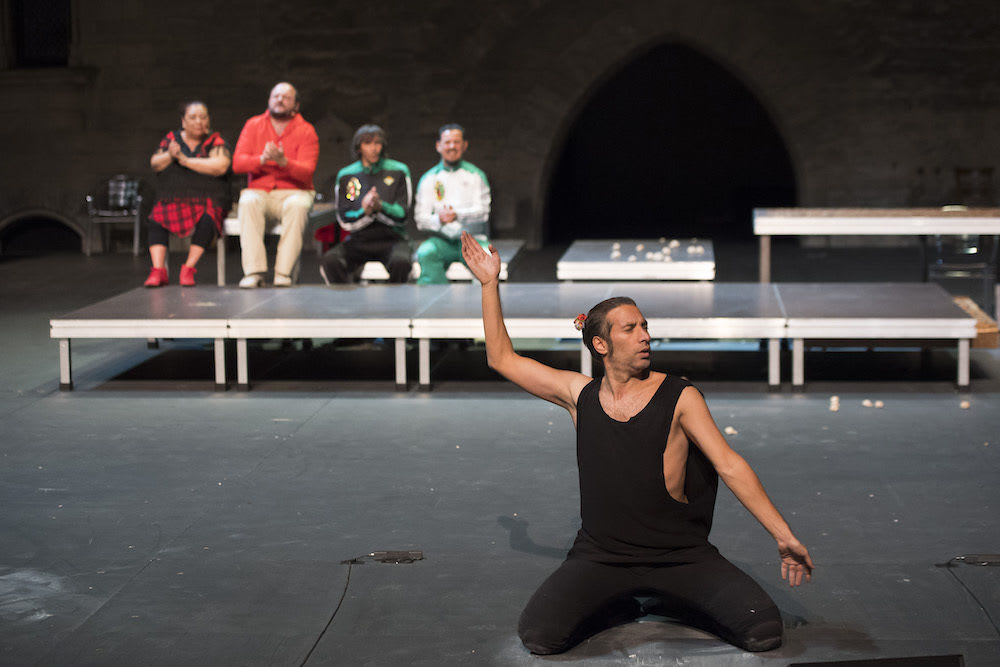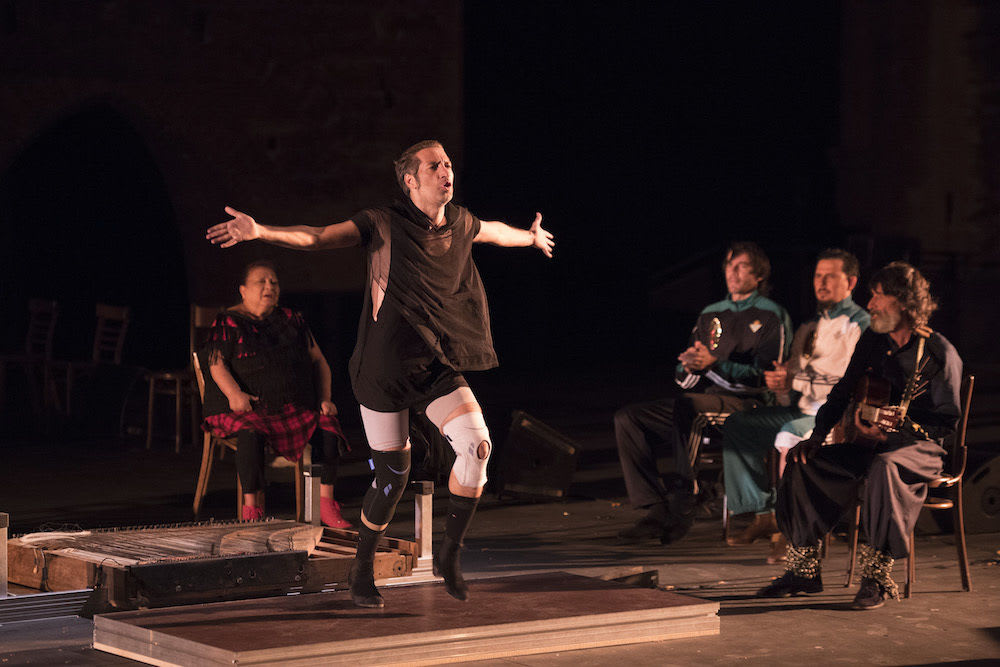 I come away from Israel Galván's La Fiesta with Picasso's words in my head: "it took me four years to paint like Raphael, but a lifetime to paint like a child". Galván, a flamenco dancer who transcends the boundaries of his art, frequently crossing genres, returns to his childhood memories of post-performance parties his parents gave and throws a no-holds-barred 'fin de fiesta' of his own, one he couldn't as a four-year-old child kept awake to perform through the decadent night when anything could happen and did.
The inner child escaping the trained professional for ninety-minutes of anarchic bedlam, what doesn't Galván do… Dances lying down, manoeuvres on his back like some Gregor Samsa, crawls on all fours, plays his body like a percussive machine, torso, thighs, teeth, but it's when he unleashes a zapateado drumroll that his playfulness takes a back seat. Body elegant, eloquent, a mischievous androgynous creature, with a flower in his cropped hair, he is all things, a master bailaor, the guiding imp at the party and the star turn in a bonkers world of his own.
Edward Lear nonsense verse I think and there's Lewis Carroll's Tweedledum and Tweedledee, a pair of male dancers in football tracksuits. A naughty pair, Jesús Aguilera and Ramón Martinez, and amazing dancers, Martinez especially—his balletic parade on noisy boots, as if on pointes, is a feat of equipoise and drunken thrill and a highlight of the evening.
As always, the singers and band get a chance to dance. Not all take up the offer, but the violinist, Eloísa Cantón, is game. She ends up restrained by her wrists on an upright bed box looking very like Frida Kahlo in her long red dress. The lights turn red: is this the underworld? Is Galván, are they all, souls in torment? Or is he the Lord of Misrule?
References are manifold. Is it Federico García Lorca, Salvador Dalí, Joan Miró or the heat of the Andalusian plains that have inspired his surreal visions (Cervantes too?), or all of them? An overabundance of ideas beyond reason, a nervous breakdown or is La Fiesta an exorcism of some sort in his theatre of the absurd? Is it a wake for the collective human soul?
Flamenco, a melting pot of cultures, is said to have affinity with kathak, which Galván and Akram Khan demonstrated in their 2014 Torobaka at this venue. If further illustration were needed, guitarist (Emilio Caracafé) wears ghungru ankle bells. There are audible Arabic influences in Tunisian soprano Alia Sellami's contributions. She also sings Purcell's Dido's Lament and a tape playing backwards (I think), as she wanders like a lost soul amongst the tablas, from which metal coins fall and shimmer like Zeus's shower of gold.
What Niño de Elche can do with his voice box is alarming, but it's when he caresses his thighs suggestively and later throws his bulk at the wall that one realizes this is where the party gets morbid and introspective. Sad songs are sung. Jazzy songs, syncopated beats, avant-garde visuals. Food is eaten and spat out—the party is getting unruly. Is this kindergarten? Bowls on heads become echo chambers for more percussive work.
Singer Uchi in her red black-fringed dress takes it all in good spirits, even when her seated ample body is shaken like a maraca by many dancing feet. Pianist Alejandro Rojas-Marcos in his smart suit seems to be the only sane one amongst them. There always has to be one.
Manic humour, surreal humour—Buñuelesque—and laugh-out-loud humour, but why is the audience so inhibited? Is it because the lights are kept on for some of the time? Most Spanish flamenco audiences join in with encouraging or praising shouts. Are we too polite or stunned by the capricious offerings? An hour and a half is probably enough for this improvised conceptual show, but it's resonating with me still. Shouts of bravo come at the end with stamping feet and a standing ovation.
From the over-amplified cacophony of sound what I take away is the beat, the complex beats in the feet, and the palmas—the human body as one big beat box. And what a graceful creature Galván is. That he can't disguise with all his madhouse capers. He is in total control. Like Picasso.
Reviewer: Vera Liber