La Fille mal gardée
Choreography by Frederick Ashton
Royal Ballet
Royal Opera House
–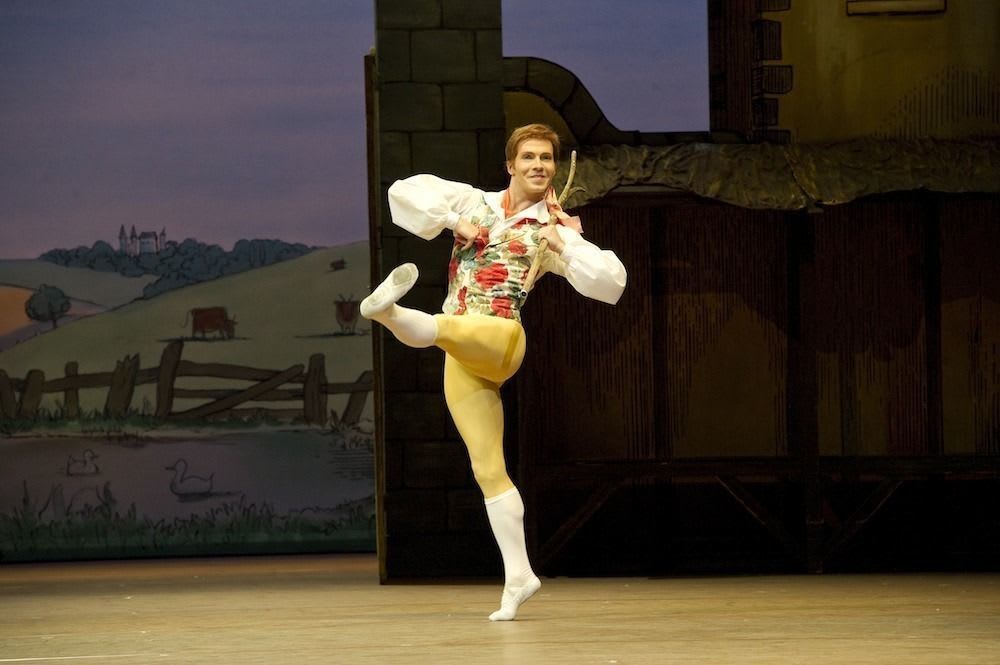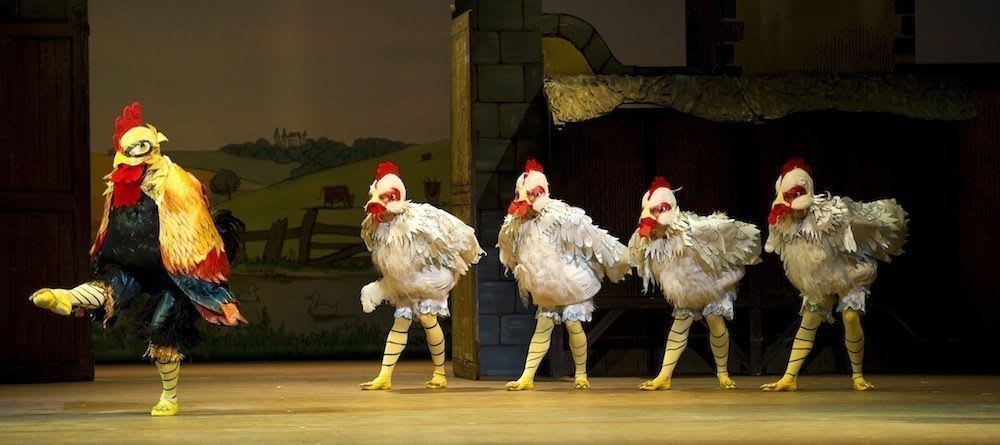 Much has been written about Frederick Ashton's English style, but perhaps his own words from "My Conception of La Fille mal gardée" can best describe his 1960 version: "There exists in my imagination a life in the country of eternally late spring, a leafy pastorale of perpetual sunshine and the humming of bees—the suspended stillness of a Constable landscape of my beloved Suffolk, luminous and calm."
Five casts capture the light-hearted roles, but as I had previously reviewed the first cast, the second cast drew my attention, though the final cast of Steven McRae and Roberta Marquez, to be filmed live for cinema, is also tempting.
Partners in real life, Alina Cojocaru and Johan Kobborg bring a touching tenderness to the roles of Lise and Colas, lovers undaunted by their elders' schemes, their snatched moments together given extra radiance by a natural rapport: the resounding smack of a kiss, the familiar glance, the comfortable lifts.
Rich farmer Widow Simone (Alastair Marriott), Lise's mother, wants to marry Lise off to prosperous vineyard owner's simpleton son Alain (Paul Kay), who seems more attached to his red umbrella—at least that lifts him up into the air during a thunderstorm. A strict and stern eye is kept on Lise, who is itching to join in the merry haymaking with the cheerful villagers.
Such bucolic pleasures are not for her. Her possessive mother, a comic panto dame, locks the door, pockets the keys, smacks Lise's bottom, and puts her to distracting work churning butter and spinning wool, but she is not difficult to outmanoeuvre. Nodding off in her chair, her keys are easy to steal, and Lise wins the day. Of course, mother comes round, and all is rounded off with a happy dance of the lovebirds and company.
Sunny, funny, and gay, a picture book romantic comedy with farcical elements is brought to jolly life and colour with infectious foot-tapping pot-pourri music from the eighteenth and nineteenth centuries, beautifully arranged, enhanced, and orchestrated by John Lanchberry, the European easily assimilated into the English, classical pas de deux, music hall acting, and English clog dancing seamlessly woven together.
The original 'spontaneous' choreography by Jean Dauberval of La Fille mal gardée goes back to Bordeaux in 1789—not only was there a revolution about to take place in France, but there was one taking place in the world of dance: the old artificiality was being swept away by the new reality. Not Marie Antoinette playing at shepherdesses, but ordinary simple country folk, enjoying the pleasures the countryside has to offer.
Characterization is of the essence for this story ballet, and Alina Cojocaru and Johan Kobborg are excellent actor dancers. Cojocaru's face registers sweetness, dejection, and embarrassment when found daydreaming about married life by her love. Mime plays a huge part in the telling. But it is her superlative dancing—wonderful arabesques, attitudes, and balances, that add lustre to the role. Her grands jetés are extraordinary—she is the frothiest of milkmaids.
Kobborg brings a natural affection and charm to Colas, no showing off, no straining at effect, completely in the role, the straight man in the comedy, the constant in the love story. The final pas de deux is unforced, believable and lovely.
A dreamy ballet of sweetness and light spliced with comic country ways—a real white Shetland pony and trap, a cock of the yard (Michael Stojko) and his hen harem, Osbert Lancaster's backcloths of picnics, cows in the meadow, ducks on the river, haystacks, and the big house on the hill.
An idyllic fantasy, sketched in wonderful pas de deux, comic pas de trois, a stage full of happy farm workers in costumes out of a Hollywood musical, maypole, flute, and stick English country dances, and catchy tunes, raise the spirits and calm the soul.
A pink ribbon extravaganza—cat's cradle, ribbon reins that harness and ensnare—speaks of an impossible improbable innocence. The ballet's pathway is a cat's cradle, too. In 1828 Ferdinand Hérold revised the original score (it is this score that forms the basis of Lanchberry's arrangement) for the Paris Opera's new production, which Fanny Elssler took to Russia in 1848.
In 1864 Peter Ludwig Hertel composed a new score for the ballet's Berlin revival. This too was taken up in Russia, where it was restaged by Ivanov and Petipa for the Mariinsky in 1885. Karsavina, who was a guiding light for Ashton, danced the lead in 1915. Anna Pavlova danced a condensed version in London in 1912, and Bronislava Nijinska produced several versions in the 1940s.
Ashton, taught as a young man by Leonid Massine, was much inspired by Nijinska's choreography. The historical thread runs deep. He in turn began his own revolution: a natural easy style, no bravura showing off, but a deceptively light flurry of fast footwork, delicious épaulement, lyricism, musicality, and wit.
Reviewer: Vera Liber