La Gioconda
Music by Amilcare Ponchielli, libretto by Arrigo Boito
Grange Park Opera
–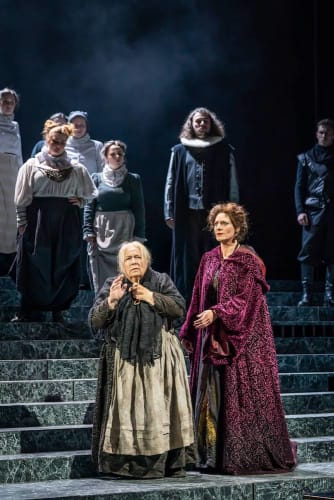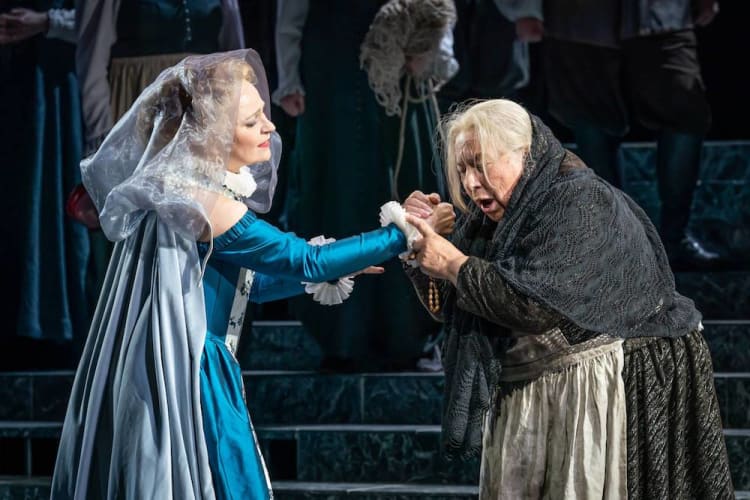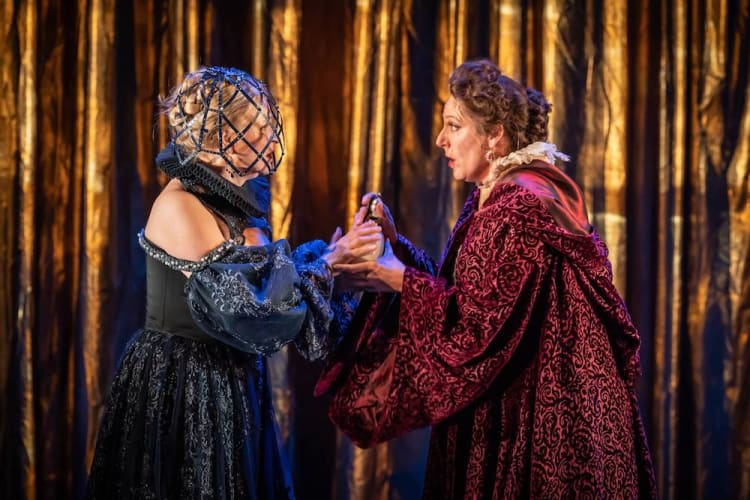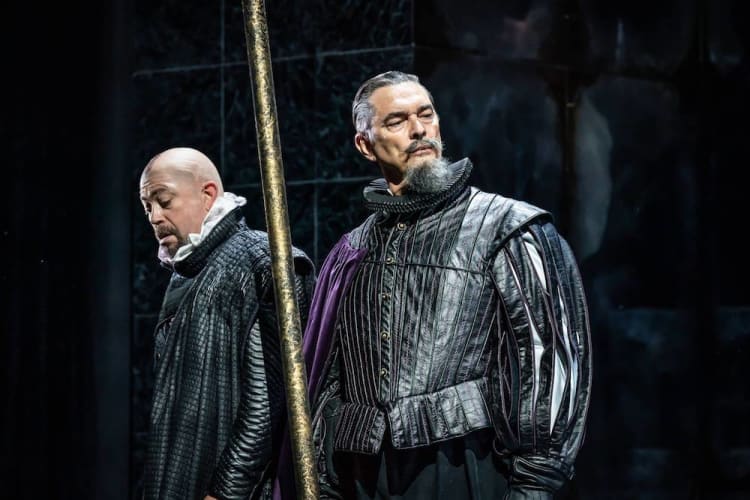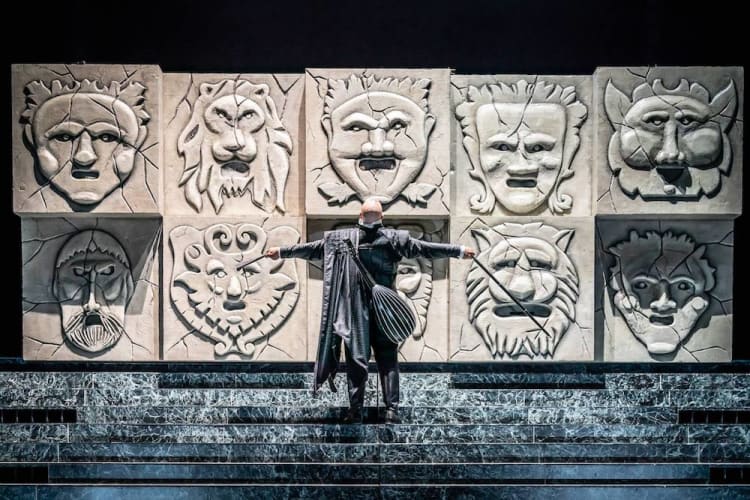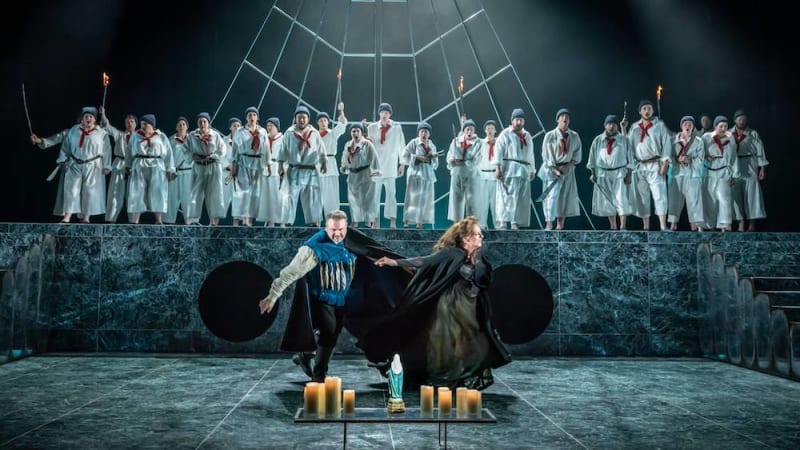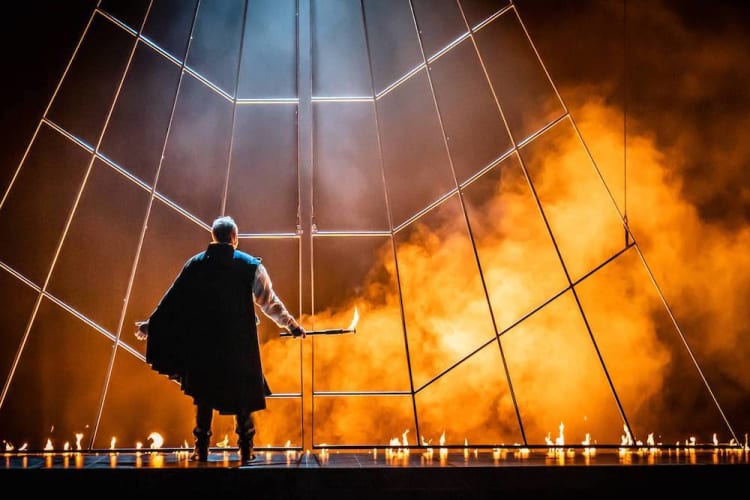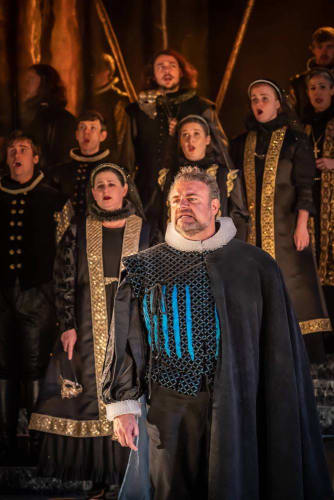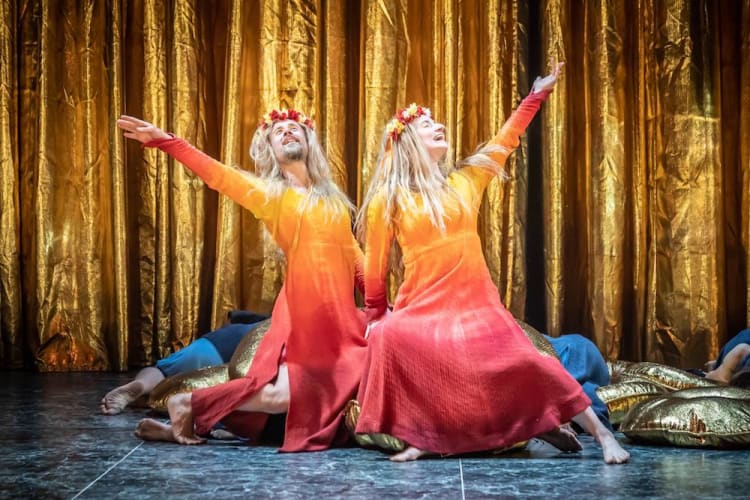 Where to begin with Ponchielli's La Gioconda, an ironic title if ever there was, his 1876 grand four-act melodramatic opera based on Victor Hugo's 1835 Angelo, Tyrant of Padua play, in which Hugo pleads for a better role for women rather than that of the traditional wife or whore. Though it seems more Shakespearean and Machiavellian to me.
Not frequently staged, La Gioconda requires a dogged vision to get it on: charismatic founder and CEO of Grange Park Opera Wasfi Kani is just the person to machinate it into place. She gets Maltese tenor Joseph Calleja to make his Grange Park debut in the role of Enzo. The poor man succumbed to COVID over here, but he has soldiered on. It takes him a tiny while to get his voice where he wants it, but when he takes off, wow, his duets and arias are worth the wait.
Set in Venice during the time of the Inquisition, Gioconda is a street singer caring for her blind mother Cieca (Elisabetta Fiorillo). Barnaba, the Inquisition's spy, a cross between Iago, Rigoletto, and the twisted mind of Richard III, lusts after Gioconda, but she loves Enzo, who loves Laura, who is married to the leader of the Inquisition, Alvise Badoero (Marco Spotti). Untangle that. My head is exploding with references.
Francis O'Connor's set design and Tim Mitchell's lighting leave us in no doubt that the chief manipulator is Barnaba weaving his spider's web (remember Anthony Sher as an arachnoid Richard III) to his own ends. Barnaba whips up the crowd to call for the immolation of Cieca (one way to win the hand of her daughter…) by calling her a witch. Remind you of anything—Il Trovatore? She is saved by Laura, to whom she gives her rosary as a lucky charm.
Lucky it is. Gioconda, jealous of Enzo's love for Laura, plans to kill her, but hate turns to compassion when Laura's husband condemns his adulterous wife to death by poison. Gioconda switches that for a sleeping draught and helps her escape with Enzo. Enzo in turn threatens to cut Gioconda's throat and then professes gratitude. Passions fly high. It's all there in the music. Just listen to the music.
He and Laura escape, not before setting his ship ablaze. Did I not say, he is a prince of Genoa masquerading as a sailor… Lots of 'Gilbert and Sullivan' sailors, thirty-three I count—the chorus is in fine voice, absolutely fabulous—swarming on and under the ship.
Health and safety obviously are happy with the fire at the end of act two—I recollect the Coliseum forbidding dramatic fire effects in the recent Valkyrie staging. How do they get away with it here? Is this more of the Kani effect? The effect is suitably dramatic.
Where was I—oh yes—at the Lenten feasting in the House of Gold, Alvise's palace might put Liberace to shame. Amidst the 'cabaret' gold curtains and gold scatter cushions, and the death sentence for his wife—"whirling dancers mixed with agony"—Alvise throws a party and we get the entertaining "Dance of the Hours", which most will know from Disney's Fantasia—hippos in tutus. Here the dancers seem to have stepped out of A Midsummer Night's Dream, with pillow fights, tempting golden apples, and a bit of cross-dressing—frolicking fun.
The singing is superb, if the acting somewhat old-fashioned, stand-and-deliver style. The voices astonishingly powerful at full register, and it seems to be mostly at full register, though when Ruxandra Donose's mezzo-voiced Laura duets with Amanda Echalaz's fierce soprano Gioconda, or with Calleja, something mellifluous is achieved.
It is a demanding opera, four acts, running time over three hours, first half one hour forty-five, second half one hour twenty, requiring six top notch leading singers in every voice category. Act three's sextet, all six leads (soprano, mezzo, contralto, tenor, baritone, bass) are enough to bring any grand house down, especially this 700-seater La Scala imitation, this theatre in the park, as it is lovingly called.
The final act sees Gioconda agree to give her body to Barnaba to save Enzo's life. Barnaba in the meantime has killed her mother. He's a nice piece of work, and a shaven-headed David Stout plays him to the hilt—the outstanding acting and singing performance for me.
Enzo and Laura sail away together to Illyria, whilst Gioconda (her testing 'suicide' aria is commanding), her heart breaking, drinks the poison intended for Laura, and dying manages to stab Barnaba to death, denying him his victory. What a woman. Maria Callas made her debut in the role at La Scala, and I hear that La Scala has a production on now, too. La Gioconda's time has come.
It is performed so rarely that many in the audience are hesitant about applauding—and this production does need applauding. There is panto booing for villain Barnaba—the classy audience letting its hair down—which he takes in fine spirit.
An exhilarating evening: for the economical design, the incredible cast and chorus, and the Gascoigne Opera under Stephen Barlow's baton. My neighbours in the stalls have travelled from Yorkshire to see it. It's a must for opera aficionados. It was last performed in London at the Holland Park Opera 2008, and I believe the Royal Opera House did a concert performance in 2004 (first seen there in 1883).
Ponchielli tutored Puccini and Mascagni—is this why I think I hear echoes of Cavalleria Rusticana in the vespers, and even Madame Butterfly—they learnt their lessons well. And Boito's Mefistofele, which I mistake (or do I) for Gounod's Faust, the music is so generously rich. And all this before I read the late Michael Fontes's erudite programme notes—there is more, much more, to learn. The season programme is worth buying.
Interestingly, La Gioconda is programmed with Verdi's 1887 Otello, libretto Boito, so if you're lucky enough to see both, you'll see Kani's intelligence at work. She is educating her loyal 'family' and honouring Bamber Gascoigne's inspired philanthropy.
Reviewer: Vera Liber