La Maladie de la Mort
Marguerite Duras, translated by Alice Birch
Théâtre des Bouffes du Nord
Royal Lyceum Theatre
–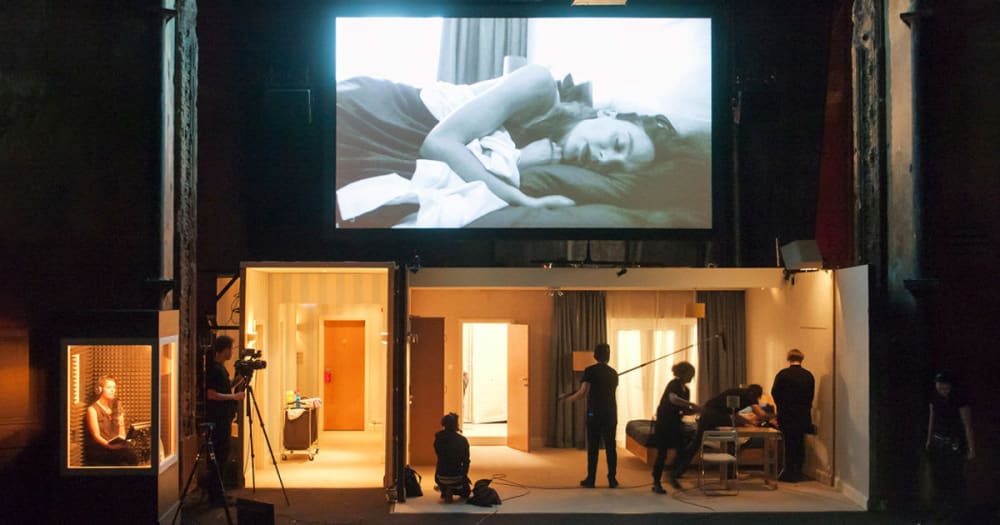 Like The Beggar's Opera, this adaptation of a Marguerite Duras short story hails from Peter Brook's Théâtre des Bouffes du Nord in Paris.
Spoken in French but utilising a surtitled translation by playwright Alice Birch, Katie Mitchell then transforms a story with almost no substance into a theatrical presentation lasting 70 minutes.
She does so using her tried and trusted technique of putting together minutiae into a film projected above the actors and technicians who are together making it all possible.
In this case, given the minimal action, the evening is held together by narration from Irène Jacob, who spends the duration trapped in a tiny broadcasting booth.
She helps to explore a story of passion that becomes semi-pornographic as a woman of the night, depicted by Laetitia Dosch, accepts extortionate payments in return for attempting to introduce a middle-aged man played by Nick Fletcher to love.
All of the drama takes place in a single hotel room, although while much of the filming is live there are also scenes from the outside world, featuring the ocean beyond the bedroom window but also what appears to be a recollection of a defining moment from the woman's childhood, which gives perspective to what is translated into English as "The Malady of Death".
Everything is presented beautifully and the evening is somehow intoxicating, although those that try to analyse too deeply might conclude that a quietly moving short story might offer a lot more to a reader than a theatregoer.
Even so, the audience was transfixed by the subtle mood swings and attempts to enter into the minds of two individuals, neither of whom opens out to any significant extent at any point during this brief journey.
Reviewer: Philip Fisher