La Traviata
Giuseppe Verdi, Libretto by Francesco Maria Piave, based on La Dame Aux Camélias by Alexandre Dumas fils
Opera Philadelphia
Academy of Music, Philadelphia
–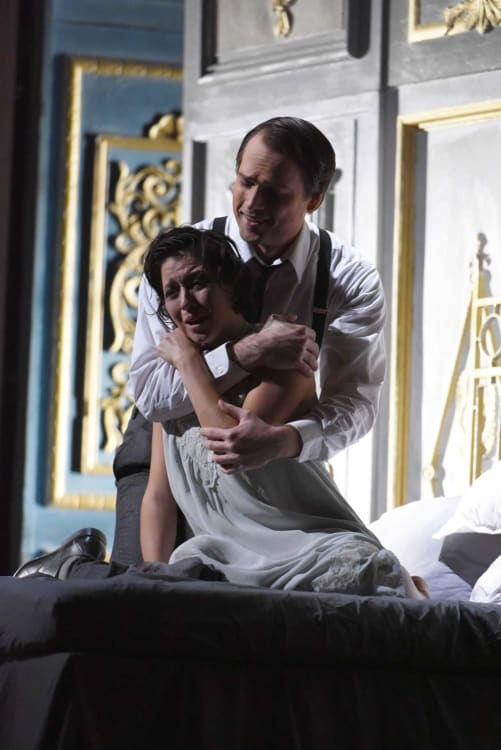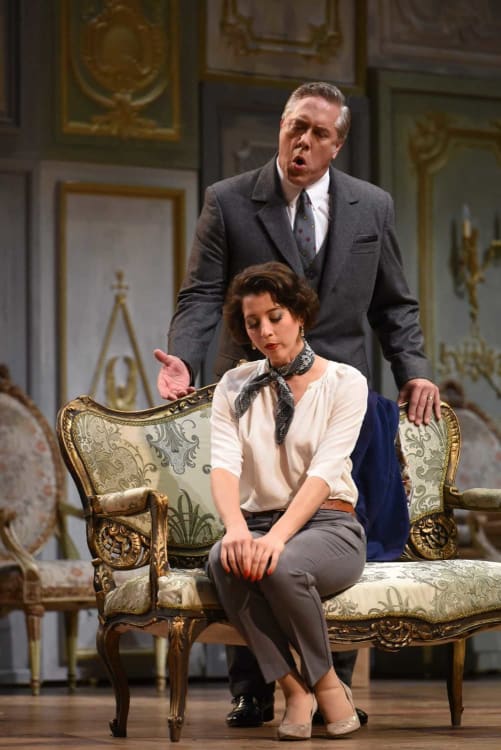 Anyone wondering why Opera Philadelphia has chosen this 2015 performance of one of Verdi's most popular operas to grace its 2020/2021 online season need do no more than listen to a few seconds of coloratura soprano Lisette Oropesa singing in her role debut.
The Spanish-American performer's voice is quite outstanding and instantly seductive. As if that were not enough, she is also a talented actress, as well able to woo a camera as her character does gauche Alfredo. Tenor Alek Shrader in that role really comes into his own when the character is at his most belligerent and argumentative, the duo then combining perfectly at the death.
In this production, originally commissioned by Bucharest National Opera, Scottish director Paul Curran has chosen to update the setting to the 1960s, where Miss Oropesa's Violetta starting out in sexy royal blue ballgown, traditional scarlet taking over later, is the Queen of a salon in a gorgeous setting that is a country house at the very least and might just be a palace.
Gary McCann's lavish set and costume design suggest that the company has made the most of a healthy budget, creating an overall visual effect that can compete with some of the best opera houses in the world.
The Orchestra under conductor Corrado Rovaris and chorus are no slouches either and, while Lisette Oropesa sings sensationally, that is not to diminish the efforts of Shrader and baritone Stephen Powell taking the role of Alfredo's father Giorgio Germont, as well as the supporting singers.
The plot has practically achieved mythic status. It follows the brief affair between Violetta and Alfredo, each of whom has clearly found the love of their lives.
However, this is no fairy-tale and the lady is forced by Germont to make an impossible decision. He asks her to sacrifice her own happiness for the benefit of others, which she does settling for life as a woman kept by wealthy Baron Douphol, portrayed by Daniel Mobbs.
As if this were not bad enough, what appears to be no more than a mild cough in this version is actually a sign of an underlying disease. If nothing else, that seems far too close to home for those of us watching from the comfort of our locked-down living rooms in 2020.
Although the story of the lady of the camellias is tragic, Paul Curran injects a good deal of humour into his interpretation, before the pathos inevitably takes over in the touching final scenes.
In summary, this production looks and sounds good, while there is an opportunity to watch a star in the making giving an outstanding rendition of a role that she might well make her own in years to come.
The recording is available either for a seven-day rental at $20 or via an annual subscription to see all of the Opera Philadelphia Channel output for $99.
Reviewer: Philip Fisher