La Traviata
Giuseppe Verdi, libretto by Francesco Maria Piave, based on La Dame Aux Camélias by Alexandre Dumas fils
La Fenice
La Fenice Theatre, Venice
–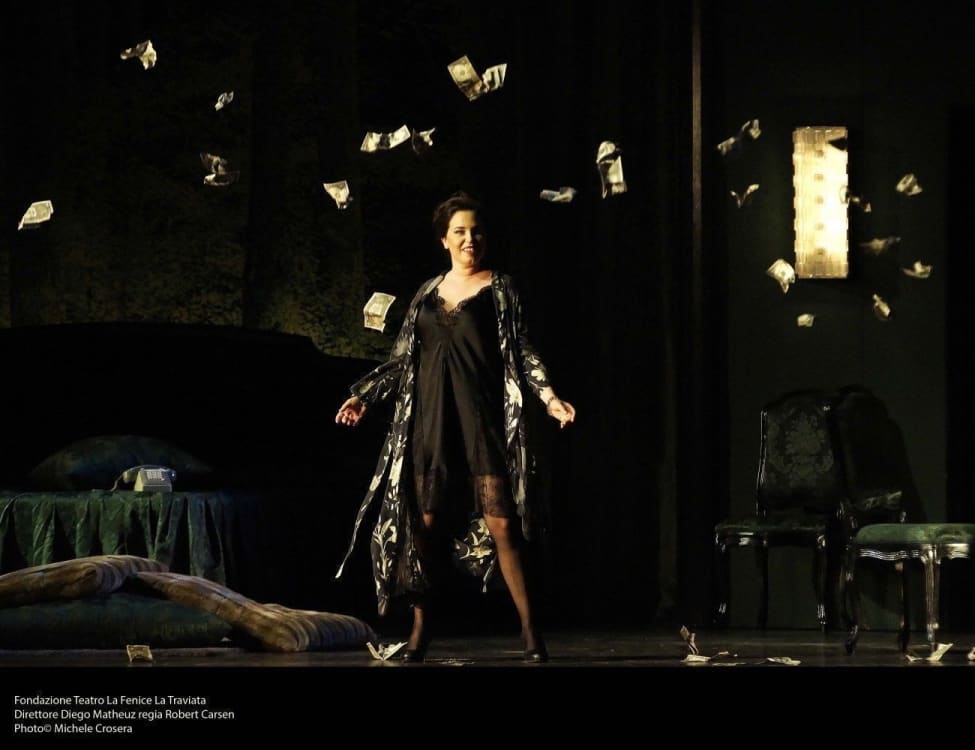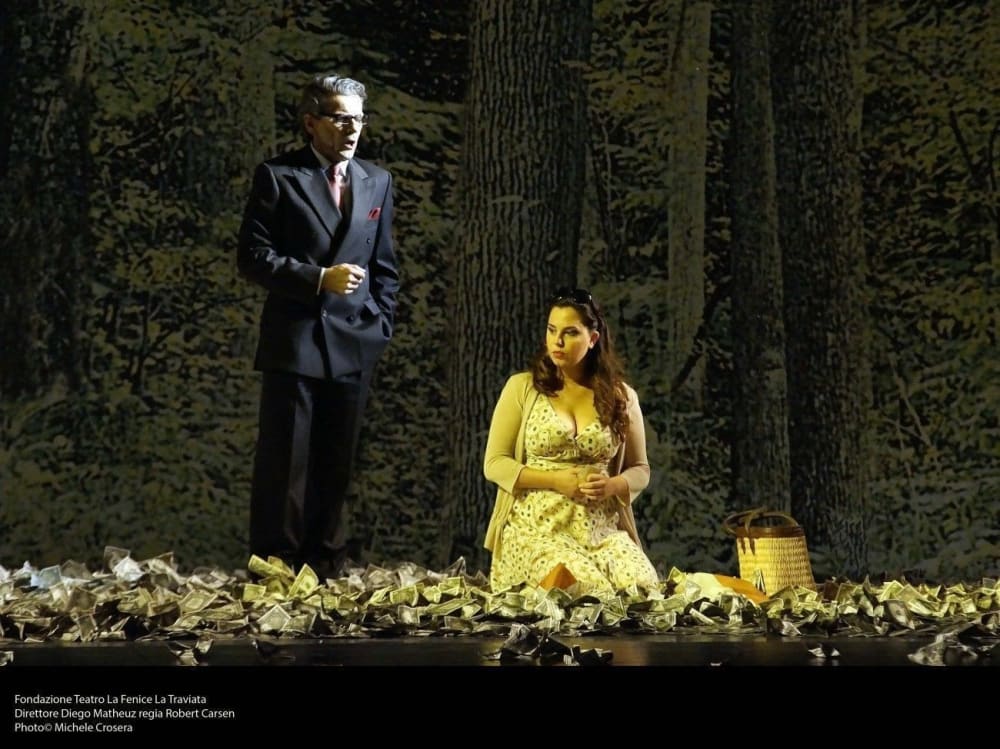 La Traviata and La Fenice go back a long way. The opera enjoyed its debut at the theatre in 1853, while this spectacular revival by Canadian Robert Carsen was first seen in 2014 and continues to be a popular part of the repertoire with 11 performances in the current season.
One can easily see why, since this lively modern take on La Dame Aux Camélias is eye-catching in the extreme.
It opens in a luxurious hotel suite where dissolute Violetta, gloriously sung by soprano Jessica Nuccio, is entertaining a large party of friends in particularly colourful costumes. There, she and excellent tenor Piero Pritti as Alfredo instantly fall in love.
The couple's happiness is then cemented in a forest hideaway where the leaves appear to be made of dollar bills. Even frittering away all of their money is not enough to dent the imperishable love of an operatic twosome. However, the appearance of Germont, Alfredo's besuited father played by baritone Luca Grassi changes the young couple's lives forever.
With the best will in the world and in an attempt to protect his only daughter, old Germont begs Violetta to part from her love forever.
Despite the pain that it causes her, and in the knowledge of an impending death from tuberculosis, a lady whose morals had previously been questionable to say the least accedes to the request, much to her own distress and that of a distraught Alfredo.
The scenes after the second interval in a production that runs to just under three hours are always going to be harrowing, as lovelorn Violetta is forced to die bravely in the company of her soprano assistant, Elizabeth Martorana taking the role of Flora.
The final scene in which there is a tripartite reconciliation should bring tears to the eyes and thanks to both the acting and singing performances from all three leads does exactly that.
Young Venezuelan conductor Diego Matheuz brings the best out of a strong cast accompanied by a large chorus, while Jessica Nuccio, Piero Pritti and Luca Grassi all gave exceptional vocal performances at the production under review.
This highly enjoyable production of what is described as a melodrama in three acts is likely just keep coming back at La Fenice and anyone who happens to be in Venice when it is being performed should head straight down to relish a memorable modern reading of the opera in sumptuous surroundings.
Reviewer: Philip Fisher