Labels
Joe Sellman-Leava
Worklight Theatre
Pleasance Courtyard
–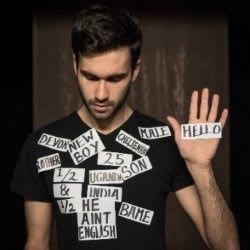 It is easy to see why this multi-award-winning solo show, which first hit the Fringe in 2015, has returned each year since by popular demand.
On one level, Joe Sellman-Leava, still only in his late 20s, delivers scenes from his own autobiography as a structure. These are then illuminated by a series of Labels.
While this might at best be mildly amusing for those that do not know him, our guide takes it to another league, thanks to his intelligence, wit and ability to understand and respond to political and social change.
The performance opens with quotes from political bigwigs and minor celebrities, generally right-leaning and in most cases, bigoted. Everyone from an anonymous Conservative Party spin doctor c.1964 to Enoch Powell, UKIP's Nigel Farage and the BNP's Nick Griffin and even the two most recent Prime Ministers plus Jeremy Clarkson.
Given that the writer-performer was, like his parents, born in Cheltenham, his interest in such issues might have been prurient or potentially alarming, had his father not come from Ugandan Indian stock, leaving the youngster prone to often unwitting racial stereotyping as he grew up.
Using cards, stickers, an old suitcase and audience members as props, Joe Sellman-Leava delivers a powerful political statement in an inoffensive and highly entertaining manner.
As such, Labels is distinctive and compulsive, hence the return trip, which is almost certainly sold out by now.
Reviewer: Philip Fisher