Labute New Theater Festival
Neil Labute, James Haigney and Carter W Lewis
St Louis Actors' Studio
59E59, New York
–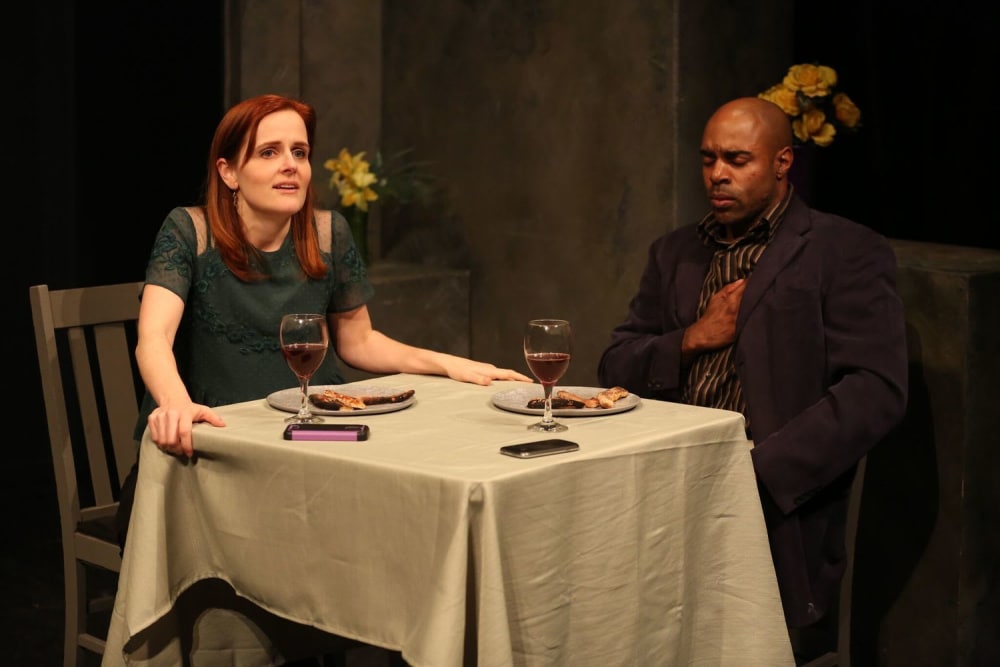 The enterprising St Louis Actors' Studio has brought a triple bill of new plays to New York for a short run. The programme plays for around 100 minutes in the compact Theater C at 59E59.
Hate Crime by Neil Labute
The writer who has given his name to this festival contributes a short two-hander that harks back to the themes of earlier works such as Bash: Latterday Plays and may also bring to mind a number of plays by Pinter.
In a hotel bedroom, two gay men meet. Chauncy Thomas plays a control freak, while Spencer Sickmann is his happy-go-lucky visitor.
In 20 or so minutes, they talk about the latter's impending marriage to an older man, and their own plans for a new future together, predicated on the murderous hate crime of the title.
This edgy little play is far more a study of character and oblique commentary on contemporary mores than a piece that relies on plotting and conveniently tying up loose ends.
Winter Break by James Haigney
Winter Break taps into a contemporary zeitgeist that will feel as relevant to British viewers as those in the States.
It largely shows a meeting between Kelly Schaschl's Joanna and her mother played by Autumn Dornfeld at their comfortable family home. The student is packing for a trip to Turkey, having decided to become a Sufi Muslim and change her name to Aisha.
Predictably, Mum is concerned, although she does her best to be understanding and supportive.
Joanna's brother Bailey (Sickmann) is more suspicious, expressing angry concern that the young woman may be heading to Syria and an appointment with a radical agenda, possibly even involvement in terrorism.
The debate that rages feels entirely authentic and will provide food for thought for anyone with young adults in the family.
Percentage America by Carter W Lewis
After the interval comes the longest play on the bill and this satire also looks at the world today, in this casethrough jaundiced eyes.
On a computer date that seems to be heading nowhere, a duo played by Thomas and Miss Dornfeld suddenly injects an erotic charge into the relationship for unorthodox reasons. They are fired up by their own date lies (age / status / history etc.) and swiftly compare this to everyone's topic of the moment, fake news. They decide to take the challenge of debunking at least one story by researching underlying sources with the goal of uncovering truth and honesty.
Their chosen item relates to a 15-year-old girl, potentially a terrorist and accused of seditious behaviour on the White House Lawn. The play then follows the premise, taking swipes at the media and even an unnamed President, whose veracity would apparently seem open to question, at least in their eyes.
This is a fresh and amusing look at a serious subject that, like the others in this Festival, will exercise theatre makers across the world over coming years.
Reviewer: Philip Fisher