La Cage aux Folles
Music and Lyrics by Jerry Herman, Book by Harvey Fierstein, based on the play by Jean Poiret
Menier Chocolate Factory
(2007)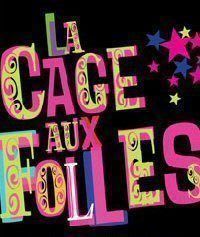 The unintended irony at the start of Terry Johnson's revival of his musical based on a French stage play could not be greater. After a highly polished opening drag scene set in a Riviera nightclub, Philip Quast as the MC becomes increasingly panicky as he asks "where's Zsa Zsa?" or "where's Albin?"
The missing character is played by Douglas Hodge, whose serious illness twice delayed the opening of what was supposed to have been the Menier's Christmas musical but has become their New Year extravaganza.
The theatre, as probably no one needs reminding, has become a producing house for the West End, with Dealer's Choice their third transfer in the last couple of years. They are also trying to go on to greater things with the impending arrival of Sunday in the Park with George on Broadway.
There is a clear intention to transfer La Cage Aux Folles to a larger stage and, judging by the enthusiastic reaction of an opening night audience who had waited so long to see this show, there might well be a market to allow it to transfer to one of the smaller West End theatres.
The play has two contrasting attractions. It allows its audience to enjoy the experience of a night out in the campest of St Tropez nightclubs featuring not only a star who, to be honest, is probably a little over the hill but also a team of six singers and dancers.
They have been perfectly choreographed by Lynne Page who draws tremendous acrobatic skill from the professionals but also gentle entertainment in soft shoe shuffles starring the leading men. To add to the fun, one member of this sextet is female but, in another supremely ironic gesture, anyone who fails to read the programme or spot the higher singing voice would not know the difference.
The second attraction is a comedy of manners and gender politics provided courtesy of Harvey Fierstein. The man behind Torch Song Trilogy is, like Johnson, versatile. Where the director also writes, the writer acts but he has a good line in the evening's favoured theme - irony - and knows how to create a drag queen.
It was worth waiting for Douglas Hodge to recover, as the whole production has been built around his performance as Albin. His performance is a pleasure, especially in the moments where his character's over-developed sensitivity comes to the fore. Then, we get a bittersweet mix of comedy and pain, which is the justification for the entertainment.
The story should be familiar from films in both English and French, not to mention stage versions. Georges, who sounds and times his jokes just like Kenneth Horne, owns the nightclub and for over rwenty years, has been "married" to Albin. Their relationship is genuinely loving and almost entirely believable.
They have a son, Jean-Michel played by Neil McDermott, who, having reached his mid-20s, decides to marry. This being in part at least, a French farce, the rich parents of his fiancée turn out to be Iain Mitchell's M. Dindon who is Deputy General of the Tradition, Morality and Family party, which is committed to clearing up the town's gay community, and his posh but more sympathetic wife, Una Stubbs a long way from Worzel Gummidge but marginally closer to the intolerance of Till Death Us Do Part.
When they demand to meet the in-laws, this gives Quast and Hodge the opportunity to show off their skills. First, there is the evening's comic highlight as Georges gives Albin a hilarious lesson in masculine deportment. Then, as things begin to fall apart, the drag queen is forced into playing the part of her life as "mother". Hodge is superlative until an inadvertent slip gives the game away.
By then, the play has moved into a finale that sees almost every performer on stage in glittery female clothing including the embarrassed politician who gets his comeuppance at long last.
In addition to the leading actors, Jason Pennycooke gives a bravura performance in the part of butler turned maid and would-be superstar, Jacob, perfectly mirroring his mistress' humour and sensitivity.
Some of the singing is rather weak, but Jerry (Hello Dolly) Herman's appropriately Gallic music has high points, notably in the title song and the proudly definitive I am What I am.
The visual impact of this production is second to none, thanks to set designer David Farley, who knows the space well now, and his costume colleague Matthew Wright who clearly believes in brightly coloured sparkle.
With its combination of comedy and razzmatazz, La Cage Aux Folles and the popular appeal of music by Herman provides for an appealing evening that might well be destined for the bright lights of the West End.
Reviewer: Philip Fisher