Ladies and Gentlemen
Choreography and direction Lea Anderson
Lea Anderson
The Place London
–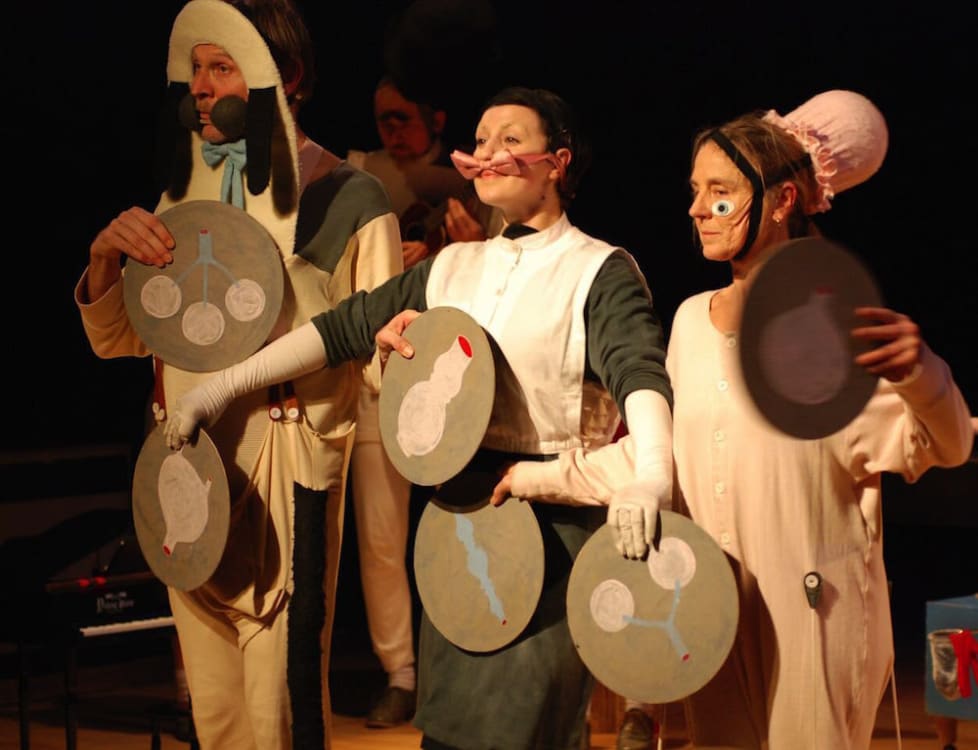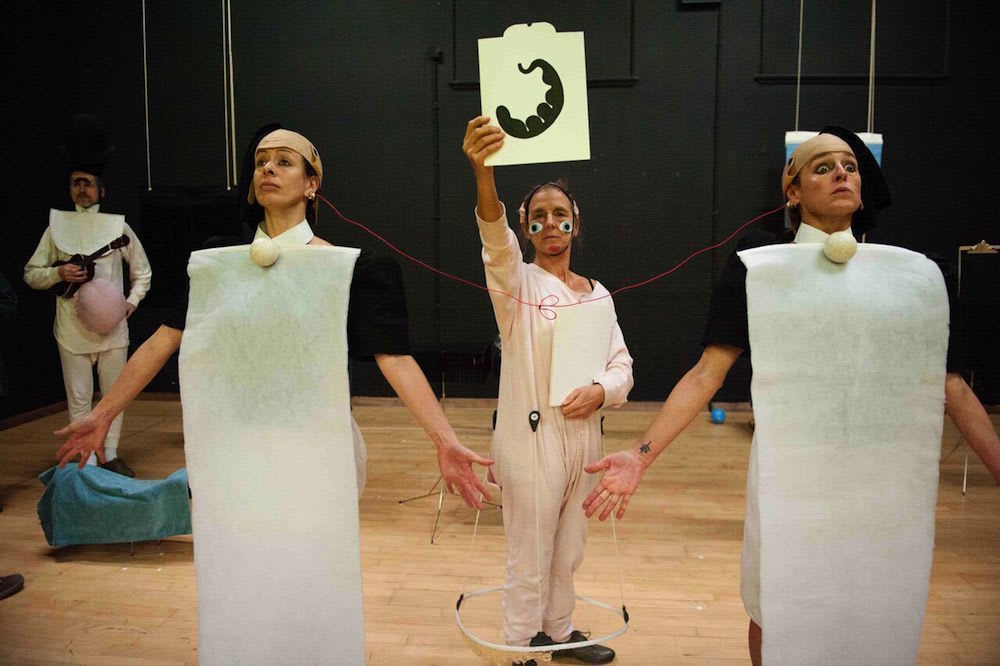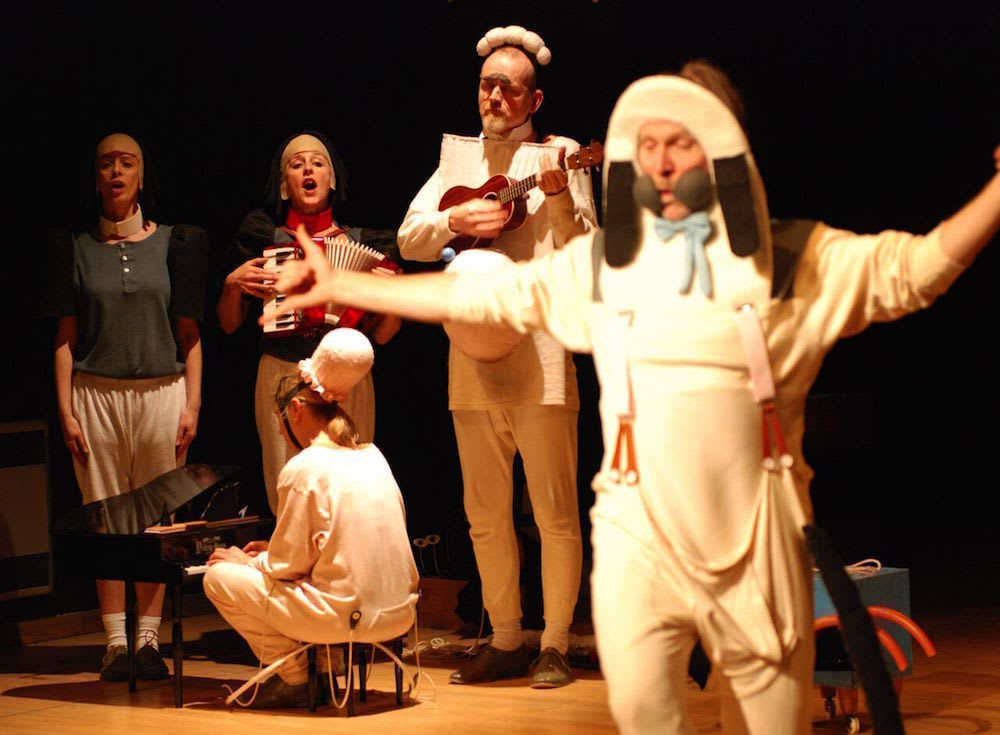 Lea Anderson is a one-off, in a league of her own, uncategorizable. I remember her all-female Cholmondeleys and all-male Featherstonehaughs from the 1980s with nostalgic delight. She fell off my radar for a while, but here she is again as zany as ever in Ladies and Gentlemen (you can hear the drum roll, can't you) in a fifty-five-minute show as barmy and bonkers as ever.
An art student's (which she once was) installation litters the studio space in artful arrangement. Tim Spooner is responsible for the curious costumes and curiouser props, too many to take in at one glance, but they will all be used. Are they a nod to Dada's Cabaret Voltaire or to André Breton's surreal collection?
For surreal the show is: Magritte's pipe—or two rather—with cotton wool smoke, Edward Lear and Lewis Carroll's nonsense style verse and ditties, twins that could be Tweedledum and Tweedledee, and Ken Campbell-esque ventriloquist routines.
An English eccentric amateur shambolic sheen is given to a production that would do the Russian avant-garde proud: OBERIU, Daniel Kharms, Zaum (literally beyond language). As blue planets circle the neatly arranged group from hand to hand they remind me of the 1913 Victory over the Sun.
I wonder am I fanaticising or is Anderson at my elbow nudging me? Of course, we all bring our own references, but how clever is that. The Dmitry Krymov Laboratory led by set designers is as close as I can get to a contemporary parallel.
A company of six: parents, twins, cat and dog, a music hall family we are told, try to recollect old routines. The babbling and muttering, I eventually realise, are each of them, at the same time, repeating stage instructions as they go about their business.
Costumes look homemade and make some sort of irrational sense. "Oh magnificent man" has his moustache on his forehead; "oh wondrous woman" her eyes on her cheeks, the cat wears a mantelpiece, and what the dog does with his tail I'm not telling.
The twins are obedient and musically talented, one on squeezebox, the other on flute, and have lovely voices. In fact they all sing very well. Mother plays a toy baby grand; father a ukulele.
What it has to do with dance I'm not sure, but there is plenty of carefully choreographed movement. Wacky routine after wacky routine in deadpan delivery—think Tommy Cooper magic tricks that go nowhere—are accompanied by special voice effects from this self-sufficient troupe.
Take your inner child with you and you'll love it. The young crowd in the audience were finishing the lines of the rhyming verse the paterfamilias was singing with faux innocence—how involved is that…
The dog and cat do a mental mantel routine, and teeth fall from a box attached to the cat's throat… What's that about? No time to gather one's senses before another magic trick is tried. How about telepathy between twins? Hmm.
The props are neatly cleared to the back of the stage for a damp squib to go off, then brought back again for the spoof ventriloquist routine, all teeth and no eyes. Birds sing, stop when covered, but there's always one that breaks the rule.
Break just about every rule Anderson does, punchlines are fluffed charmingly, disarmingly, and that's it folks. But wait. They come back for a musical encore on all their instruments plus glass harp, kazoos, bells and percussive block. A proper little orchestra—words, music and musical direction by Steve Blake—beautifully lit by Simon Corder.
Promotional blurb for once does not exaggerate: "a beguiling and jocular soirée of magic, music and dance. Besieged by an ever shifting and bewildering miscellany of inscrutable and enigmatic props, the last sorry remnants of a legendary music hall family doggedly endeavour to reconstruct fragments of misremembered routines and hazily recollected punch-lines, in a hopeless attempt to revive their all but forgotten act."
Maybe forgotten by them, but Ladies and Gentlemen will linger in my mind for some time yet. Performers Makiko Aoyama, Belinda Neave, Gareth Clarke, Marega Palser, Caroline Sabin, and Bert Van Gorp in bloomers and old-fashioned baggy combination long johns, looking if anything down on their luck, charm the pants off me.
Reviewer: Vera Liber