Lady in Red
Claire Moore
Certain Curtain Theatre Company
The Lowry, Salford
–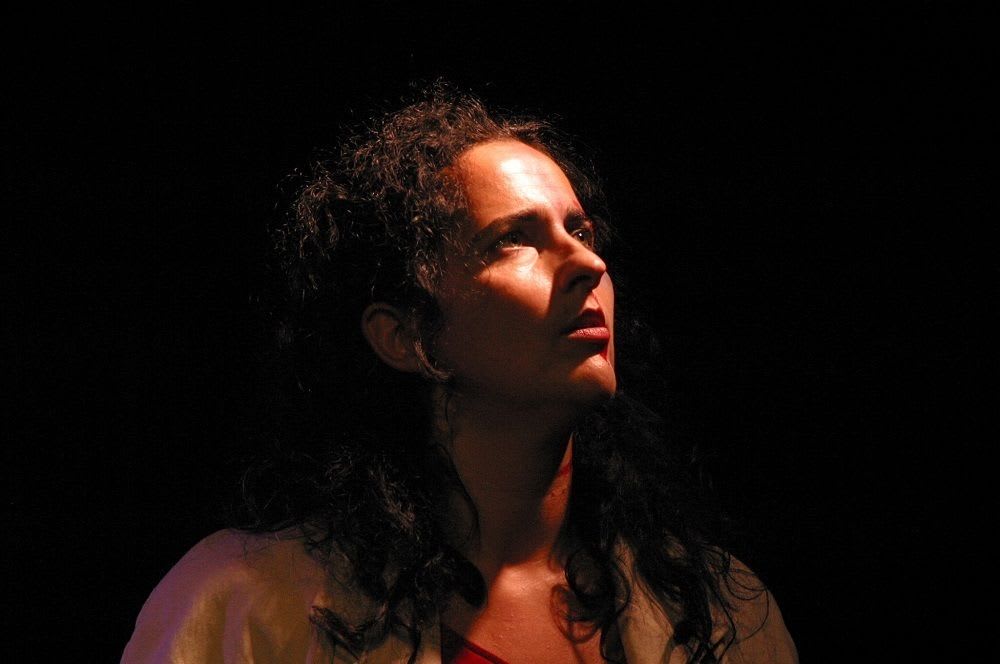 Typical. You wait ages for a play about domestic abuse then two arrive as part of the same theatre festival. Lady in Red, written and performed by Claire Moore, follows Jordan which addressed the same theme but the approach taken is very different.
In a dishevelled room, Rose (sole performer Claire Moore) dances alone. Her hands and face are blood-stained, and her memory is confused. Gradually she pieces together the years of physical and mental misuse by her unnamed partner which has left her too timid to escape the abusive relationship.
The atmosphere for Lady in Red is that of a bewildered fever dream. Just as Rose struggles to piece together her memories, the audience must try and understand the aspect of an abusive relationship which observers find most puzzling—why the abused party refuses to leave.
Claire Moore suggests the reason is twofold. Dotted throughout Rose's memories are examples of how her partner took control of her life and eroded her self-confidence. Rose is persuaded she needs no friends other than her partner and does not need to work but can depend upon him for financial support. "He doesn't like me spending his money," sighs Rose, eyeing the paltry Christmas present she has bought. Trying to find a potential refuge, Rose is shocked to realise how long it has been since she spoke to her friends.
Hanging over the play is a crushing sense of shame that inhibits action. Rose is aware of the mistakes she has made yet feels unable to acknowledge them to other people. Her mother believes Rose must lie in the bed she has made, and her judgemental brother is of little practical help. Rose is so conditioned to excusing and justifying her partner's actions, she cannot consider involving the police.
Rose becomes, therefore, a convincing heroine, albeit one who does not behave in a conventional manner. Throughout the play, she constantly finds reasons to remain with her abuser, giving the audience an idea of the sheer courage required to make even the slightest behavioural change—preserving the last example of Christmas decorations destroyed by her partner.
The dream-like nature of the play is apparent in Rose's ornate turn of phrase. She speaks in blank verse close to streams of consciousness. Colours are a major theme in Rose's monologue—red, her partner's preferred colour, symbolising control, while green represents Rose's innocent youth and white is the symbol not so much of freedom as escape.
Lady in Red is a realistically bleak play; Rose accepts leaving her partner does not guarantee a better life, only a cessation of abuse. Rose's options are limited, and Claire Moore's script drip-feeds enough hints in the early stages the conclusion is credible rather than a 'shock' twist. Lady in Red helps explain why people sometimes seem to be complicit in their abuse and gives an idea of the daunting complexities involved in breaking the cycle of violence.
Reviewer: David Cunningham