The Lady's Not For Burning
Christopher Fry
Finborough Theatre
(2007)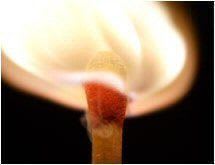 In the period when this play was written, just after the Second World War, there was a vogue led by the likes of Fry and T.S. Eliot for historical dramas in verse, often with a religious element.
The Lady's Not for Burning was one of the most popular plays of the time, helped by a West End cast that included John Gielgud and Pamela Brown in the leads with young pretenders as strong as Richard Burton and Claire Bloom in support. It got a new lease of life when another alleged witch, Lady Thatcher, paraphrased the title in a successful attempt to save her own (political) life.
The Finborough is once again to be congratulated for reviving a play that should remain in the canon, both as a reminder of a past time and as a poetically written, often very witty play with hidden depths.
Set in the fifteenth century, the main storyline follows an unorthodox pair who come before the authorities, one seeking imminent death and the other seemingly destined for it.
Thomas Mendip, played with intermittent charm by Grant Gillespie, is tired of life and proclaims himself the devil, demanding to be hanged.
By contrast, Gemma Larke's Jennet Jourdemayne has been unjustly condemned as a witch and is causing riots on the streets as the public demand a burning.
Their fates will be decided by Mayor Hebble Tyson (Andrew Macbean) aided by a Witchfinder with an exceedingly dry sense of humour (Michael Kirk). Further light relief is offered by a pair of bickering brothers who compete over every woman who appears, other than their almost as comic mother (Gay Soper).
Exemplifying the sirens these is Laura Sanchez as virginal Alizon, promised to one brother, stolen by the other but destined for the moral young Richard (Patrick Myles), the mayor's secretary, who has to put up with bullying and a pair of spangly tights. They are the low point in Anna Jones design, which otherwise conveys the period expertly and provides lavish looking costumes, presumably on a shoestring.
Walter Sutcliffe's production suffers from a variety of acting styles and a team that too often seem to ignore the verse. However, there is humour and drama in great supply in what is ultimately a worthwhile and often very entertaining revival of a thought-provoking three act drama.
Reviewer: Philip Fisher