The Lady from Dubuque
Edward Albee
Theatre Royal, Haymarket
(2007)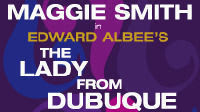 Edward Albee isn't the most comfortable of playwrights to watch, even when Dame Maggie Smith is leading his cast. That, though, can be part of the charm of his writing, as he ignores so many of the accepted theatrical norms in his efforts to challenge viewers' preconceptions.
When The Lady from Dubuque made its American debut the best part of thirty years ago, the audience failed to live up to the challenge and the number of previews comfortably exceeded the post opening night performances as it died almost without trace.
Anthony Page, a real Albee expert having presented four previous plays in the West End, including two with this show's leading lady, either proves that times have changed or this is a much better play than the Americans realised.
When the curtain rises, the first impression is that this might be a repeat of Page's recent Albee success The Goat, or Who is Sylvia?, as Hildegard Bechtler's light, airy Connecticut home occupied by Jo and her husband Sam is a sibling to that used in Albee's recent play.
In other ways, the first 45 minutes of The Lady from Dubuque are closer to Albee's biggest hit, Who's Afraid of Virginia Woolf?, since it allows us to observe three couples made lairy by an excess of alcohol.
The Martha character is Jo, who excuses behaviour that would otherwise be completely unacceptable on the grounds of her impending death. She is suffering from an illness that might be cancer or leukaemia and spends much of her time both in pain and inflicting it on the people who imagine themselves to be her friends.
They might deserve to be put down but the glee with which their hostess does so smacks of something beyond the socially permissible.
Quite why Jo and the impressive Robert Sella's Sam, whom she both loves and bullies, have allied themselves with redneck Fred and his self-confessed "dumb brunette" fiancée Carol (Glenn Fleshler and Jennifer Regan) and the neurotic duo of Edgar and Lucinda (British actor Chris Larkin and Vivienne Benesch) is unclear. Possibly the answer is that they enjoy lauding it over these victims.
The eponymous leading lady does not appear until the final moments of the opening half but makes her presence felt immediately with a comic curtain line that presages the fun to come.
There had already been intimations of surrealism during the party, as characters would periodically speak through the fourth wall to the audience rather than each other, even though responses still came from the stage.
Once the Lady from Dubuque arrives with her camp friend Oscar, it is almost as if there has been a visitation from Mars. She claims to be Jo's mother although she does not fit the description. She might be an intruder or healer, or maybe even an angel with a wicked sense of humour.
Albee found this mysterious character through the auspices of the famous New Yorker editor, Harold Ross, who, when asked at whom his publication was aimed, defined the target by saying that he or she was definitely not the little old lady from Dubuque, a nondescript town in Iowa.
Clearly, like her not-daughter, one goal of the far from nondescript stage equivalent is to debunk American social mores. Dame Maggie does this very wittily with great help from Peter Francis James playing the delightfully sarcastic Oscar. The pair make the most of the innate racism of the Connecticut locals drawing the best laughs of the evening in doing so.
Edward Albee is a brave playwright who has chosen to ignore safe theatrical norms and subjects in this play. His main themes are death and racism as well as questions of identity. By the end, almost all of the subsidiary characters have shown unexpected sides to their personalities and, along the way, Jo has become calmer and possibly been given the opportunity to accept her fate.
A great fuss will and should be made over a stage appearance from one of our best-loved actresses but this should not detract from the remainder of a good cast and, in particular, a really moving performance from Catherine McCormack as Jo.
Anthony Page's casting is interesting, as four of the actors are Americans with no British stage experience but a great deal of talent, while the remaining three match them for ability and should help to draw in British audiences. The least known is probably Chris Larkin who plays ineffectual Edgar. It does not say so in the programme but he is the child of famous parents, the late actor Robert Stephens and his wife Maggie Smith, which adds piquancy to the occasion.
This kind of play may not be everybody's cup of tea but for an hour and three-quarters, it provides stimulating entertainment as well as an opportunity to see a couple of great actresses in good form.
Visit our sponsor 1st 4 London Theatre to book tickets for The Lady from Dubuque
Reviewer: Philip Fisher