The Ladykillers
Graham Linehan
Liverpool Everyman and Playhouse
Gielgud Theatre
–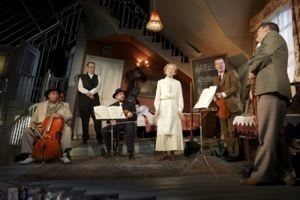 Creating a stage show based on a much-loved classic Ealing Comedy starring the likes of Alec Guinness, Peter Sellers and Herbert Lom is always a brave venture. If you merely try to recreate the original, there is a danger that people will spend a fiver on the DVD rather than twenty times that on a pair of theatre tickets.
Sean Foley, whose biggest stage hit (with Hamish McColl) was The Play Wot I Wrote, has gone the other way. This inventive director has teamed up with Father Ted's progenitor Graham Linehan to create a fresh script using the themes and characters of The Ladykillers rather than the plot and dialogue.
At the play's centre is the putative victim, Marcia Warren's Mrs Wilberforce, the archetypal granny who cried wolf once too often.
The old lady's lonely existence shared with caged General Gordon near King's Cross 55 years ago is certainly spiced up when a dentally-challenged lodger arrives to occupy her spare room.
Peter Capaldi does a good Alec Guinness impression in the role of unctuously obliging musical impresario and criminal playmaker, Professor Marcus.
He has thought up the perfect robbery and his gang are briefed while masquerading as a talentless string quartet/quintet.
They are as oddball a comic crew as the originals. Clive Rowe leads the way as dumb One-Round, a man whose IQ matches the length of his boxing bouts. He is joined by a murderously manic Rumanian (Ben Miller), an upper-class twit (James Fleet) and an accident prone young gun, Stephen Wight clowning to good effect as victim of one of the evening's best running gags.
Between them with innocent assistance, they pull off the robbery, which is no more criminal than their impromptu concert for a bevy of unlikely older ladies.
Then the trouble really starts as the criminals try to escape the clutches of the local bobby but also their own greed and their landlady's innocence.
The plotting becomes increasingly far-fetched as the script seeks a closure that has a degree of sweetness to it.
From the start, Michael Taylor's marvellous set grabs the eye. The wonky, undersized house set on a revolve is clearly borrowed from Stephen Daldry's epic restaging of An Inspector Calls.
Mrs Wilberforce's home seems haunted as furniture moves of its own accord and a doorknob hilariously takes on a sometimes unscripted life of its own.
While Foley's imagination ensures a number of very funny moments in what turns a comedy into a farce and the actors work hard, those comparing this play with the 1955 film are likely to find it wanting.
Reviewer: Philip Fisher