Lament for Sheku Bayoh
Hannah Lavery
Edinburgh International Festival, National Theatre of Scotland and Royal Lyceum Theatre Edinburgh
Royal Lyceum Theatre
–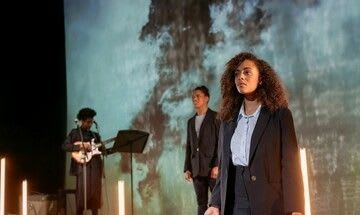 This co-production between Edinburgh International Festival, National Theatre of Scotland and Royal Lyceum Theatre Edinburgh (where it was first produced in 2019) has generously been offered free of charge online, though advance booking is required.
Writer Hannah Lavery directs the trio of Saskia Ashdown, Patricia Panther and Courtney Stoddart in an hour-long drama based on true events.
Almost 5 years before George Floyd was murdered by a police officer in Minneapolis, a similar fate befell a black Scottish gas fitting engineer, Sheku Bayoh, in Kirkcaldy. The accounts of his fate sound uncomfortably familiar to those who followed the endless details of the Floyd case, which sparked the Black Lives Matter movement into overdrive on both sides of the Atlantic.
According to police accounts, which the family's solicitor Aamer Anwar suggests were the result of a cover-up conspiracy, the dead man was large, violent and carrying a knife. There is no evidence to support any of these these conjectures, since Sheku Bayoh was of average height and weight, no weapon was found and eyewitnesses dispute the proposition that he was aggressive.
According to them, between six and nine police officers chose to kneel and lie on a man they had already restrained with CS spray, refusing to listen as he begged them to desist. The result was that, while no police officer showed any sign of injury, their victim was bruised from head to toe and subsequently died.
Hannah Lavery has compiled and shrewdly edited this poetic lament from verbatim testimonies, eyewitness accounts and to a limited degree her own imagination, with some well-chosen photos and film to complement the text. It becomes a powerful indictment not only of the police but also Scottish society, which she alleges is intrinsically racist.
The three performers, recorded on the stage at the Royal Lyceum, act rather like a Greek chorus pounding out information that will leave no viewer in doubt as to the facts of a case that now seems to be going nowhere. Each of the police officers has escaped prosecution, while a recently announced public enquiry is set to take anything up to four more years.
The performers are accompanied by Beldina Odenyo, who has composed and delivers an evocative soundtrack, sometimes borrowing from traditional songs, largely composed by Robert Burns.
This is the kind of small-scale drama that National Theatre of Scotland does so well, hitting viewers right between the eyes with a powerful message that they will long remember.
Reviewer: Philip Fisher