Landscape with Weapon
Joe Penhall
RNT Cottesloe
(2007)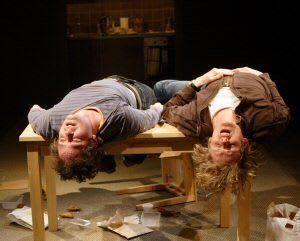 There is a perennial debate about whether political theatre is a possibility or the two aspects are mutually exclusive and one must take precedence at the expense of the other.
The new play from Joe Penhall, the writer who achieved the equivalent of stage immortality with Blue/Orange, does far better in its exploration of political issues, in particular the morality of warfare and weaponry, than it does as a stage experience.
William Dudley has used a similar traverse design to that for Honour, also directed in the same space by Roger Michell. The actors play on a short, narrow, grey stage between two sets of ten rows of steeply-banked seats. This gives an inevitable voyeuristic quality, allowing one to observe the participants and, simultaneously, other spectators.
It takes a little time to discover, as he is bound by the Official Secrets Act, that Tom Hollander's Ned is a man making clever little robots for the Brits to use as defensive measures in wars. His cloak and dagger existence is contrasted with his brother' Dan's more mundane life.
Dan, played by Julian Rhind-Tutt, is an unlikely dentist, who looks and sounds like a second-rate rock star. While he makes a lot of money from his profession, Dan hopes to get stinking rich on the back of botox. At least briefly, this allows Penhall to explore morality from a second angle.
The problems begin to pile up for Ned after he inexplicably ignores national security by telling his brother exactly what he is working on. In doing this, one imagines that he is thoughtlessly endangering the country that he apparently loves.
His air-robots have gone beyond their peaceful purpose and are now being developed as killing machines to take their place in a Dr Who sci-fi world. While Ned hasn't too many qualms and is happy for good old Blighty to use them, he draws the line when he hears from his MOD mistress (in a business sense), played by Pippa Haywood, that the financing has come from the USA and that they will get a piece of the action.
He becomes increasingly troubled by concerns that his invention will be used to do harm and almost freaks out on learning that other countries such as Israel or Iran might ultimately get to use them too. He then, belatedly withdraws his labour as an ineffectual protest.
This necessitates the entry of the comically sinister Jason Watkins playing Brooks, some kind of spy with tremendous talent when it comes to psychological demolition work.
As an allegory for the problems that Britain faces as the junior partner to the USA in global domination plans and a commentary on the morality of warfare, Landscape with Weapon has much to say and makes worthwhile contributions to the debates on a number of hot topics.
Though Tom Hollander is sympathetic, if generally whining, as Ned, the play fails as a drama since it is too intent on getting its messages across to care about much else. In doing so, it fails in its attempts at convincing characterisation, especially as none of the other three is even remotely believable as a rounded human being.
Reviewer: Philip Fisher