The Last Five Years
Written and composed by Jason Robert Brown
Menier Chocolate Factory
(2006)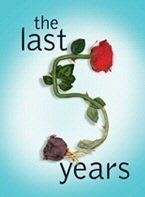 Southwark's most successful new kid on the block, the Menier Chocolate Factory, is beginning to develop a character when it comes to musicals and that is to aim as far as it is possible to get from big budget blockbusters.
Jason Robert Brown's presumably autobiographical tale of a writer hitting the big time as his marriage disintegrates has much in common with both Jonathan Larson's tick tick...BOOM and Stephen Sondheim's Sunday in the Park with George.
This is a chamber musical featuring only two performers, who between them get through a tremendous amount of work during the eighty minutes of the play, hardly helped by soaring temperatures. While the audience are given hand fans to cool them down, Damian Humbley and Lara Pulver sing their hearts out as sweat pours off them.
The storyline is simple and can hardly be described as original. Jamie is a Jewish novelist on the way up, first seen at 23 with the world fast becoming his oyster as an agent signs him up and sells his book, much to the admiration of Cathy.
She is a wannabe musical actress whose career has not got beyond the disastrous auditions and waiting table stage. Initially, their love is touching, culminating in a scene in which his marriage proposal in a rowing boat suddenly transforms into their Jewish wedding.
Over five years of marriage, career-wise their lives follow the paths that have already been set, his going from strength to strength and hers barely taking off. The strain that this puts on their relationship leads to affairs on both sides and in the end to a separation that is likely to become permanent.
The evening peaks early as Miss Pulver shows off a richly melodious and potentially powerful voice while lamenting the end of what had seemed the perfect match and Jamie's first song Shiksa Goddess is a gem. It has pace, tremendous humour with every line funny, and pathos, as this Jewish boy yearns for a wife who will not be like all the Jewish girls that he is dated and been bored by.
Throughout, Cathy gets the downbeat depressing songs with her only comedy coming in a witty auditions skit and Jamie gets the upbeat, rocky ballads and most of the best lines.
The music has been compared to Sondheim with good reason. Brown particularly concentrates on the piano, played by musical director Tom Murray and the talented string trio. This works well and complements the attractive voices of both performers.
The setting, designed by David Farley, who won the Critics' Circle Award for best designer for Sunday in the Park with George, is deceptively simple. A bed on a revolve and sliding panels that look like school blackboards ensure that the eye is held by the performers as does David Howe's spare lighting.
The Last Five Years will not set the world on fire, if only because it says little that has not been heard on many previous occasions but it should draw audiences on the back of the theatre's reputation, the talents of the leading pair and a sense of identification that many will feel with its sentiments.
If you are interested in booking, the Menier has a new telephone number - 0871 230 2616.
Reviewer: Philip Fisher