The Last Confession
Roger Crane
Chichester Festival production
Theatre Royal Haymarket
(2007)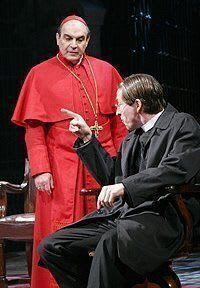 The arrival of The Last Confession in the West End from Chichester is remarkable in that this is American lawyer turned playwright, Roger Crane's debut and first plays making it to the West End are as rare as mysteriously murdered Popes.
Pope John Paul I reigned as head of a church comprising 800 million souls for a mere 33 days. Roger Crane is a conspiracy theorist who has put together a play that considers one possible explanation. If he is right, then the Vatican was rotten to the core in the late 1970s and for long afterwards.
High profile deaths lend themselves to this kind of treatment. Think of JFK, Marilyn Monroe, Lady Di and much more recently, Bob Woolmer. The problem for any writer is how to make their particular version plausible and Crane asks us to accept that the Church of Rome would have been better headed by a Godfather than a Pope.
William Dudley's set with awesome backdrop conveys both the lavish space and claustrophobia of the Vatican. In particular, the papal residence is backed by gates that look suspiciously like bars trapping the incumbent.
The play is framed by a meeting between the dying Cardinal Benelli and his anonymous confessor. It opens as octogenarian Pope Paul VI, played convincingly and with the perfect timing of long experience by Clifford Rose, is ailing after fifteen years in the job and has begun to think about handing over power.
He has his own private Mafia known as the Curia who expect to retain power through a malleable successor and perpetuate their own traditional version of the faith but there are a couple of wildcards.
David Suchet is one candidate, the incisive, awkward Benelli, not even a Cardinal and reluctant to take the job. The eventual successor though is Richard O'Callaghan's Luciani, a second-rate Cardinal who gets in as a safe compromise but quickly grows teeth when murky political practices abound.
John Paul I, as he becomes, wants to be a great moderniser, seeming to favour contraception and the popular touch. He wants no truck with the financial deviousness perpetrated by the American Marcinkus (Stuart Milligan) aided by Paul's old star chamber and God's Banker the late Roberto Calvi, who was eventually discovered hanging beneath Blackfriars Bridge.
After firing the lot, the Pope succumbed to a heart attack - or did he? The middle phase of the play shows Benelli playing at Hercule Poirot without the accent, determined to expose the dirty deeds and preserve the reputation of the man whom he helped to a job and an early death.
A priest with doubts, doubling as an amateur detective, is a role seemingly made for David Suchet and he does not disappoint. The problem is in those around him.
With the exception of John Paul and the mysterious confessor, played by Michael Jayston and eventually revealed as someone unexpected, the large cast of elderly bishops and cardinals in David Jones' sometimes ponderous production are all one-dimensional. Far too many are unremittingly evil and the remainder colourless. Maybe the Catholic church really was/is like this in the modern age but then again......
If you like David Suchet, church politics and/or well-constructed thrillers based on very little substance, then this play is for you. For those that prefer deep characterisation and struggle to suspend disbelief around unlikely conspiracy plotting, there are better bets in town.
Roger Crane's debut may disappoint die-hard theatre buffs but it will be fascinating to see whether The Last Confession becomes a popular success as the tourists fill theatres through the summer.
Sheila Connor reviewed this production at Chichester
Visit our sponsor 1st 4 London Theatre to book tickets for The Last Confession.
Reviewer: Philip Fisher