When Did You Last See My Mother?
Christopher Hampton
Trafalgar Studios 2
(2011)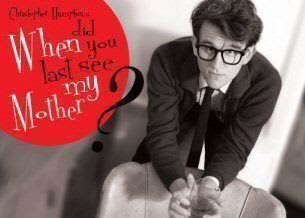 When Did You Last See My Mother? has a place in theatrical history since, when he wrote it, Christopher Hampton was only 18. It subsequently reached the Royal Court before he came of age.
Having been written by a teenager, the play might be viewed either as (semi-)autobiographical or an expression of lurid wish fulfilment. Most likely, it contains elements of both.
It is never easy to comment on the merits and weaknesses of plays by the very young because one doesn't know the extent to which concessions should be made to youth and inexperience.
This revival, by Blanche McIntyre who had such success at the Finborough with Bulgakov's Molière then Emlyn Williams' Accolade, almost half a century on from the work's creation in 1964 is built around a central performance by Harry Melling as the repellent protagonist Ian.
The actor has seemingly been asked to overact for comic effect and speak in a painful, strangulated voice presumably to express the terrible anguish that Ian feels in his efforts to find love, sex or possibly his own identity.
This portrayal makes Ian into a prowling caricature who lives in a dingy bedsit with his friend from school Jimmy (Sam Swainsbury). The Nicky Bunch designed flat boasts all of the grungy hallmarks of a student dive such as artfully strewn clothing and festering plates of half-eaten and long forgotten meals although strangely the red carpet has an unexpectedly deep pile.
As we learn early on, the pair are killing time before going up to Oxford, primarily funded by Jimmy's parents since Ian is an orphan.
Ian's aim in life seems to be to make his friends hate him and wallow in the self-inflicted misery that results.
Heroically, he makes passes not only at an old (male) public school friend during a party but also both Jimmy and his attractive mother, played by Abigail Cruttenden.
The evening's title suggests where Ian has greatest success, as the yummy mummy inexplicably falls for the earnest prig with terrible consequences that give the drama at least a touch of pathos.
Christopher Hampton shows flashes of the talent that would go on to make him one of the leading playwrights of his day and, in particular, clearly had a good ear for dialogue by the time that he left school.
Reviewer: Philip Fisher