Late Company
Jordan Tannahill
Stage Traffic
Trafalgar Studios 2
–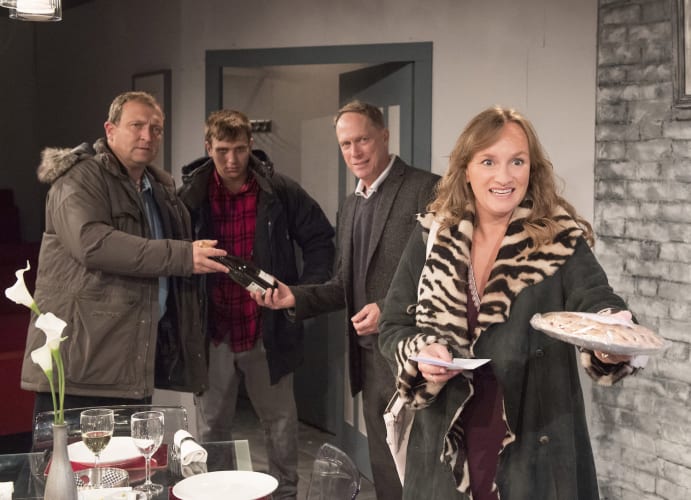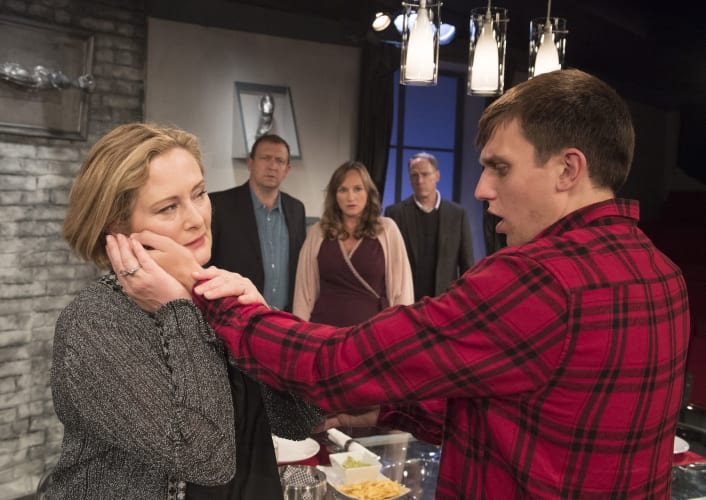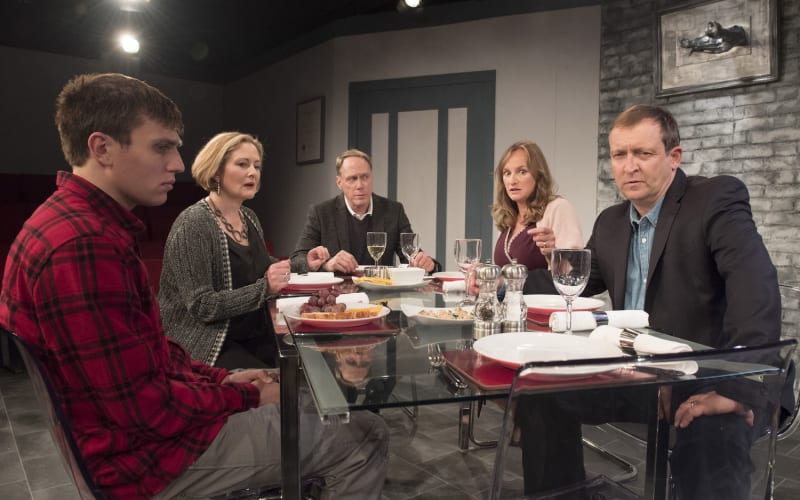 Late Company, which made its British debut at the estimable Finborough in April of this year, plugs itself directly into a number of contemporary zeitgeists. In the early scenes of Jordan Tannahill's 75-minute drama, directed by Michael Yale and set in the playwright's native Canada, there is an aura of mystery.
In some affluent part of Toronto, Todd Boyce's weary Conservative politician Mike and Lucy Robinson as his artist wife Debora are welcoming guests to their stylish modern home, adorned by her unashamedly phallic steel sculptures, all courtesy of designer Zahra Mansouri.
When Tamara and Bill, respectively played by Lisa Stevenson and Alex Lowe, arrive for what looks like a cheerful soirée with the impressive David Leopold in the role of their polite 16-year-old son Curtis, the sense of uncertainty continues, although the elephant in this room has its own place setting at the dinner table.
We eventually discover that the lacuna is Joel, the son of the hosts and, further on, that he was gay, bullied, depressed and committed suicide.
As the linguine with clams is served, politely restrained explanations start, combined with the true main course, a pair of letters. Deb's lauds her lost son, while Curtis's apologises for his bullying contribution to Joel's unhappiness and by extension, the boy's death.
What follows is a lengthy, sometimes violent and also tearful debate about the issues that this gives rise to, each party presenting his or her own viewpoint, with a surprising late revelation that seems hard to credit given the situation that has been set up.
It would be unfair to those who might wish to see the play to give too much information about whether any of the five participants achieves the catharsis that whoever suggested this encounter expected as a justification.
This play was written when Jordan Tannahill was only 23 and projects him as a prodigious talent who, one postulates, identified with and wishes to support gay Joel and all of those like him who struggled so much in childhood as the butts of jokes and the victims of far worse behaviour by their fellows.
In any event, viewers will undoubtedly be greatly moved by much that occurs in Late Company but, at times, it can feel as if realism has been sacrificed to the playwright's determination to be so thorough and almost clinical in his efforts to explore the issues fairly from the perspective of all five (plus that elephant) participants in what can be an explosive dinner party.
Reviewer: Philip Fisher