Lazarus
David Bowie and Enda Walsh, inspired by the Novel the Man Who Fell to Earth by Walter Tevis
New York Theatre Workshop
King's Cross Theatre
–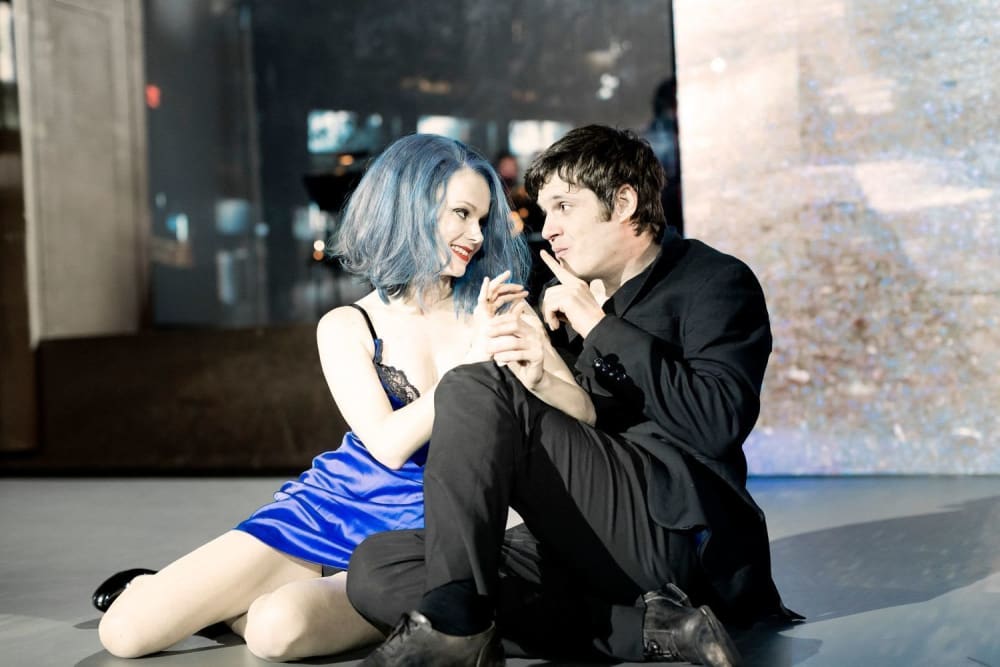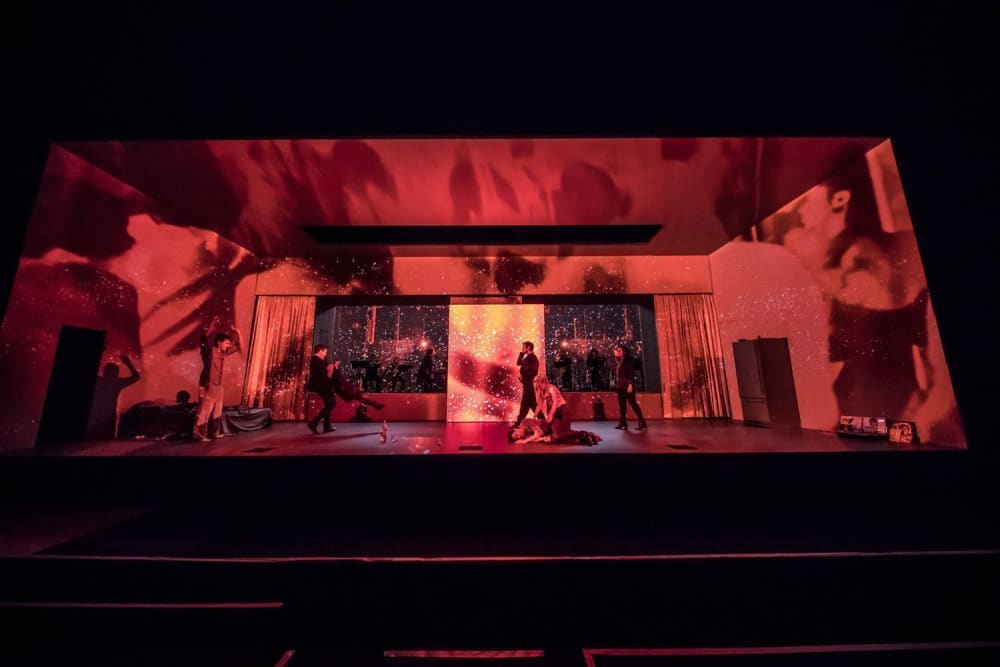 Lazarus could not be higher on concept, as one might expect of a science fiction novel by Walter Tevis converted into a movie and then recreated for the stage with a script by Enda Walsh and music by David Bowie under the direction of Ivo van Hove.
For the occasion, the long, wide stage at King's Cross Theatre, which gives the impression of an oversize Portakabin warehouse, is backed by an eight-strong all-male band and features some spectacular video design by Tal Yarden.
This is the setting for the slow, odd tale of Thomas Jerome Newton, currently residing in New York but seemingly originally from somewhere extra-terrestrial.
As we meet Bowie sound-alike Michael C Hall's desperate Newton, he is in a bad state, living on gin and little else and remembering happier days with his blue-haired former girlfriend Mary Lou.
Most of the 110 minutes consist of his maudlin recollections and vague hopes of either finding love or leaving our planet.
In what appears to be the real world, Newton sparks affection in his assistant/cleaner Elly played by Amy Lennox, who also seems only too happy to enter a world of under-dressed fantasy, in an attempt to buoy up the desperate loner.
Meanwhile, the jerky, oddly spoken central character spends most of his time communing with two apparent figments of his imagination.
Sophia Anne Caruso plays an unnamed Girl who is as lost as Newton but chase him up with thoughts of a return to his origins.
Valentine played by Michael Esper is considerably more sinister, a bloodthirsty hitman willing to take on anyone that has offended the alien (perhaps merely a madman?) or just gets in the way.
There is little more to the plot than this, meaning that most of the attractions of this production need to come from the visuals, the presentation and the music.
At times, the video work is really spectacular, while the actors throw themselves around the stage with aplomb.
However, what most people attracted to this import from New York Theatre Workshop will be after is a chance to hear an album's worth of new songs composed by their hero, who sadly passed away without having the chance to see this project enjoy its London première.
Fans will have their own view but for the most part, the best songs on display are the old favourites such as "The Man Who Sold the World", "Changes" and "All the Young Dudes".
The new work is often heavy on the rock guitar and peaks with songs such as the sweet "This Is Not America" beautifully sung by Miss Caruso and the anthemic "Where Are We Now?".
Bowie freaks will probably enjoy wallowing in the music and graphics, not worrying too much about what can be a very lackadaisical drama.
Reviewer: Philip Fisher