Le Corsaire
Staged by Anna-Marie Holmes after Marius Petipa and Konstantin Sergeyev
English National Ballet
London Coliseum
–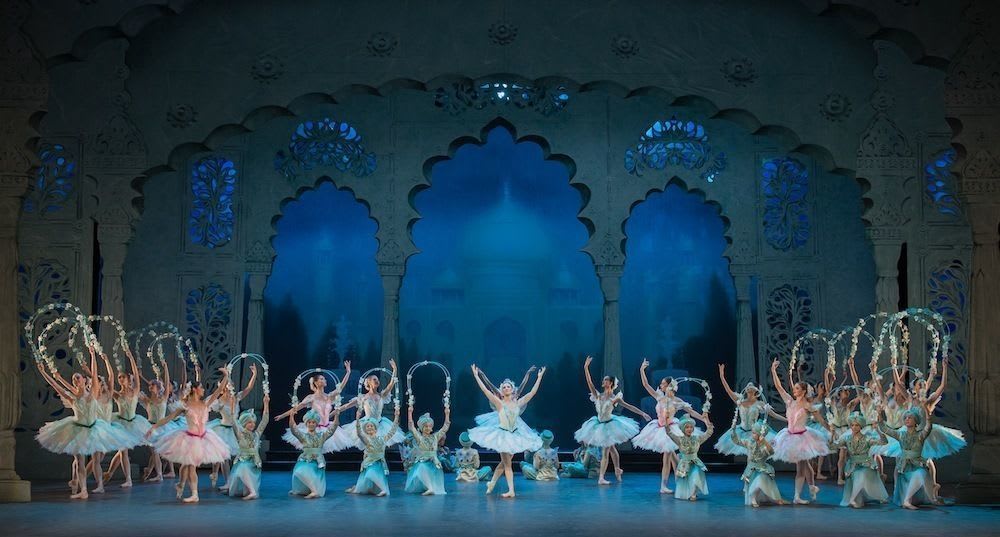 Nineteenth century High Romanticism and Orientalism simplified to Hollywood Kismet and Thief of Baghdad cliché, music that would be at home in the fairground or the music hall from nine (yes, nine) composers, choreography after Marius Petipa and Konstantin Sergeyev, and what do you get? A glorious excuse for two hours of some of the best dancing you'll see.
Forget the silly story of stormy seas, rivalry and treachery, pirates swashbuckling through slave markets and Ottoman palace harems, plundering, falling in love, kidnapping, losing and re-kidnapping the love of their lives.
Just settle down and ride a tsunami of dancing to satisfy all tastes, from athletic leaps to the most beautiful lyricism.
Hardly ever performed in full, though ABT brought the Anna-Marie Holmes version to London in 2009, it is the middle act that is most frequently presented as a pas de deux (here a pas de trois) at many galas.
Many have memories of a young Nureyev blazing on to the stage as the slave Ali, and Baryshnikov's twisting leaps and turns.
But, there are individual roles and bravura solos for many more than that. In the crowded operetta style Bazaar first act Senri Kou, Alison McWhinney and Laurretta Summerscales as Odalisques, Dmitri Gruzdyev as slave master Lankendem are the warm-up acts that promise of more to come.
Alina Cojocaru (favourite slave Medora) makes a striking grands jetés entrance, Shiori Kase (Gulnare) performs a virtuosic chain of fouettés and pirouettes, there are scissor splits in the air from the men, and enough fire to raise a hot air balloon.
A moustachioed Vadim Muntagirov (Conrad, pirate leader) takes off in the middle act, matched by light-footed Yonah Acosta (the mutinous Birbanto) and Junor Souza as the slave Ali. Still only a junior soloist, as is Acosta who plays the darker role, Souza pulls off the familiar fireworks.
Alina, Vadim and Junor blister through their showpieces, Alina playing with the music's tempo, daringly stretching each phrase, dusting off her thirty-two fouettés with panache.
But it is her lyrical duet with Vadim that is the highlight for me, a quiet lover's moment away from all that posturing bravura. Both lyrical dancers, he with his long legs and perfectly pointed feet, she petite and light, the lifts are vertigo-defying—high above his head and then a breath-taking drop into a fish dive.
The last act, the Pasha's pipe dream of a bowered animated garden harem, could almost be a pretty family ballet if one doesn't think too deeply on it. Children as turbaned little folk with tiny wings act as fairy frames for the ballerinas. Medora and Gulnare, now thankfully out of their tutus and in more revealing gossamer slips, dance his wish-fulfillment dreamy solos.
Michael Coleman's doddery greedy Pasha in Swarovski glitter and a phallic stick is played for laughs with a wiggly tum and bum dance, and his assistant (Juan Rodriquez) is a fussy Osric type.
But real life bursts that bubble. In hooded cloaks the pirates come to rout the harem and rescue Medora. Vadim dances a storm, shoots Birbanto, whom Medora identifies as Conrad's enemy, and they escape to sea, where another storm brews.
Lermontov's poem The Sail comes to mind, its last line 'as if in tempests there was peace'. And peace there is for Medora and Conrad, but the sea takes Ali and Gulnare.
Byron's 1814 poem, The Corsair, on which this ballet based, has a lot to answer for. Both Pushkin and Lermontov were infected by his style and form, so it is no surprise that it was the sentimental but fiery Russians who developed the ballet into the passionate dancing display it is.
Hollywood film designer Bob Ringwood (Batman, Alien 3, Star Trek Nemesis, Ai and Troy) has created new sets and costumes that draw on nineteenth century Orientalist painters: the pirate cave set is pure David Roberts.
Completing the extravagant picture, flamboyantly played by the orchestra under Gavin Sutherland's baton, is a curious mélange of music, mainly by Adolphe Adam with additions from Cesare Pugni, Leo Delibes, Riccardo Drigo, Prince Pyotr van Oldenburg, Ludwig Minkus, Yuly Gerber, Baron Boris Fitinhof-Schnell and Albert Zabel.
Tamara Rojo, whose first big commission for the English National Ballet it is, has cleverly created an opportunity to showcase her company, on the first night to a glittering invited audience, and they deliver. Alina Cojocaru looks relaxed and happy in her new home.
Casts changes are astute, too. On different nights, for instance, Vadim Muntagirov gets to play Ali, and Yonah Acosta Conrad. Rojo herself will dance Medora.
ENB has been touring this carefully reworked version of Le Corsaire since October to Milton Keynes, Southampton, Oxford, and Bristol. Manchester has the experience still to come next month.
Reviewer: Vera Liber