King Lear
William Shakespeare
Donmar Warehouse
(2010)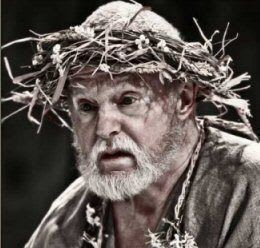 Michael Grandage, Sir Derek Jacobi and William Shakespeare team up once again following their award-winning success with Twelfth Night last year.
The difference this time is that their (relatively) short, sharp King Lear is being presented in the intimate surroundings of the Donmar's home in Covent Garden, rather than the much larger Wyndham's just around the corner.
The beneficial consequence is that everybody in the house is able to look deeply into the actors' eyes and, thanks to clear verse speaking, hear and ponder on every word.
Coming in at just over 2¾ hours, there is never time to get overtaken by longueurs in a pacy production that may be cut to an extent but benefits greatly from Christopher Oram's simple staging, which has the stage and auditorium covered by distressed, whitewashed timber and hardly uses a prop larger than a sword.
The performance is built around a great central performance from its leading actor. This Lear starts out as a dotty, querulous old buffer who unwisely divides his kingdom between two unloving daughters while banishing one that cares.
Soon enough, the old man becomes rubicund and angry when he cannot get his regal way before dissolving into the totally convincing insanity that he had prefigured, looking shockingly shaken as he uttered the "let me not be mad" speech in as moving a fashion as is humanly possible.
The gentle madness, in particular, will long live in the memory of anybody that is lucky enough to see this sold-out production, together with the novelty of "blow winds" whispered as an interior monologue rather than shouting against the storm.
There is inevitably going to be more to any Grandage production than merely the Sir Derek show. This evening is well cast throughout and, while Oram seemingly lavishes limited attention on the staging, the period costumes, with symbolic black the overriding colour, fit the period perfectly.
The supporting cast fall into a number of different groupings. First, there is the trio of daughters. Gina McKee is icily evil as Goneril, while Justine Mitchell's Regan initially seems duplicitously sincere but gradually matches her sister in unpleasantness. In the much smaller role of Cordelia, Pippa Bennett-Warner is all baffled sweetness as her father rages before becoming his key to redemption.
The other leading family is that of Paul Jesson's Gloucester, a cordial man and far too trusting. Playing his illegitimate son Edmund, Alec Newman plots and connives for all that he is worth in an attempt to disenfranchise Gwilym Lee as his good brother Edgar. All three of these actors make their mark, Jesson as his character is tragically blinded, Newman when Edmund is at his most wicked and Lee, equally effective both mad and sane.
The final grouping, with some overlap from Edgar, is the team that nurses Lear through the bad times, particularly on a blasted heath simply but beautifully evoked by the sturm und drang of Neil Austin's dramatic lighting and Adam Cork's soundscape, which at other times might be a little too industrial for some tastes.
In addition to Lee's Mad Tom, Michael Hadley plays a suitably noble and self-effacing Earl of Kent, while Ron Cook makes the Fool into an appropriately maudlin character, who acts as a perfect counterbalance to his master.
London is currently lucky enough to be blessed by two outstanding performances in excellently directed Shakespearean tragedies. One hopes that readers might find an opportunity to get tickets for King Lear but, failing that, the Olivier is rather larger and there should be greater opportunities to enjoy Rory Kinnear playing Hamlet. As the awards season comes upon us, he and Sir Derek are likely to be in hot competition for Best Actor prizes.
David Chadderton reviewed this production on tour at The Lowry, Salford.
Reviewer: Philip Fisher