King Lear
William Shakespeare
Maly Drama Theatre of St Petersburg
Barbican
(2006)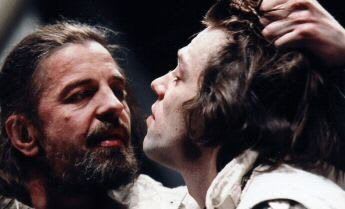 How well do you know King Lear? In order to make head or tale of this radical interpretation, it helps to be an expert in the text but also willing to accept some fairly drastic re-writing.
Lev Dodin and his Maly Drama Theatre Company from St Petersburg are world-renowned and have offered London some very special productions, particularly of Chekhov.
It must always be a risk, where one tries the theatrical equivalent of taking coals to Newcastle by bringing the Bard back home in a foreign language.
From the start, this production is very low key as Lear, an often bemused but rarely exciting Petr Semak, mumbles his way through the division of his kingdom and dismissal of both his favourite, youngest daughter Cordelia (Daria Rumyantseva) and also the faithful Kent, played with great clarity by Sergey Kozyrev.
The design doesn't help with black, white and grey minimalism hardly relieved by drab costumes for the men, combining grey anoraks with typically white shirts and trousers. The women, always in white do better, getting tight, sexy dresses and briefly, massively elaborate, Elizabethan-influenced court dresses.
Soon, having thrown himself onto the good nature of his other daughters, the former King realises that they have none. At that point, with his rather sinister, pianola-playing Fool (Alexey Devotchenko), he takes his chances in invisible bad weather on an unseen heath, supported by a crew, all of whom dispense with their clothes.
Gloucester's part in the drama is also unclear until he aids his King and pays a terrible price. By doing so, he finally realises the treachery of one son, the glamorous Edmund (Vladimir Seleznev) and discovers the loyalty of another, Edgar, a lewd joker turned mad saviour in a good performance from Danila Kozlovskiy.
From there, the director allows his audience an insight into Gloucester's visual problems with periods of complete blackout into which significant chunks of Shakespeare disappear.
This means that the full tragedy of the play is not allowed to come through, either aided by the surtitles or in the modern Russian version spoken by the actors. For the most part, with the flavour of the steppes far more apparent than that of the cliffs of Dover, they seem to be working in a Russian play loosely based on King Lear rather than the real thing.
Mr Dodin is a great director and has a fine company to work with but perhaps his all too rare visits to these shores will prove more enlightening when he returns with the Russian masters. We shall see, as his version of Chekhov's Platonov, so successful on its London debut half a dozen years ago, returns to the Barbican next March.
Reviewer: Philip Fisher