Leave of Glass
Philip Ridley
Soho Theatre
(2007)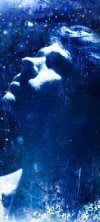 For far too long, Leaves of Glass sounds like a run of the mill episode of Eastenders. The locale is right, the accents are right and the subject matter is spot on. It is only as we enter the candle-lit dénouement, that it begins to show a depth and integrity with which the BBC soap would not wish to associate.
Ben Whishaw, who starred in Philip Ridley's last play, Mercury Fur, is Steve, a successful businessman in the world of graffiti removal. His stolid affluence starkly contrasts with the first sight of his unreliable younger brother Barry. Trystan Gravelle plays the kind of artist who might relish graffiti, if he could stay sober long enough to do so.
So far, so soap. Ruth Sheen as their cheery mum and Maxine Peake in the role of Steve's foul-mouthed wife Debbie come from the same stable and when everyone accuses everyone else of adultery after Debbie announces her pregnancy, the BBC producers must have been close to suing.
From there, Ridley offers us a Cockney seesaw, as Steve's fortunes nosedive while his brother's soar and simultaneously, with filial generosity, they swap drinking habit and abstemiousness .
It is only as Steve sinks into madness, seeing ghosts and crashing his car that things get at least a little interesting.
This leads us to re-consider a series of flashback monologues to the period immediately after the death of the boys' father when they were 15 and 10 respectively.
Suddenly a drab tale of family infighting gives way to a whole cupboard full of skeletons, the seesaw going up and down with enough rapidity to leave all present dizzy or even nauseous.
Leaves of Glass is Lisa Goldman's first in control, since she became Artistic Director at Soho. While the performances are good, especially from the two men, and the minimalist staging, using two small revolves, works well enough, far too much of this play is mundane.
As a consequence, the two hours feel like many more and when the shocking revelations finally arrive, turning the tale into a grizzly, ghostly and rather intriguing thriller, some viewers may already have given up caring about any of the four Eastenders on the stage.
Reviewer: Philip Fisher