Leaving
Václav Havel, translated by Paul Wilson
Orange Tree Theatre, Richmond
(2008)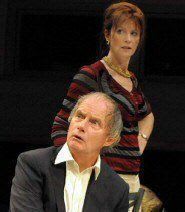 Sam Walters and Václav Havel go back a long way - over thirty years of plays, prison and politics - so it is highly appropriate that the latter's new work receives its British premiere at the Orange Tree.
Leaving is a masterpiece that combines so many genres and influences that one can only marvel at the virtuosity of a playwright who even managed to govern a country in his spare time.
His starting point appears to be a semi-autobiographical view of the life of a recently deposed premier who believes in the primacy of the individual. This might be seen as appropriate here too, at a time when Tony Blair has recently moved on to pastures new and, in addition to his opponents, a number of colleagues of his former Chancellor wish that Mr Brown would swiftly follow suit.
Soon, though, the play takes a wry turn, owing much to Pirandello. The characters begin to satirise themselves, behaving too much like the stereotypes that they represent. Then a post-modern voice over, that of Havel himself, starts to comment critically on the performances and stage business, later beginning to deconstruct his own plotting like a heavily accented Deus ex Machina.
Geoffrey Beevers gets the balance between authority and bemusement exactly right as Dr Vilem Rieger, the former Chancellor of an unnamed country that is still only part of the way to embracing the joys of capitalism.
He faces problems on all fronts, primarily led by the contrasting duo of his harridan of a partner, Carolyn Backhouse's icily controlling Irene, and an upwardly mobile political thug, Robert Austin playing Patrick Klein, who has all the makings of the country's next New Communist dictator.
Life though should be good for Dr Rieger, with a comfortable villa epitomised by a lovely sunny garden designed by Sam Dowson in which all of the action takes place. There, he should be able to enjoy a happy retirement in the bosom of a loving three-generation family.
That is not how Havel operates. He is eager to discover the surreal in the ordinary but also on this occasion far keener than most writers to draw on writers from past generations. Gradually, we gravitate into the byways first of The Cherry Orchard and then King Lear, with both running into each other as well as borrowing elements of Pirandello and Feydeau farce.
Two journalists interview the retiring leader and then misrepresent him: nothing new there. Then a sexy ingénue, Rebecca Pownall's Bea Weissenmutelhofova, who just happens to have a political science doctorate, seduces him right under the disdainful nose of his partner and all the while, his former colleagues insidiously work away at his political legacy.
The Chekhovian parts are manifested as the family begins to pack up for an uncertain future as cherry trees fall off stage, while between the final two of five acts, in his blasted garden, Rieger becomes Lear raging in Shakespearean language in a mad scene that eccentrically transforms into a disco dance to a pepped-up version of Beethoven's Ninth.
The King (his delusion not the reviewer's) also suffers from daughter problems (with Irene as a surrogate), failing to recognise that quiet, young, computer-tapping Zuzana, played by Faye Castelow, is worth ten of her grasping sister or selfish not-quite-stepmother.
Havel too, like Chekhov, knows the value of the old and experienced, introducing a Firs-like servant, an omniscient gardener and devoted grandmother, all of whom enrich the evening.
The whole looks great and makes some telling points about politics and society, not only behind the old Iron Curtain but closer to home too.
Sam Walters ensures that sanity never quite disappears in a joyful evening that pays homage to a whole stream of theatrical greats, including Václav Havel. One cannot wait for the remaining quartet of plays in this valedictory season.
The President is dead, long live the playwright.
Reviewer: Philip Fisher