Legally Blonde
Music and Lyrics by Laurence O'Keefe and Neil Benjamin, Book by Heather Hach, based on the novel by Amanda Brown
Savoy Theatre
(2010)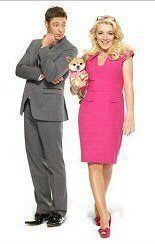 Legally Blonde is no Hair or West Side Story, both of which have currently been revived on Broadway. If anything, the closest current equivalent might be Dirty Dancing.
The appeal of this film-to-stage adaptation imported from Broadway will largely be to teenage girls who think that looking good is their raison d'être but also, to borrow one of the show's mantras, want to be taken seriously.
The musical is directed by Jerry Mitchell, a choreographer turned director and it shows. Throughout, the dance routines are impeccably worked, which is as well, since the story adapted by Heather Hach from Amanda Brown's novel is simplistic in the extreme, to the point of resembling an undemanding modern fairytale.
Elle Wood is an intelligent college student who determinedly, though inexplicably, cultivates the dumb blonde look. This is too much for her rich, preppy boyfriend, Warner Huntington III played by former Blue star Duncan James, making good use of his matinee idol looks.
When Warner ditches her and heads off to Harvard Law School, rather than cut her losses the spunky blonde, played with great charm and a characteristic twinkle by Sheridan Smith, decides to follow.
She learns enough law to get on to a course led by Professor Callaghan embodied by former Doctor Who Peter Davison, who gets to croon one of the show's wittiest songs, "Blood in the Water", and contribute to another, "Whipped into Shape".
However, the ditzy new student is not an immediate success, offending her snobbish classmates led by Warner's new girlfriend Vivienne, given a well-balanced portrayal by the impressive Caroline Keiff.
Elle does though get considerable assistance from a number of quarters. First, she brings an imaginary "Greek Chorus" from home to cheerlead her on. Secondly, her hairdresser Paulette, played with gusto by Jill Halfpenny, gives sound advice. Thirdly, another handsome guy Emmett played by Alex Gaumond, who is far better grounded after a tough upbringing, weighs in.
The story becomes considerably more amusing after the interval, when Elle takes over as defence attorney in a high profile murder trial. In doing so, she produces the kind of inspiration that Sherlock Holmes could only dream of to win an acquittal for her client and Emmett's hand in marriage. So this fairy story has a happy ending, as was inevitable from the start.
Sheridan Smith acquits herself as well as ever combining good performing skills with great wit, although she may not have been an obvious choice to take the part played by Reese Witherspoon in the movie. She is greatly assisted by lyricists Laurence O'Keefe and Neil Benjamin, who provide a stream of very funny one-liners.
The leading men look great, which is undoubtedly what the archetypal audience for this show demands. However, they (and the whole cast) were in danger of being outdone by its two smallest members, both canine. In particular Elle's tiny lapdog Bruiser will probably break more hearts than all of the hunky men on show put together.
The poppy music is lively, if rarely exceptional but the title song and the regularly reprised "Omigod You Guys" are both the kind of numbers that get toes tapping.
It will be interesting to see whether sex appeal and fondness for a popular movie, aided by some good, old-fashioned character acting and that sweetest of little dogs, are enough make up for the tacky storyline and allow the first musical to open in 2010 to exceed the 18 month Broadway run. The verdict must be in doubt.
Rachel Lynn Brody reviewed the Broadway production in 2008
Visit our sponsor 1st 4 London Theatre to book tickets for Legally Blonde
Reviewer: Philip Fisher