Trocks Tour: Swan Lake Act II / Le Corsaire pas de deux / Esmeralda pas de six / Dying Swan / Paquita

Les Ballets Trockadero de Monte Carlo
Peacock Theatre
–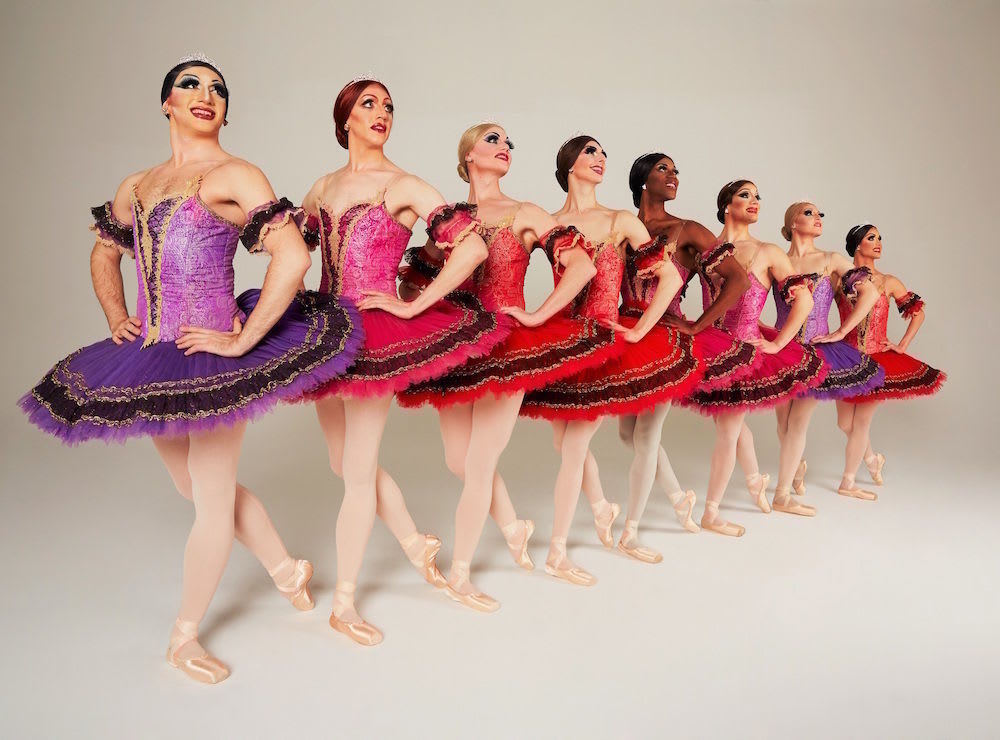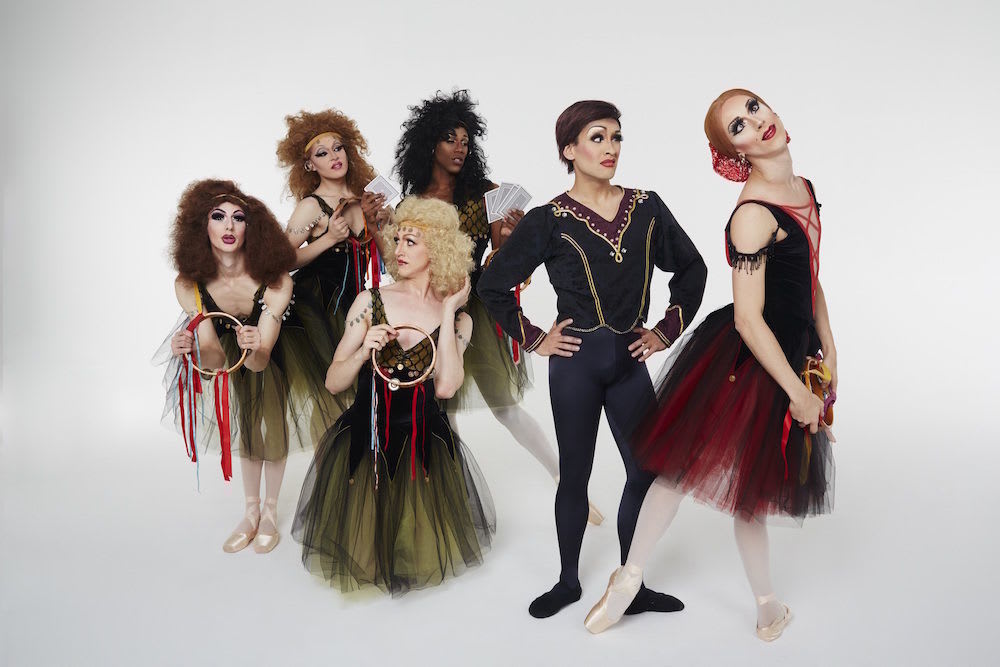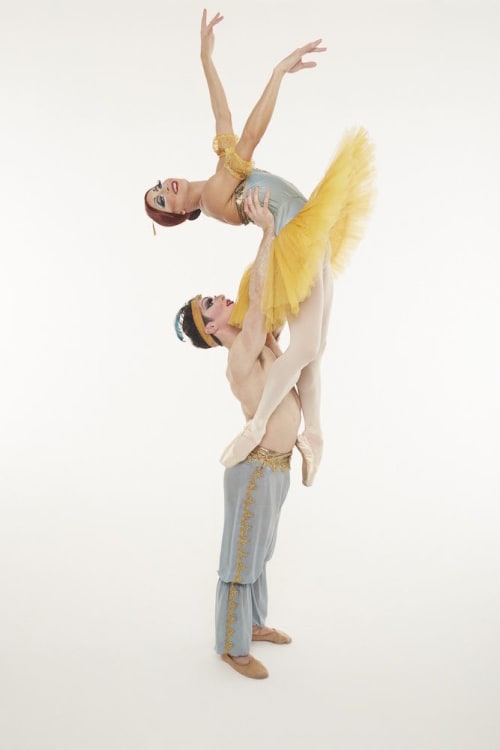 If any dance company is critic proof, the affectionately nicknamed Trocks is one such. On press night, not just full of friends but a large contingent of loyal fans, the atmosphere is warm and inclusive. And, as the warm-up act announcement informs us, "all the ballerinas are in a great mood tonight". That's good to know.
But the Trocks are not just a comic parody of ballet, a spoof featuring beefy male dancers in drag with unwaxed chests taking on female roles in size twelve shoes (as they tell us). Though they may be partly that, they are also all professional, highly-trained international dancers, who deliver all ballet's fireworks with knockout panache, and loving attention to detail—they know their ballet history well. It wouldn't work otherwise.
They come in many shapes and sizes, some female delicate, too. A knowing grimace and a wink, a shrug, and a few pratfalls, collisions, chest bumps and wrong cues, do not undermine, but rather bring a new audience to classical ballet, turning it into a popular art form.
If they can do it, anybody can… Severely autistic from the age of three, Philip Martin-Nielson believes ballet saved his life. Now twenty-one and dancing Odette in Les Ballets Trockadero de Monte Carlo's (to give them their full name) signature ballet Swan Lake, which opens the evening and still delights after several viewings.
Eyelashes that sweep the floor, maquillage that can be seen clearly from the cheapest seats, fabulous costumes and clever lighting, the Trocks know how to work the audience. And what they do with mime…
Sometimes the simplest thing can set the audience off. Music stilled, Prince Siegfried (Paolo Cervellera) promenades elegantly across the stage to the sound of giggles, chuckles and guffaws. Sweet music to his ears, I'd say.
As in Matthew Bourne's Swan Lake, the cygnets never fail to amuse: there's always an independent one, doing its own thing. There's a tug of war between the Prince and Von Rothbart (the long-limbed Duane Gosa, who makes an exquisite Helen Highwaters in the Paquita Variations), confusion in the corps de ballet (some very macho swans), Odette is a bit of a diva, but somehow they get through it with grace and verve. Bonnie Langford presents them with a bouquet.
After the mischievous Swan Lake, the Corsaire pas de deux almost plays it straight. Laszlo Major (Araf Legupski), a dazzling acrobatic pirate who loves his biceps, delivers a bravura Bolshoi performance all the while winking it's no big deal. Catching Carlos Hopuy (Alla Snizova) in fish dive is a big deal.
One almost fails to spot the ballerina eating her apple and banana amongst the ballerinas in costumes of fine hue, but the dancing in Esmeralda is no nonsense, the bodies supple, balance secure, and the pointe work excellent, Alberto Pretto's dainty bourrées as smooth as castors.
The spotlight turns into a searchlight for the Dying Swan. Eugenia Repelski's (Joshua Thake) swan moults all over the stage before she keels over. I have one ambiguous word in my notes—execute—what on earth can I mean…
Nothing ambiguous about Paquita with its six variations: everyone pulls all the stops out. A tremendous finale, and I swear Chase Johnsey is female. No flies on her. Her inattentive Cavalier (Giovanni Goffred) can take a vaudevillian flying leap—or not: this is her show. Thirty-two fouettées polished off with élan and high fives.
Terrific dancers, great comic timing, and a surprise encore that wrong-foots us all: dry ice and Michael Flatley's Riverdance. Is nothing sacred?
Good to read dancers Nadia Doumiafeyva (Odette), all the Legupski brood (Von Rothbart, Prince Siegfried, the Corsaire, and the Cavalier in Paquita), Nina Immobilashvili (Esmeralda), and a stunning Yakaterina Verbosovich (Chase Johnsey) biographies in the programme.
There is still Les Sylphides, Patterns in Space (after Merce Cunningham), Go for Barocco and Don Quixote to look forward to at the Peacock theatre 22 to 26 September.
Hard to believe the company from New York has been going strong now for forty-one years. This is its fourteenth visit to the UK. How can you possibly miss them... 
They are touring to Theatre Royal Newcastle, The Mayflower Southampton, Marlowe Theatre Canterbury, Wales Millennium Centre Cardiff, Festival Theatre Edinburgh, Eden Court Theatre Inverness, Alhambra Theatre Bradford, Royal Concert Hall Nottingham, Dome Brighton, The Lowry Salford and Birmingham Hippodrome.
Reviewer: Vera Liber