Les Ballets Trockadero de Monte Carlo Programme A

Dance Consortium
Peacock Theatre
–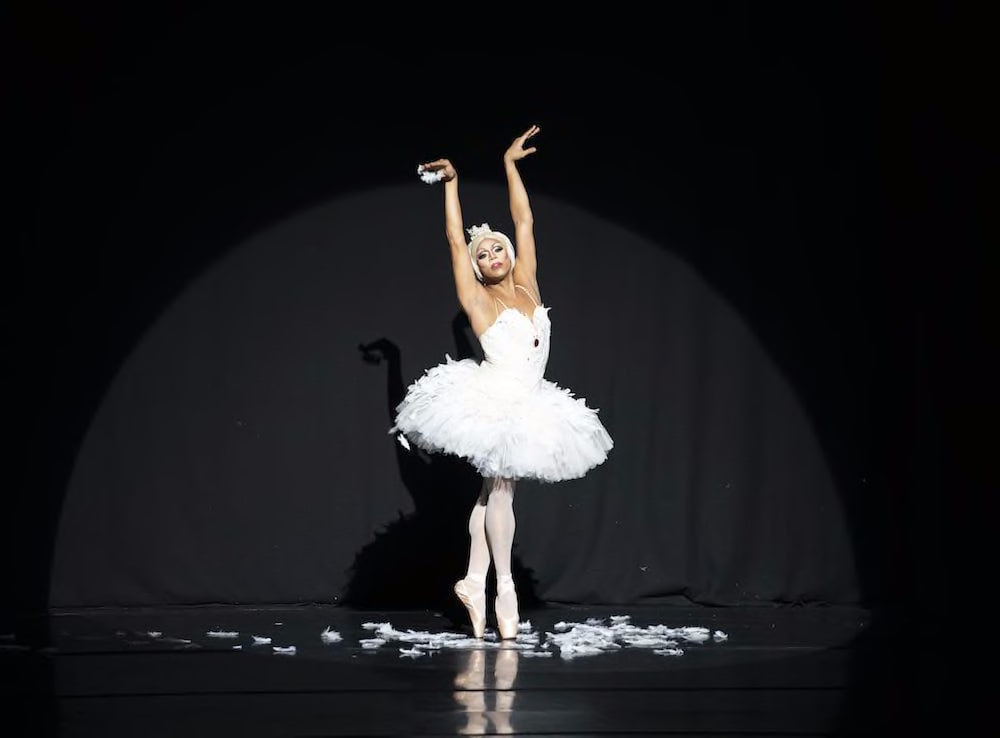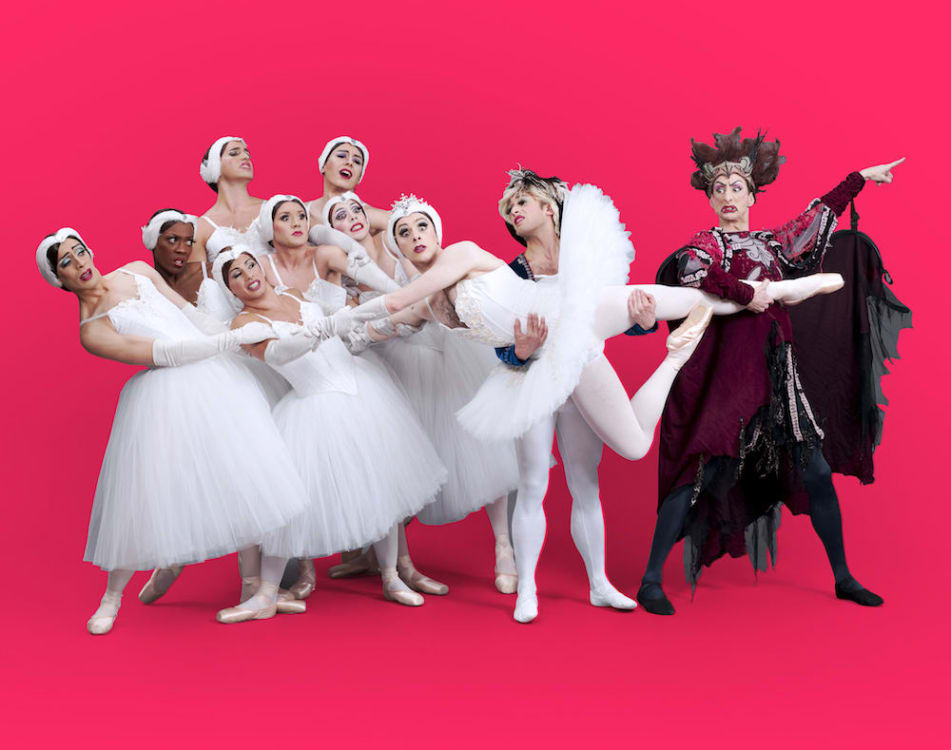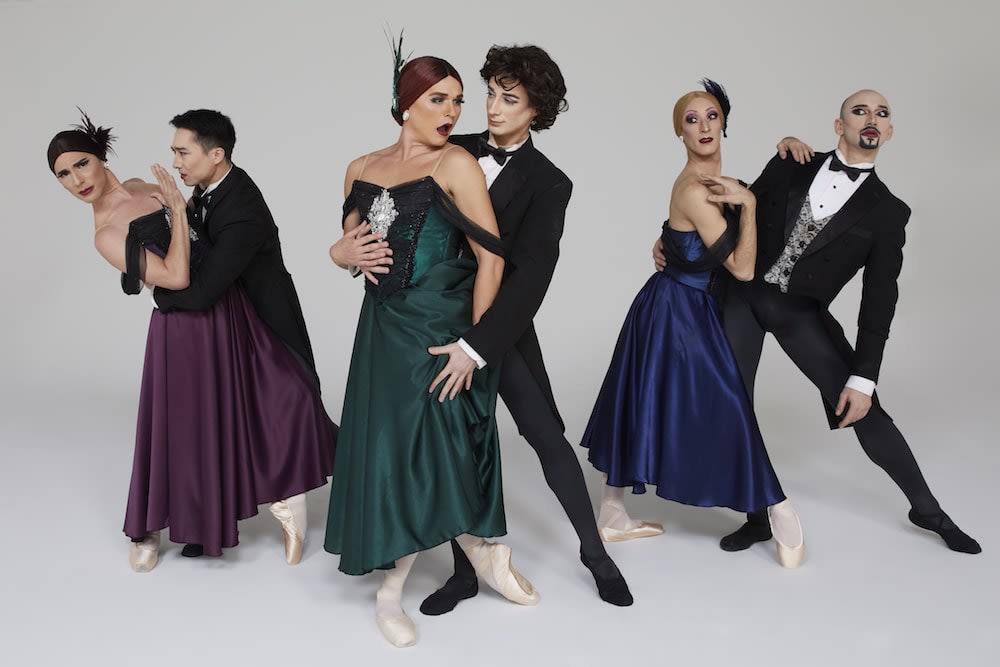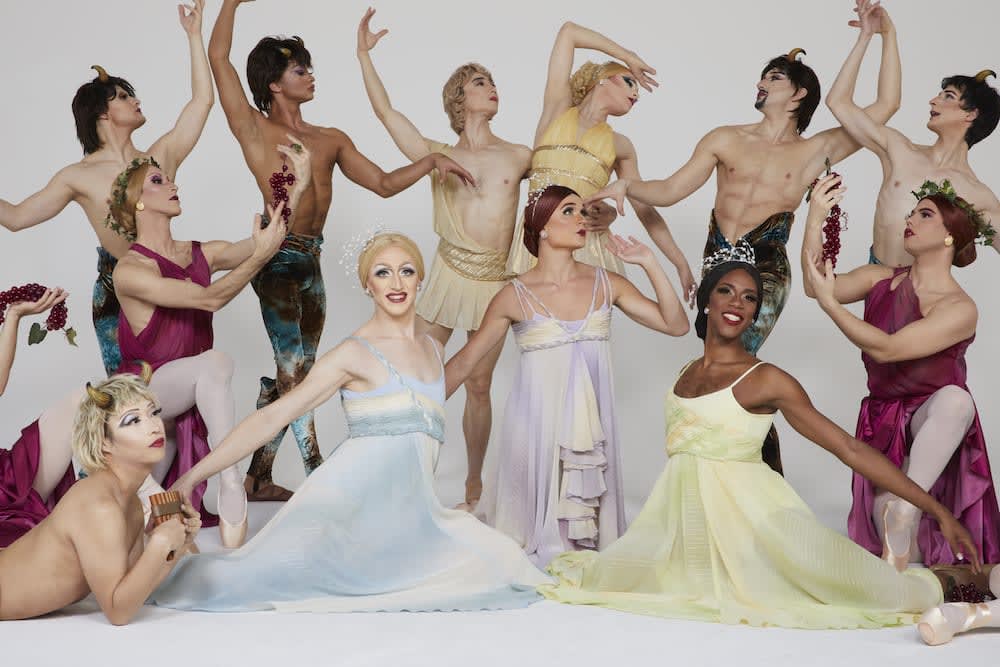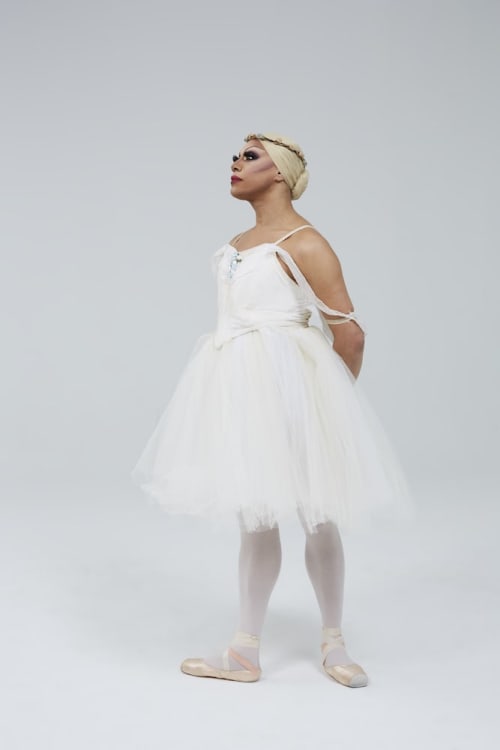 This is my fifth time of reviewing the affectionately named Trocks—two programmes in 2015 and two in 2018—so their voiceover note to the audience is very familiar—something about all the ballerinas being in a good mood. Which immediately puts us all in a good mood. The audience laughs out loud. A sign there are many new to the company's style.
And many have no doubt come after a four-year grim interval to revel in the company's charming, camp, pantomime silliness and its loving send-up of classical ballet. Ballet may be easy to mock—even Nureyev did it with Miss Piggy—but one must have the core skills to do it successfully, be very good at it in the first place, which the Trocks are when they choose to be.
Lots of naughty swans and a Prince Siegfried (Giovanni Goffredo / stage name Dmitri Legupski), who can barely see past his haughty pose and nose, set the tone and there's no stopping the guffaws, giggles and applause. Tchaikovsky and Lev Ivanov's Swan Lake Act III is such a dream of a ballet to spoof, but petite Takaomi Yoshino (stage name Varvara Laptova) as Odette the Queen of the Swans delivers the goods straight when he wants to, revealing what a consummate dance artist he is.
I also fall for Duane Gosa / Vladimir Legupski as Benno, the Prince's abused friend who gets to do his dirty work. And I love the Prince coming from the wings vomiting white feathers—what has he been up to with Odile whilst no one was looking? Innuendo, heavily maquillaged wide-eyes made at the audience, knowing complicit glances, and selfies (that's new).
Gosa (as Helen Highwaters) also figures in the Swan Lake pas de trois—two tall females (Gosa and Joshua Thake / Eugenia Repelski) towering head and shoulders over the poor male (Jake Speakman / Timur Legupski), another cheap and easy joke, but it works and has the audience in stitches as he dangles high in the air between the two swans.
But the pièce de resistance is their regular—their obligatory signature piece—The Dying Swan, Michel Fokine's 1907 improvised four-minute solo (to Saint-Saëns) for Anna Pavlova. What can't you do with that… I have seen Robert Carter (Olga Supphozova) do this before: he defies the years with his marvellous rendition and he has the loveliest arms. Moulting all over the stage—when the spotlight can find him—he gives a performance that straddles poignancy and affectionate parody. The audience love him and he basks in that—a true performer…
It breaks up two numbers I've not seen before: Nightcrawlers and Valpurgeyeva Noch ("Walpurgisnacht"). Nightcrawlers is a lampoon of Jerome Robbins's In the Night—to Chopin's nocturnes, what else. Apparently choreographed by founding artistic director Peter Anastos many moons ago. Nocturnal, languorous creatures of the night, three moody couples in evening clothes at a 1920/30s soirée get up to all sort of mischief. Jazzy shoulders, silent film chases, limber bodies, which tie themselves in knots.
Valpurgeyeva Noch ("Walpurgisnacht") to Gounod (again, who else) was inspired, so the programme note tells us, though one can never believe everything they say, by the Bolshoi Ballet's "Soviet Balletic Camp". I know exactly what they mean. It is a classical, mythological, Poussinesque Arcadian tale of nymphs, fauns, maidens, Pan, Bacchus and Bacchante, which provides lots of opportunities for merriment. Again Takaomi Yoshino (alter ego Boris Dumkopf) delights as a gambolling Pan.
A high-stepping Chorus Line encore to New York New York (in tiny Union Jack hats) has the crowd on its feet, cheering a cheerful good-natured two hours. Two hours of escapism on a rainy night is not to be sniffed at.
Programme B (12–17 September) promises Les Sylphides, Vivaldi Suite (an homage to Balanchine), Majisimas (music from Massenet's 1885 opera El Cid), and a surprise number not yet decided. Then they embark on their 12-venue UK tour till the end of October. Indefatigable, an institution, they've been going strong since 1974.
A company of sixteen dancers—some I recognise from before, some are new—channelling the Ballets Russes dancers of yore, do a worthy service to dance, bringing new audiences (I hope) to the classical art form. Or is it wishful thinking, and it's just the pratfalls, collisions, comical breaking of the fourth wall, music hall pranks that appeal to most.
Reviewer: Vera Liber