Les Liaisons Dangereuses
Christopher Hampton, based on the Novel by Choderlos de Laclos
Donmar Warehouse
–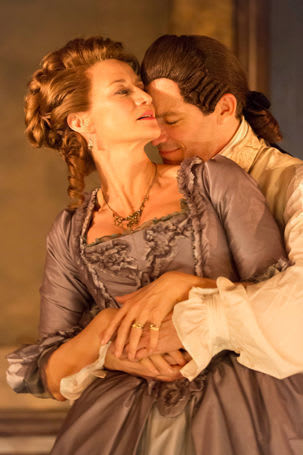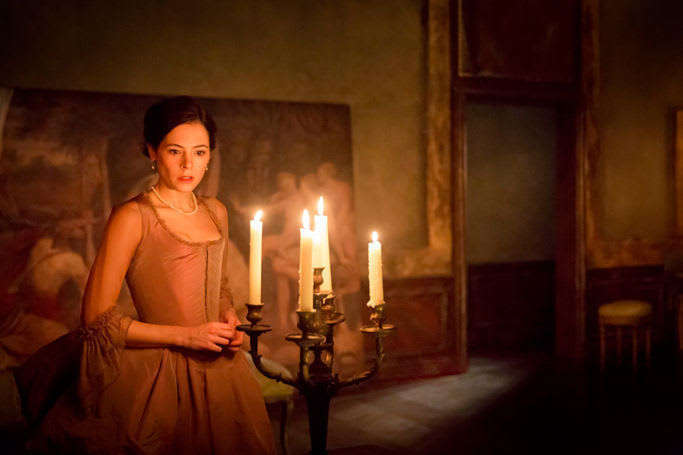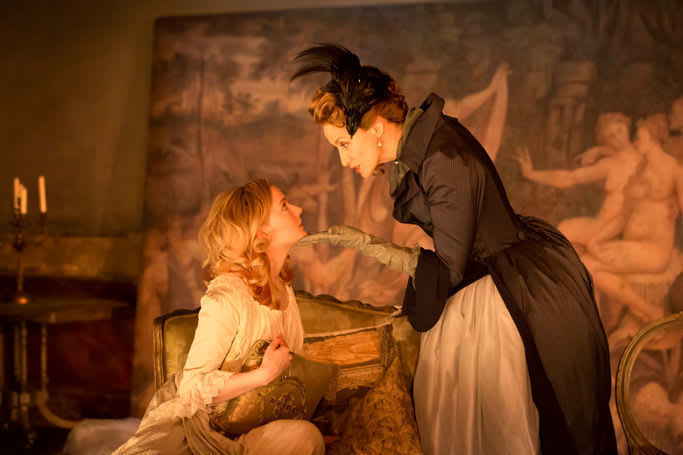 The last London opening of 2015 will leave viewers on a high. Les Liaisons Dangereuses is a play about the misery of love and the unhappiness that sex so often leads to after a brief thrill.
Josie Rourke has compiled a superb cast to bring Christopher Hampton's seductive adaptation of Pierre Choderlos de Laclos's 1782 masterpiece, perhaps the very best ever epistolary novel, to the Donmar stage.
On a simple, Tom Scutt-designed, gently crumbling set garnished with period paintings offering additional symbolic commentary, the plot is driven by a bet wagered between two amoral, leisured, Parisian gentlefolk. Gorgeous costumes and music composed by Michael Bruce, which is delivered on harpsichord and vocally, consolidate the 18th century feel.
Dominic West as the charming Vicomte de Valmont and Janet McTeer playing the irresistible Marquise de Merteuil use sex as a weapon in a 2¾-hour battle of the sexes. Their main amusement is preying upon the innocent in the full, greedy expectation of the devastation that they will cause, should their schemes be successful.
The pawns in the war between these cruel cynics are manifold. Indeed, they involve every other person seen on the stage during the evening. Ironically, the source of much of the unhappiness is Una Stubbs as Valmont's stately old Aunt, who innocently serves up the fresh victims.
The hors d'oeuvre is Morfydd Clark's sweet, delicate 15-year-old Cécile Volanges, fresh out of convent with a protective but gullible mother played by Adjoa Andoh and all too soon to be violated at the Vicomte's hands (and so much more) in an act of wilful revenge on his friend's unseen distant relation.
The delectable entrée is Madame de Tourvel, a paragon of virtue if ever one existed. Elaine Cassidy conveys her character's goodness perfectly, then proceeds to demonstrate the ravages of love in a manner that can be harrowing to witness in such an intimate theatre.
It would be unfair to dwell too long on an explosive dessert that tops off the tasty evening.
What starts out as a light-hearted comedy of manners amongst those who should know better eventually transforms into a profoundly serious exploration of the nature of love and the consequences of rejection.
Janet McTeer is deliciously wicked as the Marquise, while Elaine Cassidy is innocence incarnate. While Dominic West was suitably louche, at times on opening night he and his lines were not the best of friends.
30 years ago, Christopher Hampton turned a gripping novel into a deep and meaningful but still saucy play and Josie Rourke's marvellous revival does it proud.
Sadly, this production was sold out long before opening night. The good news for those unable to get tickets is that the performance on 28 January is to be broadcast to over 600 UK cinemas and many more worldwide via NT Live. There is no excuse to miss out on one of the highlights of the season.
Reviewer: Philip Fisher