Les Misérables
Alan Boublil and Claude-Michel Schönberg, based on the novel by Victor Hugo, music by Claude-Michel Schönberg, lyrics by Herbert Kretzmer
Broadhurst Theatre, New York
(2007)

Listing details and ticket info...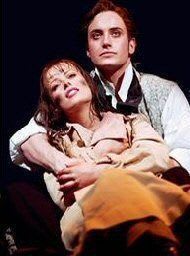 While Les Miz, as it is fondly advertised here, has been running solidly for twenty years in London, it has had a break in New York and returns refreshed, if a little more cramped.
This is a broad, sweeping play, as is necessary to convey the richness of a novel that is almost 1,500 pages long. Like Nicholas Nickleby, it is hard to imagine any British theatre other than the RSC managing to create a worthy adaptation of such a magisterial work.
We must all be grateful to Sir Trevor Nunn and John Caird for the care that they have taken to create one of the great theatrical experiences of the late Twentieth Century.
The new American production relies heavily on a large, enthusiastic cast and a turntable, designed by John Napier, which ensures that people and props, notably the sizeable barricades, appear on time. This allows the narrative to run on and on, through a three-hour running time that feels far shorter.
The story of Jean Valjean seems amazing to residents of civilised countries today. The play opens in 1815 as he finally leaves the chain gang after serving 19 years hard labour for stealing a loaf of bread. The sentence had doubled as a result of his belligerence and this is quite credible when one sees his bull-like determination after attaining freedom.
He is released by his antithesis, Norm Lewis' Javert, an officer who is determined to hunt him down in the end and the story requires their irregular clashes for much of its drama.
Alexander Gemignani, who looks uncannily like Meatloaf, makes an imposing Valjean as well as singing memorably. What makes this man special is much more his humanity that his determination.
He makes a good life for himself and, when he sees an injustice, will step in at whatever personal risk. He also benefits from his bravery, especially when he helps the destitute Fantine, played by Daphne Rubin-Vega, and is rewarded with the wardship of her pretty daughter, Cosette (Ali Ewoldt).
After the interval, as Revolution boils up, both Valjean and Javert find themselves on the barricades where death and destruction are exemplified by the plucky young Gavroche, a Parisian Artful Dodger played at this performance by Brian D'Addario.
He is counterpointed by the grotesque comic pairing of Fagin-like Thénardier and his upwardly mobile wife. At times, Gary Beach and British actress Jenny Galloway threaten to steal the show, before the Thénardiers finally get their comeuppance.
All comes right at the end of this moral tale as Cosette finds love with Adam Jacobs' handsome student Marius and Javert fails to pin down the hero who then finds eternal peace, to bring down the curtain on a tremendous evening.
This combination of a rattling good yarn and some great rock songs (think Meatloaf again) including numerous solos well delivered by all of the major performers, is always going to prove a winner. This is a limited run but must surely either extend or be replaced by another before too long.
Reviewer: Philip Fisher