Lest We Forget: No Man's Land / Firebird / Second Breath / Dust
Choreography by Liam Scarlett, George Williamson, Russell Maliphant, Akram Khan
English National Ballet
Barbican Theatre
–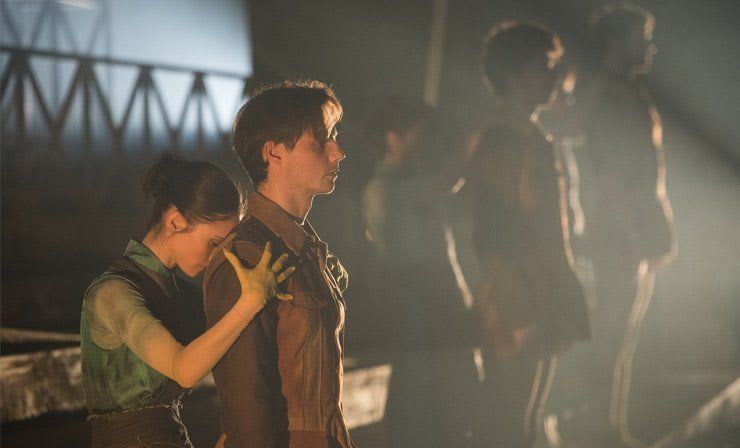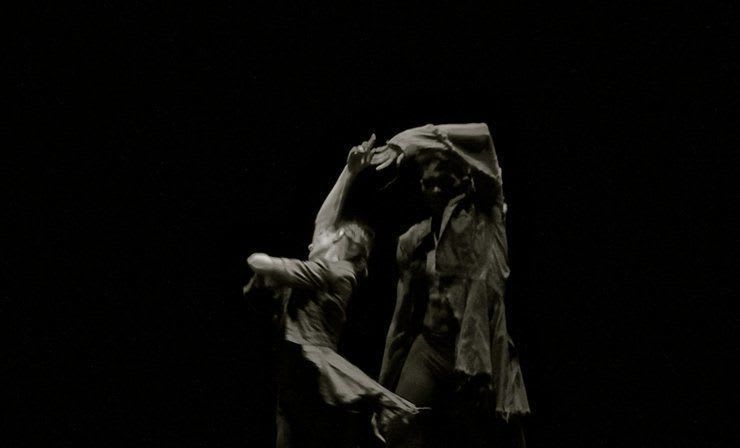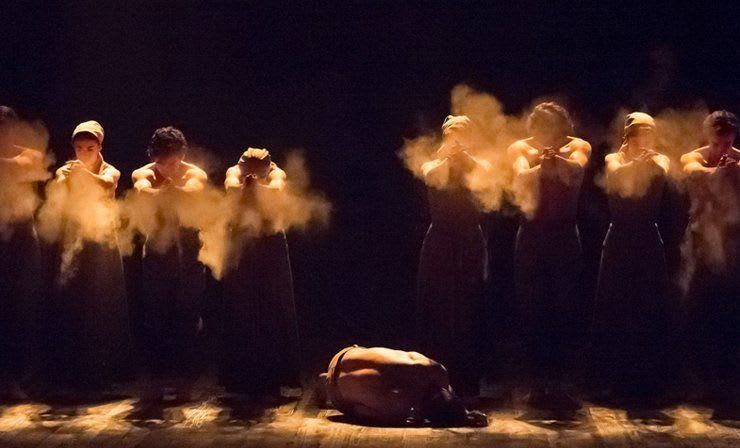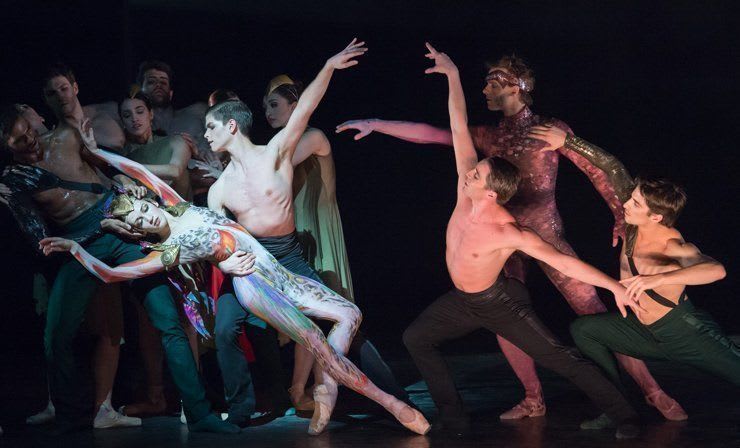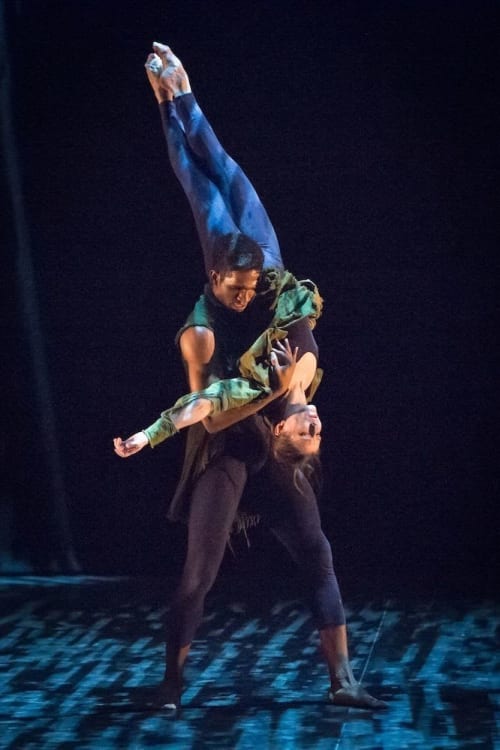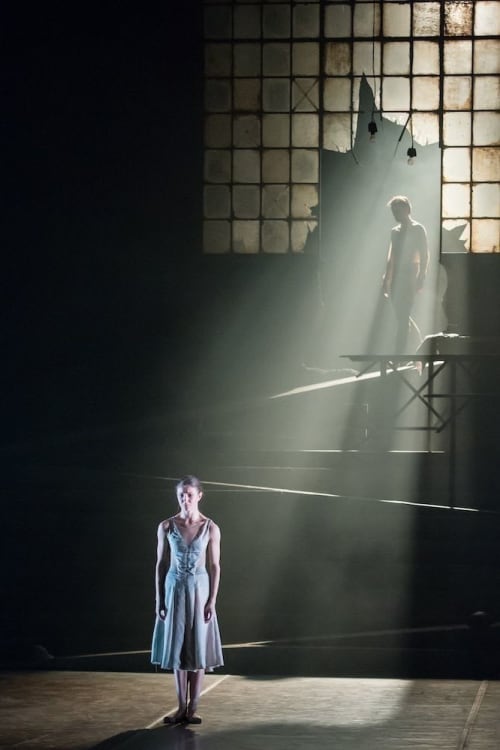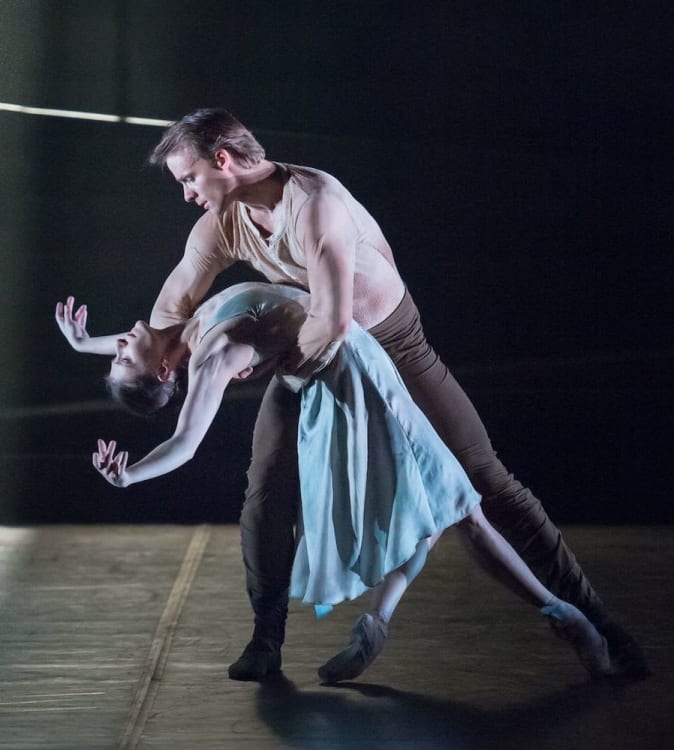 Two searchlights strafe the murky gloom of the Barbican stage. It is not going to be a light-hearted evening, but intense and ambitious as English National Ballet's Artistic Director Tamara Rojo, who believes in setting challenges for herself and her company.
To commemorate the centenary year of the start of the First World War she has commissioned three new works from three different choreographers, one classical, two contemporary though classically trained in their different spheres.
Add two new musical compositions and a new venue, and the company is treading new ground in more ways than one. The odd one out is English National Ballet Associate Artist George Williamson's revived, reworked and improved 2012 Firebird.
The new triptych might have served well enough, though I can see Rojo's tenuous logic in including Firebird. Everyone wants a piece of the magical bird, but by stealing her feathers they almost destroy her. Is this the metaphor for the whole evening? A generation lost and for what?
A melancholy theme served up with reverence Lest We Forget is a remarkable carefully considered programme: 'bodies' is what the dance world can offer, and 'bodies' is what the war to end all wars was about.
But what about the women at home: interestingly this is what two of the male choreographers have focused on. The women left behind, replacing the men, feeling their absence.
Royal Ballet Artist in Residence Liam Scarlett's No Man's Land, which opens, highlights their worth and eloquent sacrifice. Under Paul Keogan's sepulchral cathedral lighting, under Jon Bausor's murky windows, up a steep factory floor, which doubles as trench walkway, a bomb-damaged factory produces shells—the women's part in the killing war machine.
Hands yellow from the explosives, these 'canaries' in drab dresses and overalls see their men off. Seven couples stand before us, women behind their menfolk, the women's arms slipping under and over shoulders like kitbag straps, and their bodies the memory weight the men carry on their backs to war: a striking image.
Elegiac, to excerpts from Franz Liszt's Harmonies Poétiques et Religieuses, arranged and orchestrated by Gavin Sutherland (impassioned piano played by Julia Richter), No Man's Land is a war requiem in all but name.
Endurance and longing—a two-tier life emerges. Exhausted women embrace the empty air, caress faces that aren't there, dance with solid memories of surprise kisses and whispers in the ear.
Three couples duet, Angela Wood with Fabian Reimair, Ksenia Ovsyanick (brilliant as the Firebird) with Laurent Liotardo, but it is the central one (on the second night), Alina Cojocaru partnered by Zdenek Konvalina, who moves the heart with her desperate limpet hold on his body, ivy entwining an edifice.
The neoclassical Firebird follows. Two ballets on pointe. After the interval and poignant musical interlude—a composition by friend of Gustav Holst Cecil Coles (1888-1918) who was killed by a sniper on the Western Front (his bloodied score remains)—come the two barefoot contemporary ballets, Russell Maliphant and Akram Khan collaborating with a classical ballet company for the first time.
Russell Maliphant's Second Breath is as sculptural and as (appropriately in this instance) martial art inflected as always, but this time he works with eighteen—ten men, eight women—more than his usual number—a collective kinetic war memorial.
Arranged across the stage at first it is impossible to distinguish the women from the men, both dressed in Stevie Stewart's tattered uniforms, swaying in the breeze like dry stalks of grass, reloading their weapons under Michael Hulls' dappled lighting. Repeat and repeat the drill.
In separate units and clusters they climb up on to their comrades' shoulders only to fall and fall again backwards into their arms, whilst Andy Cowton's powerful composition of percussive electronica (orchestrator Ben Foskett) mingles with voices from the past (audio recordings from the Imperial War Museum Archive) and Dylan Thomas's Do Not Go Gentle Into That Good Night.
Alina Cojocaru, a small bundle of energy in counter tension with Junor Souza, slips up and over his shoulder, down his back, takes his weight, in a love duet to a heartbeat pulse. The soundscape is tremendously effective. Hold on as they might the couples move further and further away from each other.
Akram Khan's Dust, again in a dusky glow (lighting Fabiana Piccioli, set by Sander Loonen), takes the same theme as Scarlett—women's empowerment as the main workforce at home, and the life force for the men away at war.
Taking on the role of the token man or death itself, Khan flails and rolls in astonishing gnarled root contortion—pain, injury, torture—in hysterical speed between two rows of women, their arms plaited in cabled waves of strength, enormous support for the man till he goes over the top of the trench into the red glow of war.
Reminded me a little of Kenneth MacMillan's Rite of Spring, and, indeed, the ghost of his 1980 Gloria (in the Royal Ballet repertoire) inspired by Vera Brittain's Testament of Youth to a lost generation, is evident throughout.
Jocelyn Pook's composition, liturgical at times, also has voices from the past interwoven in its score—"we're here because we're here because we're here…" from With Our Boys At The Front recorded in 1916.
Forehead to forehead with demonic death, in mighty duet with Khan Tamara Rojo, dusty hessian dress over trousers, headscarf tied at the nape of the neck, and fierce gaze, reminds me of the barren soil from which Lorca's Yerma sprang, or that heroic Soviet poster woman in her fight against fascism.
Tamara Rojo says: "I need the public to see the choreographers of today, and how this company can embrace this new modern language, without threatening what you know of them." Good to see former colleagues from The Royal Ballet in the audience.
Assisted by the Orchestra of English National Ballet, under Gavin Sutherland, hidden in the Barbican's deep orchestra pit, this is a landmark programme of new works for the company that demands attention—do not be put off by the sombre theme.
Reviewer: Vera Liber