Let Me Play the Lion Too
Michael Pennington
Faber and Faber
Released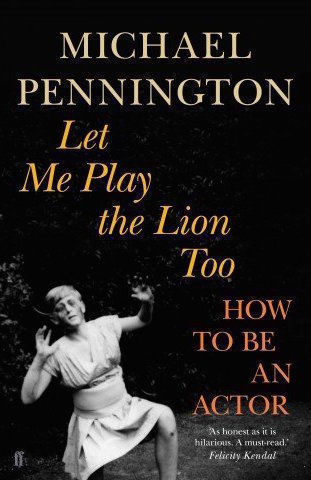 In Let Me Play the Lion Too, Michael Pennington gives readers of this paperback original the benefit of his three score years and ten.
However, rather than merely being a manual on how to perform and behave when working as an actor, this is a very enjoyable and practical book that rarely instructs directly.
Instead, Pennington tells anecdotes from his own history and borrows from others to illuminate the subject and inform budding actors about what they can expect in every aspect of an increasingly diverse profession.
After a brief introduction detailing a meeting with Robert De Niro and means of entering the business, the author swiftly moves into a deeply thought out section explaining everything that one could ever need to know about working in television and film.
What comes across very clearly is that this area of the business is now a necessity for any aspiring actor who wants to eat—half a day working on Holby City or in an advert potentially paying far better than a long run in a fringe theatre.
There are occasional forays into heavy technical language but, for the most part, a general reader will be able to understand and learn much, while those seeking to find opportunities to further their careers and capitalise upon them will inevitably lap it all up.
Pennington also appreciates better than most the lure of the stage for those who were probably smitten practically before they could speak. Once again, he runs through every factor that could be relevant from what to do when you are standing on a stage to how to get there or meet and work with an agent.
Fellow actors provide much food for thought, while critics are clearly not this gentleman's favourite breed.
Straight plays, musicals and everything in between feature and are covered in more than adequate detail.
After these two sections, which make up the bulk of the 400+ pages come three essays. The first of these entitled "Sex and Drugs and Turning up" is largely humorous explaining the difficulties of performing without clothes on and showing passion where it isn't felt, the problems of acting under the influence of artificial stimulants and the penalties for punctuality.
This is followed by a homage to radio plays involving an imaginary conversation between producers from different eras.
The final essay takes on the knotty subject of discrimination and in particular the difficulties suffered by actors who are either from a minority racial grouping or disabled.
Next comes a witty A-Z covering everything from Availability to Zhoozh (don't ask) before a brief section looking at some key moments in theatrical history from around the globe.
Let Me Play the Lion Too proves to be a wonderful read and is a perfect gift for any intelligent, presumably, young person considering a career on the stage.
Reviewer: Philip Fisher