Let the Right One In
A stage adaptation by Jack Thorne, based on the novel and film by John Ajvide Lindqvist
The National Theatre of Scotland with Marla Rubin Productions Ltd and Bill Kenwright, in association with the Royal Court Theatre
Royal Court Theatre Downstairs
–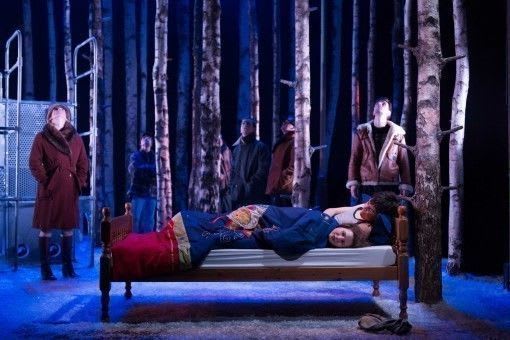 A London visit by the National Theatre of Scotland is always likely to get the heart pumping and, on this occasion there is also a chance for the Royal Court's new Artistic Director Vicky Featherstone to reunite with old friends John Tiffany and Steven Hoggett.
The story that they have chosen to stage is borrowed from a Swedish cult novel and horror movie of teenage love with a twist.
Martin Quinn, making an impressive professional stage debut, is Oskar, a friendless, geeky introvert from a broken home. The only real talent that he possesses is an uncanny ability to attract the attentions of cowardly bullies.
His life is changed by a meeting with Rebecca Benson's distinctly odd Eli, who we quickly learn is a vampire in denial. For those not into what is a fairly ridiculous though undoubtedly popular genre, this is likely to present problems.
In keeping with these tales, Eli feeds on blood, though in this case being a young female, apparently the lavishly flowing red stuff does not necessarily need to stem from equally young virgins.
She is helped by a besotted, creepy older man played by Euan Stewart who begins a gorefest of the kind that can seem excessive even on a 21st-century stage and might even have given Shakespeare pause for thought.
Beyond that, the 2½ hour plot consists of a couple of lads bullying Oskar, while he confronts his parents' problems and falls in love with the pale girl from next door.
From this potentially unpromising material, the creative team conjures up an evening of great beauty.
Jack Thorne has written a spare script for the stage. This is embellished by some good acting, particularly from the young central pairing with Quinn also demonstrating the strongest pair of lungs imaginable in the play's pivotal scene.
However the secret NToS ingredient lies in the highest aesthetic qualities. Christine Jones has designed a chilling post-Chekhovian set, around which the performers relate their tale both in narrative and movement. The latter eminence has the qualities that one has come to associate with ubiquitous Assistant Director Hoggett.
Add in a score from Ólafur Arnalds that owes much to Arvo Pärt and somehow this production can please even those who are seriously underwhelmed by the subject matter and wouldn't dream of watching a vampire movie, however much they were paid.
Reviewer: Philip Fisher