Letters to Morrissey
Gary McNair
Traverse Theatre Company in association with Tron Theatre
Traverse Theatre
–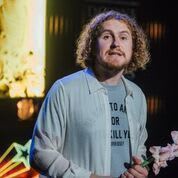 The Edinburgh Fringe rejoices in expert storytellers narrating their (possibly fictional) lives both in the stand-up arena and via the theatre programme.
Gary McNair has created his latest offering for Traverse Theatre Company in association with Glasgow's Tron Theatre. His attractive set is the typical nerdy teenager's bedroom complete with Smiths' records (vinyl today) and posters.
This is the setting for an intense story about a small town 15-year-old coming of age. Rather than girls, his problem is life and especially that of his pal Tony.
After the Northern Irish school psychologist recommends sharing problems with a friend, the protagonist casts around and determines that the only possible receptacle for his angst is Morrissey.
The 70 minutes then follow the youngster's efforts to unburden himself, save a troubled friend and enter adulthood mentally and physically intact.
McNair's writing and delivery, under the direction of Gareth Nicholls, are impeccable, allowing visitors to enter into the young man's soul and share his love of Morrissey and the musician's philosophy.
Reviewer: Philip Fisher