Liberace's Suit....
T.K. Light
Jermyn Street Theatre
(2004)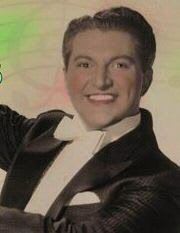 Will he won't he ? Surely such a star of the popular piano as Bobby Crush isn't going to complete a two-hour stage performance without playing a note?
The clue, centre stage throughout this absorbing staging at the Jermyn Street Theatre of T.K Light's dramatisation of Liberace's '50s civil action against the Daily Mirror and its columnist Cassandra, alias William Connor, is beneath the piano cover.
It is a grand piano and even through the shroud it is possible to see that it is white!
As the first of the modern mega-stars stands in the Old Bailey witness box to be interrogated by distinguished counsel, the only music heard is from Effects, recapturing ovations for a legend's great spectaculars. Splendid performances here from James Horne as Befus QC appearing for the plaintiff and from Stephen Dunbar as Gerald Gariner QC, for the defendants, The Mirror and Connor.
There is also a delightful cameo from Oliver Bradshaw as Mr Justice Salmon who is by turns caustically sharp and winsomely naive.
A minor irritant is the oversight of the wardrobe in allowing two famous counsel to appear in a junior's pin-stripe suit rather than the "silk" jackets which were and remain de rigor for Queen's Counsel!
In a more liberal society, an action for damages, not entirely dissimilar to that launched by Oscar Wilde 100 years ago, seems a lot of fuss over a few words. Yet at the time, Liberace must have thought that in the absence of a lawsuit his career would be over.
Crush is a revelation in the role of the entertainer whose name was in lights when, as the proverbial boy in short trousers, he was taken to his great concerts. One can only suspect the Crush household was thereafter much distracted by sitting room renditions of the Liberace style. Not that that detracts one jot from this performance.
Paul Beech, too, as the cruel-penned Conner whose evidence spurted both icy self-righteousness and surprising passion, was a sight to behold.
After the court has risen, the sequinned maestro returns for a regal walkabout, bejewelled fingers extended to the masses.
"D'yer like ma suit," he enquires fulsomely - y'ought'er; yer paid fer it!"
Whereupon in a bizarre finale he moves to the piano stool and launches into his signature I'll Be Seeing You as judge and counsel still bewigged but now in Liberace jackets, singing in chorus and bearing aloft the famous candlesticks.
"Liberace's Suit" runs until 19th June
Reviewer: Kevin Catchpole