If I Were You
Alan Ayckbourn
Library Theatre, Manchester
(2008)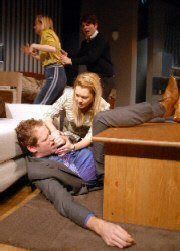 To close its current season, the Library Theatre returns once again to veteran playwright Alan Ayckbourn and his 70th play, premiered at his own Stephen Joseph Theatre in Scarborough two years ago.
As is so often the case with Ayckbourn's plays, we open on a middle-class domestic setting, the neatness of which is in sharp contrast to the chaos in the lives of those who live there. In this case, Mal is an unreconstructed, old-fashioned male, into sport, having an affair with a girl from the make-up counter at Debenhams, going out drinking with the lads every night after work and believing that there's something wrong with his son, Sam, for not liking sport and wanting to act in Shakespeare at school. His wife stays at home looking after Sam and the house, as she did for their daughter Chrissie. Chrissie is now married to Mal's work colleague Dean and they have a young child of their own, but Jill suspects that Dean may be hitting Chrissie.
Just as Mal and Jill's marriage is about to fall apart, something very odd happens to give them both first-hand experiences of the other's life. This big change comes just before the interval, and if it is possible to see the play without advance knowledge, the shock of it can certainly add to the enjoyment. While not totally an original idea — it has been done many times in films — it is made to work well here and performed superbly. By the interval, the first half, which, it turns out, is all set-up for this event, is starting to flag a little, but then the change makes the second half pick up considerably. The magical event is never explained but never needs to be, as it is the way the characters deal with it that is important.
Dawn Allsop's set cleverly doubles as both the living room, master bedroom and kitchen of the family home and the furniture store where Mal works with just a subtle change of lighting to distinguish between the two.
Veteran Ayckbourn performer Bill Champion is superb as Mal in both his guises, and is certainly the most natural at speaking Ayckbourn's Mamet-style fractured dialogue in the earlier parts of the play. He has excellent support from Meriel Scholfield as his weary wife Jill, who particularly excels after the interval when she is hilarious with a superbly-observed physical performance. Arthur Wilson, who played young boy Tom in Tom's Midnight Garden at Christmas, here plays the teenage Sam; perhaps next time we will see him in an adult part, but he does give an extremely convincing performance as a young boy. Amy Searles is very good as Chrissie, and Phil Cheadle certainly gets across the boorish stupidity of Dean, although he plays the part noticeably more over-the-top than the others right from the start.
Like most comedies that look at the behaviour of the sexes, the characters whose sex is the same as that of the writer come off far worse, and so it is the men who come across as self-important, arrogant, insensitive and occasionally violent whingers and the women as those who have to put up with them and clear up their messes. While the attitudes portrayed are certainly common, it still feels a little like the sensibilities of a past age transplanted onto a modern setting, as though Gene Hunt and his cronies from Life On Mars have been transported to our time instead of us to theirs. However there were plenty of knowing laughs from the audience and the occasional stern looks between couples at certain events in the play.
The plot does feel just a little light for even this short playing time and both halves are slightly stretched, but overall this is a very funny, entertaining and enlightening play, given a very good airing by Chris Honer and the Library Theatre Company cast.
Reviewer: David Chadderton