Life Is a Dream
Pedro Calderón de la Barca, in a new version by Helen Edmundson
Donmar Warehouse
(2009)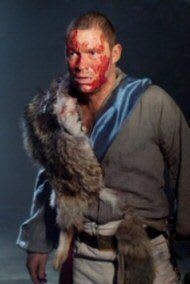 Life is a Dream has all of the ingredients of a tragedy, although by the classical rules it somehow contrives to end as a comedy.
The 17th Century Spanish Golden Age may have nothing better to offer than a play that mixes two parts King Lear with one each of Greek Tragedy, Twelfth Night and The Tempest.
That makes it an exciting dynastic drama, given real poetic weight in an excellent new version from Helen Edmundson, who has built a formidable reputation by converting weighty novels such as War and Peace to the stage for Shared Experience.
Two noble families struggle to recover from the loss of children a generation before. King Basilio of Poland, Malcolm Storry banished his son Segismundo to a secluded prison at birth, in an effort to escape the kind of Oedipal prophecy from which the Greeks knew there is no hiding. His right hand man, David Horovitch's Clotaldo, left an unknown child behind at the same time, with no company but a golden sword carrying a magical reputation.
His offspring reappears in the guise of a handsome young man with dark flashing eyes and unbounded bravery, who in true Shakespearean style proves herself his beauteous daughter.
Kate Fleetwood's Rosaura is not a happy girl, as she has been deserted and betrayed by a Prince. He in turn has his work cut out, vying with his cousin for Basilio's kingdom.
That contest becomes clouded by the arrival of Segismundo (played by The Wire star Dominic West), think of a cross between Miranda and Caliban, whose blood should proclaim him heir to the throne, though his bestial behaviour certainly does not.
There are even more plot twists, some a little too convenient, in a packed 2½ hours that rarely slows other than for set piece speeches, uniformly well-delivered by a strong cast.
The intensity of the drama ramps up as Segismundo has not one but two attempts to prove himself a worthy future king, struggling along the way to distinguish reality from the world of dreams and thereby giving the play its title.
As a counterweight to the seriousness of the struggles for power and love, Director Jonathan Munby, who did such a good job with another period piece John Webster's The White Devil at the Menier Chocolate Factory, plays a spectacular joker.
It comes in the form of the hilarious Irish character actor, Lloyd Hutchinson as Clarion. This wise clown is theoretically the servant of Rosaura but on the night becomes so much more, delighting the audience with his caustic asides, every one timed to perfection.
Clarion tops off an enjoyable evening that overcomes a bland setting and sometimes intrusive musical accompaniment to offer a serious plea for Spain as a worthy rival to England in terms of playmaking in the age of Shakespeare and beyond.
Playing until 28 November
Reviewer: Philip Fisher