Life After Scandal
Robin Soans
Hampstead Theatre
(2007)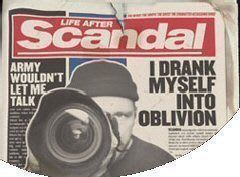 "Scandal is the hottest currency in the modern era". That sentence, spoken by one of the lesser-known, real-life characters, could be a reasonable debating topic for the Cambridge Union and provides the basis for Robin Soans' latest verbatim play.
Arguably, this compilation of interview material, primarily from the victims of scandals over the last twenty years, breaks new ground for this type of production. To date, for the most part, Verbatim Theatre has been issue-led with a serious political agenda at its heart.
Life After Scandal is rather fun and could prove titillating to the prurient but its messages are different, concerning themselves with the nature of celebrity today and the attitudes to it of both the media and the public. It also, almost by default, presents a composite portrait of the kinds of people who might be prone to fall foul of scandals.
Generally, it is a case that those who live by the press die by it and Soans allows his contributors to make the interesting point that nowadays, some B-Listers and even the likes of David and Victoria Beckham manipulate scandal to maintain their public profile, and thus their moneymaking capabilities.
The subjects who make their appearances on Patrick Connelan's plush, marble pillared set are not quite in the Posh and Becks class, if that is not an oxymoron. Fortuitously for those who have to spend 2 1/2 hours with them in a theatre this group is far more articulate.
They are mainly politicians and if you were that way inclined, you could make a pretty good Tory Cabinet from the talent on show.
Robin Soans' skill lies in taking a series of well-constructed interviews and editing them together to compare and contrast the experiences of different individuals and ultimately make an entertaining drama that is poignant, blood-curdling and periodically extremely funny. As an example of his presentation, the early stages feature statements from three people, two of them peers of the realm, who were eventually disgraced and tell their stories in parallel.
To a 21st century audience, the experiences of Lord Edward Montagu, superbly portrayed by Tim Preece particularly at moments of greatest stress, seem a gross miscarriage of justice, since his offence half a century ago was one of homosexuality, which has subsequently been legalised. His two companions are Tory peer Lord Brocket played by Bruce Alexander and Simon Coates playing Duncan Roy who both perpetrated criminal deception (Roy is adamant that he was never found guilty of fraud) and, judging by the evidence presented in Life After Scandal, deservedly ended up enjoying Her Majesty's Pleasure.
The other major class of offender is the politician who ended up out of favour and, often with the malign assistance of spin doctors, dived headfirst into hot water. This group includes Philip Bretherton as Jonathan Aitken, who along with Lord Montagu, was one of the few to show real contrition.
Several more became heavily involved in sex scandals, Geraldine Fitzgerald's Edwina Currie and Robin Cook seen through the eyes of his wife, Margaret; while those great celebrities Neil and Christine Hamilton, both of whom were in the audience to enjoy their reproduction on stage by Michael Mears and Caroline Quentin had an alibi to escape theirs, if not other accusations.
Some light relief is injected not only by the Hamiltons but also by their TV equivalents, the constantly protesting Ingrams, who became famous when Major Charles won £1 million on Who Wants to Be a Millionaire, despite or because of an inordinate amount of audience coughing.
All of this is great fun and at times, Soans gets close to understanding the pain of an innocent or guilty victim who is caught out and might even end up in jail. Perhaps the message that he wants his audience to take away from the theatre is mixed. Scandals are bad news but some of those who are represented here come out as better and stronger people, while others are destroyed.
He does not draw any very deep moral conclusions other than a consistent distaste of the media, represented by a particularly oily paparazzo. Ultimately, it is often a toss-up as to whether the celebrities or the media are the more shallow and detestable.
Verbatim Theatre is probably more effective when it addresses serious political or cultural issues but Life After Scandal is amusing and makes enough barbed cultural points to deserve Anthony Clark's well-drilled production.
The pity for many will be that the real Abi Titmuss, Beckhams and Lord Archer could not have supplemented the onstage team and really given the scandal sheets and voracious groupies value for money - and that is the contradiction of an evening which is not supposed to be about scandal but will inevitably draw in an audience who want to wallow in the goss.
Read Philip's interview with Robin Soans
Reviewer: Philip Fisher