A Life in the Theatre
David Mamet
Apollo, Shaftesbury Avenue
(2005)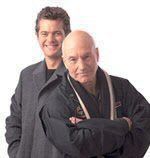 David Mamet is a master analyst of the male psyche and a great writer of dialogue. This two-hander, which premiered at the Goodman Theater in Chicago 28 years ago this month, looks at two jobbing actors, one setting out on his career, the other beyond his prime and fading fast.
Its main selling points are the performers. Patrick Stewart is well known in Great Britai, both for a distinguished stage career and for his film appearances in Star Trek. His hunky partner, Joshua Jackson will speed more than a few female hearts, having played Pacey Witter in American coming of age teen drama, Dawson's Creek.
The attraction for theatregoers is the chance to see an early Mamet, which turns an affectionate eye on the theatrical profession and is directed by a specialist in his work, Lindsay Posner. It was Posner who directed a starry London cast including Minnie Driver and Matthew Perry in Sexual Perversity in Chicago a year or so ago.
Stewart is excellent hamming it up as vain Robert, an ageing method actor who decides to take young John under his wing, with often hilarious results. He gets the balance between the bitchy, waning and self-deceiving elements of his character exactly right so that by the time the symbolic curtain closes on the ageing actor's career (and life), one feels real sympathy for this lonely man.
The older man gets all of the lines and Jackson is little more than a stooge. We see these men on and offstage, but as in Noises Off, always viewed from behind the scenes. In this way, one gets a view of the life of the less glamorous elements of an industry that is topped by the likes of Stewart.
Between them, they fluff and die when they are not missing cues in a series of dreadful weekly rep performances in badly written plays. The pair enjoy themselves in costume and medical dramas, legal and historical, but never excel except in their banality. This doesn't stop Robert from theorising in a way that suggests he should have stepped off stage and become a director long ago.
The set, for some reason placed off-centre by designer Giles Cadle, is remarkably elaborate for only two actors and the costumes, from a period opening recalling Starsky and Hutch, add to the amusement.
In one scene, Mamet reveals that his ambitions are greater than a mere portrayal of theatrical life. This is intended as a metaphor for a rather masculine unfulfilled kind of life, in the widest sense. As he poignantly says through Robert's mouth, "What is life in the theatre but attitudes?"
"A Life in the Theatre" is booking until 23rd April
This review originally appeared on Theatreworld in a slightly different version
Reviewer: Philip Fisher