Light Shining in Buckinghamshire
Caryl Churchill
National Theatre (Lyttelton)
–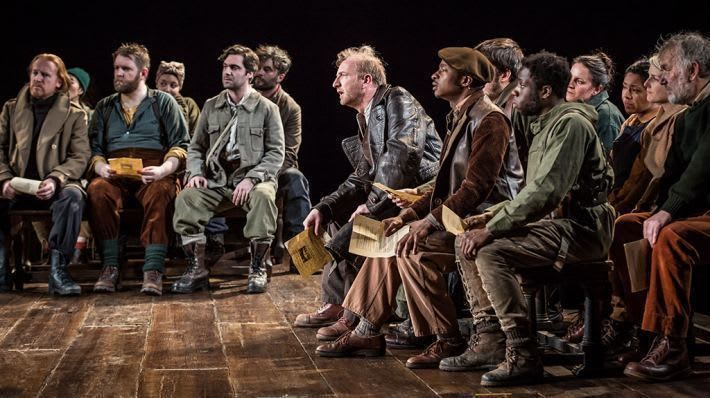 Light Shining in Buckinghamshire never quite shakes off the impression of a 2¼-hour-long history lesson.
The play, which will celebrate its 40th birthday next year, constantly shows its origins as a devised piece for Joint Stock, using a methodology in which a group of actors steeped themselves in the English Civil War and a series of historical characters, none of the royalist persuasion.
By way of contrast with the six actors who created the piece, a large ensemble, supplemented by a community company, plays out a series of generally short scenes.
Together, these are designed to build into a portrayal of life in the late 1640s, as the country recovered from a terrible internecine war and awaited the arrival of the Messiah, due in 1650 if the runes had been read correctly.
In Lyndsey Turner's visually enticing production, the speeches are delivered by poor people literally standing in the midst of a sumptuous Royalist banquet designed by Es Devlin, with the deposed King making occasional upstage appearances.
In attempting to show the lives of the people, Caryl Churchill seems determined to avoid allowing any to become primus inter pares for more than a few minutes, prefiguring Andy Warhol's prediction that "everyone will be famous for fifteen minutes" and no more.
Such a structure allows a large amount of information to be disseminated and debated in a short time but makes it hard to empathise with any character for more than a very brief period, which is usually the essence of successful drama.
There is much to chew on for 21st century viewers, including the views of Nicholas Gleaves's Star, whose desire to protect the good Saxon citizens from nasty foreigners echoes much electioneering today. In keeping are debates about a woman's (subservient) place in the world and the debate about the right to vote.
That obviously ignores the weaker gender but rages over whether universal male franchise can possibly make more sense than restricting the vote to householders.
If nothing else, much of the evening's meat should make viewers very glad that they now live in a modern, civilised society that respects almost all and even feeds them.
In this egalitarian context, it might be inappropriate to identify individual actors for special praise but Joshua James as a young gentleman verging on madness, Alan Williams in drunken mode and Adelle Leonce as a strong-willed woman trying to have her say particularly caught the eye.
Light Shining in Buckinghamshire is too short on action to be wholly satisfying but will appeal to those with historical or political leanings who want to know what our ancestors went through to create today's society.
The good news for those that are tempted is that this is part of the Travelex £15 season.
Reviewer: Philip Fisher