Lionboy
Adapted from the Novels of Zizou Corder by Marcelo Dos Santos
Complicite
Unicorn Theatre
–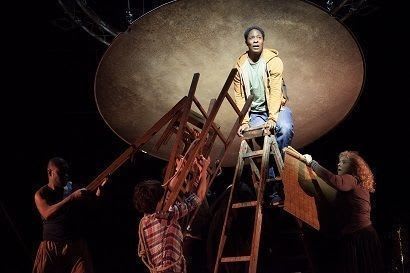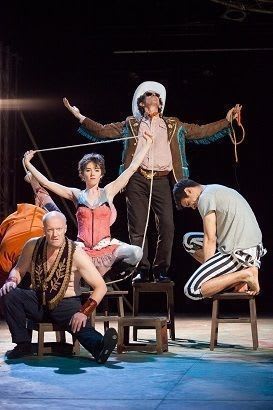 It may not seem obvious until you see Lionboy but Complicite's aesthetic has always been perfectly suited to entertaining children as well as adults.
It has taken them two decades to prove the point, but Annabel Arden's enjoyable stage realisation of the adventure by Zizou Corder presses all of the right buttons, even for visitors who are little more than tots but obediently sit through a couple of entrancing hours.
The story, adapted for the stage by Marcelo Dos Santos, is a kind of stylistic mix between James Bond, Doctor Doolittle, The Wizard of Oz and, that modern vogue, the eco-adventure.
It centres on Adetomiwa Edun as Charlie Ashanti, the bright 12-year-old child of two scientists who together are close to finding a cure for asthma.
After they are kidnapped, our plucky little guide travels across the globe in his attempts to release them and do good. The odds are stacked against him, especially when we discover that the enemy is the Corpocracy, a multinational bigger and more powerful than any that we could conceive.
Oddly, rather than fiendish super-criminals, to do their dirty work they enlist a dog-loving yob Rafi Sadler and an out-of-sorts lion tamer Maccomo, respectively played by Robert Gilbert and Femi Elufowoju Jr.
Throughout his journey, Charlie is helped by any number of animals, considerably assisted by his ability to talk "cat"—apparently fluently using both big and domesticated accents. This means that he can get guidance from Clive Mendus as a smelly, one-eared moggy but also, as the need arises, support and protection from half a dozen circus lions.
When the final showdown inevitably occurs, Charlie has a new sidekick played by lithe, acrobatic Lisa Kerr, not a lizard as such but a calmer chameleon you could not hope to meet when faced by the might of a superpower that could probably compete with China but is no match for a lad and a scaly animal in a silver leotard.
The plot keeps everyone on the edges of their seats but is only a small part of the enjoyment to be derived from this production.
In true Complicite style, the company uses physical theatre and techniques such as shadow play but more than anything else imagination (their own and that of their audience) as much as words to convey meaning, the whole accompanied by a lively soundscape and on-stage percussionist.
One of the pleasures of this show, delivered by a highly efficient and joyful ensemble, is the deliberate policy not to patronise a younger audience. This means that many serious issues get played out but there is also much fun and comedy, some designed more to keep their more experienced companions on board than for the wee ones.
The result is a heady mix of theatrical influences that has already justifiably been garlanded across the country, prior to this final stop-off at the Unicorn.
Reviewer: Philip Fisher