The Lion in Winter
James Goldman
Theatre Royal Haymarket
(2011)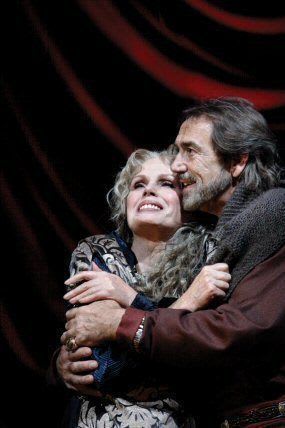 History can be fun. While most schoolteachers effortlessly make medieval lives as dull as dishwater, in the hands of James Goldman they veer between hilarious and astounding.
To be fair, to achieve the effect, the playwright takes massive liberties utilising both the modernised language and modified facts but, in doing so, gets to the crux of so many personalities and issues.
The Lion in Winter is a real star vehicle and those that have seen the film know what Peter O'Toole and Katharine Hepburn achieved. In 1969 they were respectively rewarded with an Oscar nomination and the statuette itself (shared with Barbra Streisand for Funny Girl).
Sir Trevor Nunn, enjoying a very good residency at the Haymarket, has cast Robert Lindsay as English King Henry II and less predictably Joanna Lumley as Eleanor of Aquitaine, simultaneously his wife and bitterest rival.
By the time that we enter the fray at Christmas 1183, the marriage is in tatters, as brave, witty Eleanor has spent the previous decade locked away by her husband in a dungeon.
He is undiplomatically but diplomatically squiring young Philip of France's sister in an attempt to enlarge a Kingdom that adds Aquitaine, a large chunk of today's France, to his home lands.
The other side of the drama shows a family at war with itself. If only he had been born, Machiavelli would have been in seventh heaven with this quintet of schemers soon after the death of the family's eldest son, another Henry.
The three other boys are all memorable. The oldest, Richard (Tom Bateman) may be a murderous Lionheart but he is a birdbrain. Like his elder brother, runty little John (Joseph Drake) will become King but then villainous Magna Carta man, while poor Geoffrey (James Norton) may be a master strategist but is loved by no one.
Henry wants to pick John as his own heir, while enjoying the delights of Princess Alais, who is less than half his age. He also remains in love with his wife. Eleanor wants freedom, power and preferential treatment for her favourite son Richard.
While the history provides the framework, this play endures for other reasons. It is filled with ribald comedy delivered with glee by all of the performers. This is broken up by familial and political by-play with allegiances changing by the minute so that, by the end, just about every combination has been tried and rejected with trust not so much at a premium as absent.
Designer Stephen Brimson Lewis has gone for a pre-Raphaelite depiction, with high arches setting off colourful costumes and gorgeous hair of prodigious length for the ladies.
This revival will give history a good name and makes a very different kind of Christmas entertainment from the traditional panto.
It helps to have a strong central pairing with the patrician Joanna Lumley seemingly playing herself, which works fine in this part, and Robert Lindsay visibly relishing the role of a royal rake. With these attributes and constant verbal fireworks as family members rail at each other, it should sell well.
"The Lion in Winter" is booking until 28 January
Visit our sponsor 1st 4 London Theatre to book tickets for The Lion in Winter
Reviewer: Philip Fisher