Lipstick: A Fairy Tale of Iran
Sarah Chew
Critical Mass as part of 96 Festival
Omnibus Theatre
–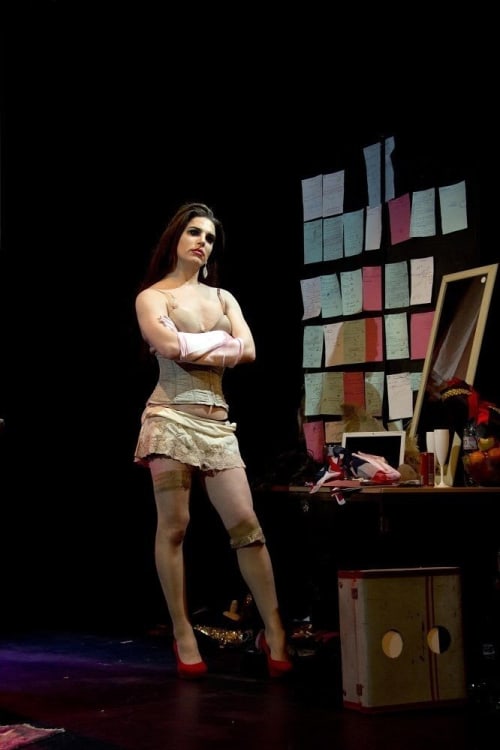 Lipstick: A Fairy Tale of Iran headlines Omnibus Theatre's 96 Festival, a celebration of queerness and theatre that takes its name from the Pride party on Clapham Common in 1996.
This play with music is written and directed by Sarah Chew and based on her experience of a theatre residency in Iran in 2010. It proved to be six weeks in the shadow of the Green Uprising that would change her life.
The action of Lipstick is set in London and Tehran. In London, Orla and best friend, drag queen Mark, are setting up a drag bar but in need of work, Orla takes the short British Council sponsored contract in Iran. It is the sort of experience, she tells herself, that she should have as a feminist artist.
With little preparation and a remit to build bridges through culture and bear witness, Orla is unprepared for everything that awaits her: the heat, the colourless buildings pock-marked with bullet holes, the fear, the repression and the inexplicable contradictions.
As the narrative moves between Tehran and London, Orla and Mark's worlds seem to move further and further apart.
The parallels are drawn from across life—the ability to work without censorship, to have laws without retribution, to dress as one chooses, to live openly as a queer person, to enjoy sex freely.
This latter, especially in the case of Mark, who phones Orla with updates on multi-partner sexual encounters that leave his sphincter like a "wind sock" whilst Orla's students risk corporal punishment for as little as a kiss, such is the tyranny of the Basij, the militia that enforces Iran's morality codes.
And there is more besides as Chew has packed in too much, but the key clashes of cultures and norms are told movingly and entertainingly using storytelling from Siobhan O'Kelly and drag cabaret, lip-synch and boylesque from Nathan Kiley (whose alter-ego is drag cabaret performer Topsie Redfern).
The mix of techniques works well and when Mark lip-synchs to Orla's voice telling the story of a young woman disfigured in a battery acid attack—one person testifying on behalf of those whose voice is silent—it is especially effective.
This is a show that asks questions about our understanding of other cultures, of art's ability to transcend politics and borders, the nature of creative work within a climate of censorship and how others can engage with it without being complicit.
It is not able to come up with any easy answers because there aren't any but Lipstick: A Fairy Tale of Iran is still very much worth seeing.
Reviewer: Sandra Giorgetti