Lipsynch
Robert Lepage and Ex Machina
Barbican Theatre
(2008)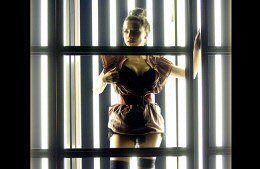 Robert Lepage works on a different scale - and at times it almost seems planet - from any other theatre practitioner. While his Hamlet adaptation Elsinore might have been shorter than Shakespeare's, the Canadian did perform it alone.
Lipsynch is the latest of his mammoth multimedia pieces with Ex Machina, even exceeding his masterpiece, Seven Streams of the River Ota in glorious duration.
Including meal and other breaks, it weighs heftily in at close to nine hours, or put another way, for late risers the whole of a sunny Sunday.
In fact, the production is rather more like nine connected short plays, deliberately drawing on diverse influences, with an overriding theme of the voice. Given its scope and length, it also allows many subsidiary idea s to be explored during what turns into an epic journey for both characters and audience.
The company, who together penned the text, mix comedy and drama well and as ever, the director has an eye for visual effects and gags that is second to none.
The big question is whether any theatrical performance can justify a running time that is equivalent to the transatlantic flight that Rebecca Blankenship's Ada, the protagonist in Act 1 takes? The good news is that it can and at the end there is no jetlag, though if a little stiffness and weariness are inevitable side effects, even in the very comfortable, sold out Barbican Theatre.
On that flight, after the death of his mother, opera singer Ada practically inherits a baby. While falling in love with wailing Jeremy, she has no conception about all of the problems that his (speeded-up) ageing to 18 will inevitably bring. In no time, the former boy soprano is incredibly hairy and provoking confrontation with mother and putative stepfather Thomas, not to mention leading a band joyously covering Iron Maiden.
Hans Piesbergen's Thomas is a brain surgeon and becomes the focus of Act 2. He treats Marie, a jazz singer who has a brain tumour and is thus temporarily condemned to lose her ability to speak.
In the background, as a little poignant light relief, is the very old Mary. She is a speech therapist (wittily and very accurately portrayed by a man) who has lost her memory and ironically as a result, much of her stock in trade.
The third act features Sarah (Sarah Kemp), an ex-prostitute from Manchester. She is in a vicious cycle downwards, acting as a carer for Mary but overnight losing her job.
Her plight is thrown into perspective twice over. First, she is compared to AJ, a male escort who purely through his gender does not suffer from the same status issues. Mary then meets her BBC anchor brother Tony. He moved from the foster home where they were both abused to a societal peak, thanks to five years of speech therapy.
In the extremely funny Act 4, Lepage unexpectedly has a Noises Off moment. Ada's adopted son Jeremy, played by Rick Miller, seeks his roots in Nicaragua and, by now a filmmaker, loosely attempts to recreate his history on celluloid.
With the help and hindrance of a multinational cast, led by a coke-addled German and a temperamental Spanish heroine, the results are not quite what he had in mind. By now though, amid the hilarity of a movie disaster and multiple extra-marital flings, we are able to see history repeating itself but also get some clues as to Jeremy's origins.
Act 5 returns to Marie, the lady with the brain tumour played by Frédérike Bédard. She is seemingly recovered but has one lacuna that she wishes to fill. She cannot remember her late father's voice. Desperate to recover this memory, she employs a number of means but it is a suggestion from her institutionalised sister, Michelle that gives the play sequence its most uplifting scene.
Act 6 is a police procedural, following the death of BBC newsreader and Sarah's long lost brother, Tony Briggs.
John Cobb's Brian Jackson, a grizzled Scottish detective with wife and car problems, abetted rather than aided by female colleagues, is soon on Sarah's trail, uncertain whether he will be arresting or clearing her.
That leads us to the longest of the five intervals but still at 45 minutes barely time to buy and eat dinner in the Waterside Cafe (the pasta salad was tasty, if rushed).
Act 7 centres on Tony's former colleague, Sebastian (Carlos Belda), a sound technician must be the funniest coffin comedy since Loot. This is appropriate, as the incumbent is his father, who spent his life as a comedian.
Through lack of space, Lise Castonguay as Michelle, the schizophrenic sister of Marie, starts Act 8 departing from her mental home rather earlier than is wise, especially with her inability to remember the much-needed medication.
Lepage cleverly and symbolically then shows us the same scene in the bookshop where she works twice. First, it is seen silently then from the opposite side with the sound inserted.
Michelle seems fine until Marie brings along her new fiancé, Thomas the surgeon who had fixed her brain so long ago. He has had a change of career and is now a psychologist, which seems too much of a coincidence. However, despite her fears, this section ends on a note of real hope for Michelle.
There was never really a doubt that Act 9, entitled Lupe, would bring the day around full circle and it does in the most moving way possible.
Nuria Garcia in the role of Lupe plays a pretty, innocent 15-year-old in the Nicaragua that the Sandinistas are trying to rescue from the Somoza. Her uncle runs a bar and at the first opportunity sells her to a couple of German white slavers who soon have child plying their trade on the Reeperbahn.
By 17, she is addicted to drugs and about to become a mother. The rest, we already know, although fortuitously for her inquisitive son, Lupe was filmed for a TV documentary and the footage, well staged, brings us to a final closure.
Fittingly for an event on an operatic scale, Lipsynch ends as it began with a requiem to a dead woman whose voice we finally hear.
This is one of those creations that will either attract or repel. Thanks to the imagination of Robert Lepage and Ex Machina and the tremendous commitment of a super-fit international cast, it will undoubtedly delight those who are into such marathons.
In nine hours, they will have had the chance to witness some fine performances and learn much about the ways in which the human voice affects lives, the subject contemplated from every imaginable angle. In addition, visitors get an opportunity to enter the mind of the humane genius who goes by the name of Robert Lepage and that is worth every penny of the ticket price and every drop of rare sunshine foregone.
Reviewer: Philip Fisher