Little Red Riding Hood
Choreography, direction and costume design idea Mariana Rodrigues, music Eloise Gynn
Northern Ballet
Linbury Theatre, Royal Opera House
–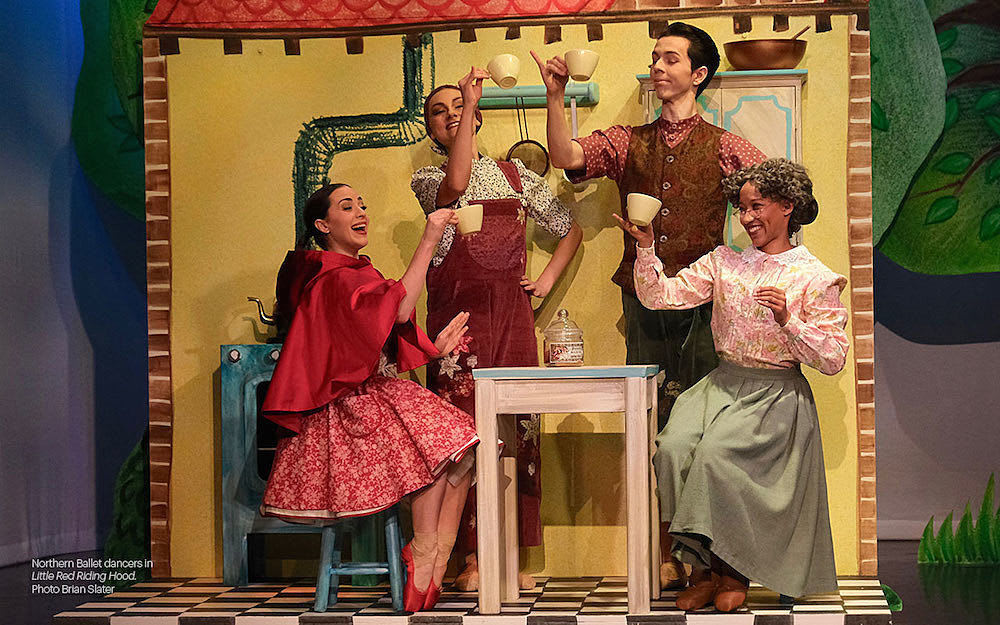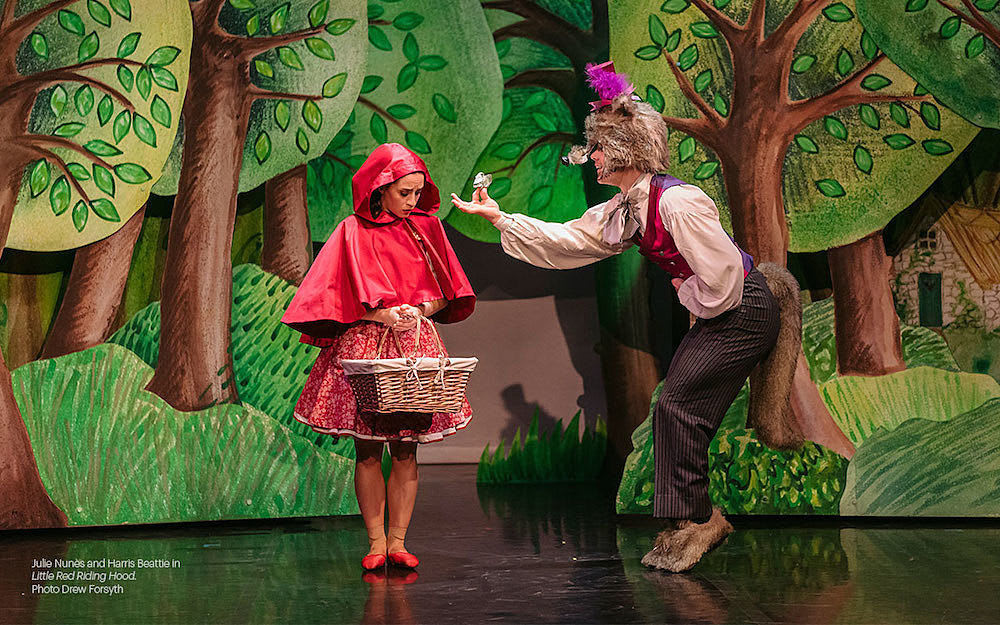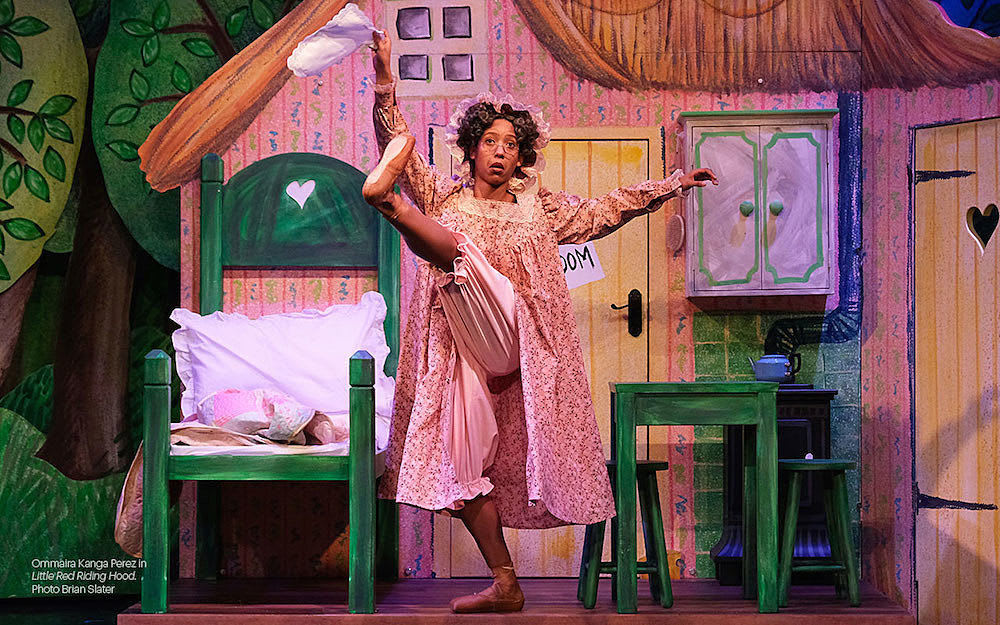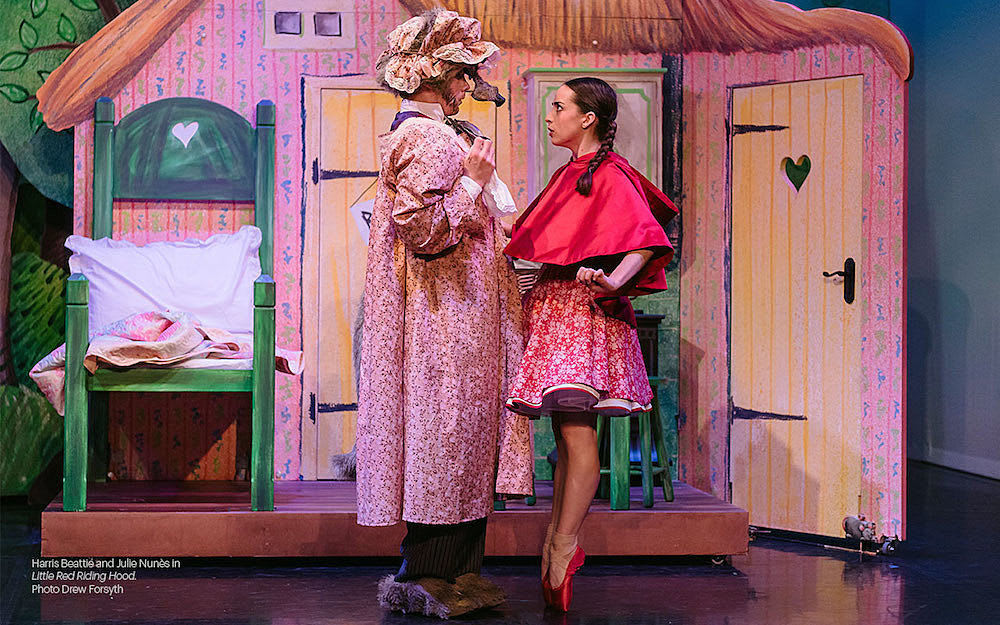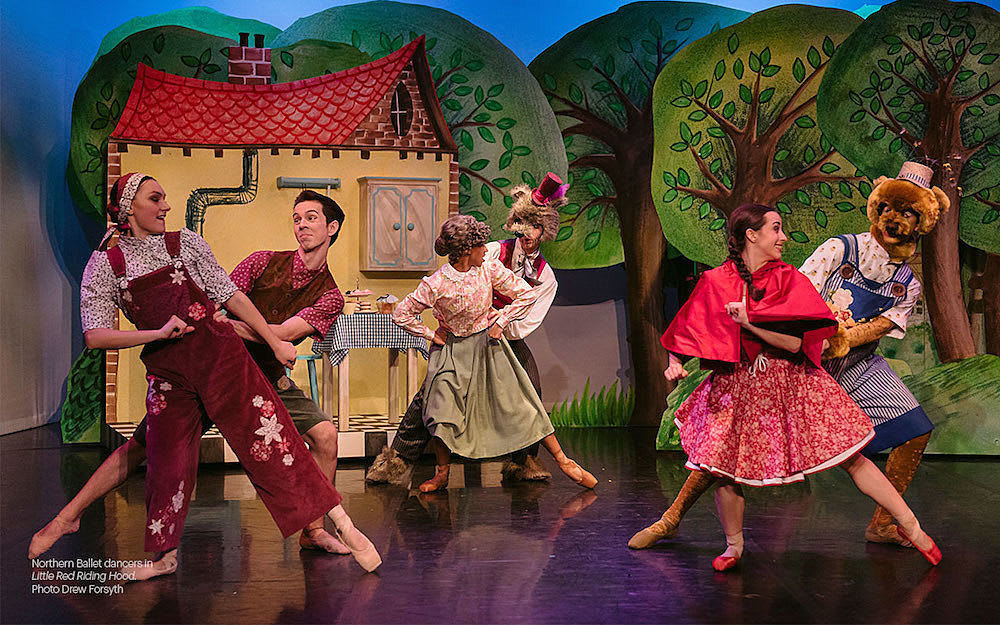 This is my first Northern Ballet fairy tale for children—"all ages and babes in arms" welcome… A new experience for me, but my five-year-old granddaughter tells me before I go that she has already seen Little Red Riding Hood on CBeebies and recounts the tale perfectly. That's my research done!
Well, the actual forty-minute live show is delightful: involved children, parents and grandparents all around me chortle, chuckle and laugh out loud at the amusing moments, of which there are many.
Northern Ballet dancer Mariana Rodrigues has created a gentle version of the big bad Wolf: here he doesn't want to eat anyone up, he just wakes up hungry. Scared Bear won't sell him his honey, Badger runs away and a Foxy lady customer in elegant furs comes and goes. Little Red Riding Hood is not scared: she sees he's one big softie who can't look after himself and he does like smelling the flowers.
The setting (design Marjoke Henrichs) is charming, straight out of a picture book: a doll's house of a set, which transforms easily from scene to scene. Red Riding Hood is having tea with her parents, whilst poor Grandma is sneezing and sending her cup (deftly caught) into the air. Must be Red's birthday, as she gets her signature red cape in a box as a present. Red cape and red shoes pretty much label her.
Grandma goes home to bed and Red wonders if she can take the cake they have baked over to her house on the other side of the woods. Father says yes; mother is hesitant, gosh she's grown up so quickly. What a worry for parents the first time their child ventures out alone.
En route, Red meets the hungry Wolf, not before the woodland scene has been set with Bear and his honey wares on his jolly cart. Wolf would like some of that cake Red is taking to grandma. To distract her, he suggests she pick some flowers for her Grandmother, and whilst she is doing that he thinks to raid the old lady's cupboard.
That provides a bit of giggly fun, as Grandmother is forever popping in and out of her bathroom and poor Wolf has to keep hiding under the bed, until in the end in desperation, as Red comes knocking on the door, he puts on her discarded nightie and mob cap. Well, Red sees right though him and feeds him, saving his reputation.
Cakes, honey and tea, and camaraderie… Gran does a jig; Bear makes friends with Wolf, giving him five pots of honey for free; and all go home for more tea and cake—with honey. A merry pas de six ends this happy tale of prejudice overcome, Wolf's bad press and Little Red Riding Hood's sympathy—she is obviously a sensible girl and can look after herself, thank you very much.
The choreography—the females on pointes—is just right and personalities shine through. I think I like Grandmother (Ommaira Kanga Perez) and her big bloomers best of all… Well, I would wouldn't I? She may be the eldest amongst them but she still has plenty of life in her yet. Julie Nunès is a pert Little Red Riding Hood; Harris Beattie a sweet boy Wolf, who really does like flowers; Matthew Morrell, scratching his back against a tree, a funny Bear in his dungaree shorts and bees around his hat; Aurora Piccininni, also in dungarees, a lovely Mum; and Albert Gonzalez Orts a loving Dad.
Eloise Gynn's subtle score is played by a chamber quartet from the Northern Ballet Sinfonia—jazzy music for the red waistcoated cool Wolf, but that's all image. Mariana Rodrigues's costume design ideas are realised beautifully by Kim Brassley and Carley Marsh and the whole thing is brightly lit by Abbi Fearnley.
The run sold out quickly, but the show will be touring round the country next year and you can catch up then. It's taken me a long time to get round to seeing a Northern Ballet children's show. I only wish I could have taken my resident five-year-old and three-year-old little girls with me. Great value for money, too.
Which reminds me, there's a wonderful Russian Claymation 1990 film of Red Riding Hood called Grey Wolf and Little Red Riding Hood (Seryi Volk i Krasnaya Shapochka)—you can find it on YouTube. Grandmother lives in Paris—quite a picaresque journey for Red Riding Hood. Couldn't be more different but equally as amusing.
Reviewer: Vera Liber